Calendar
How to use this calendar
Click a date on the calendar or search by location and event type.
40 Years of Continuing King's Mission
There has been over 400 years of oppression of Black, Indigenous, and People of Color; which includes human trafficking, enslavement, genocide, torture, disenfranchisement, segregation, imprisonment, dispossession of land, and so much more, and yet none of this has ever broken the spirit of our Peoples to achieve justice and equity.
2023 marks forty years that the residents of Seattle and King County have and continue to honor the legacy and the mission of Reverend Dr. Martin Luther King Jr. with a rally, march, internships, workshops, youth led programming and job fair. The first forty years were but the beginning. Seattle's annual MLK celebration aims to inspire this and future generations to live up to Dr. King's dream of achieving the Beloved Community.
This year, we are coming together on the anniversary of Reverend Dr. Martin Luther King Jr. 's birthday, honoring the past and the countless champions who came before, stood alongside, and have continued after King was taken from us, fighting for both our present and our future because "an injustice anywhere is a threat to justice everywhere".
Event Schedule:
Virtual Workshops: Jan. 10–14 (pre-registration required)
Youth Event: Jan. 15, 2:00–4:00 pm
Opportunity Fair: Jan. 16, 8:30–11:30 am
In-person Workshops: Jan. 16., 9:30–10:50 am
Rally: Jan. 16, 11:00 am
March: Jan. 16, 12:30 pm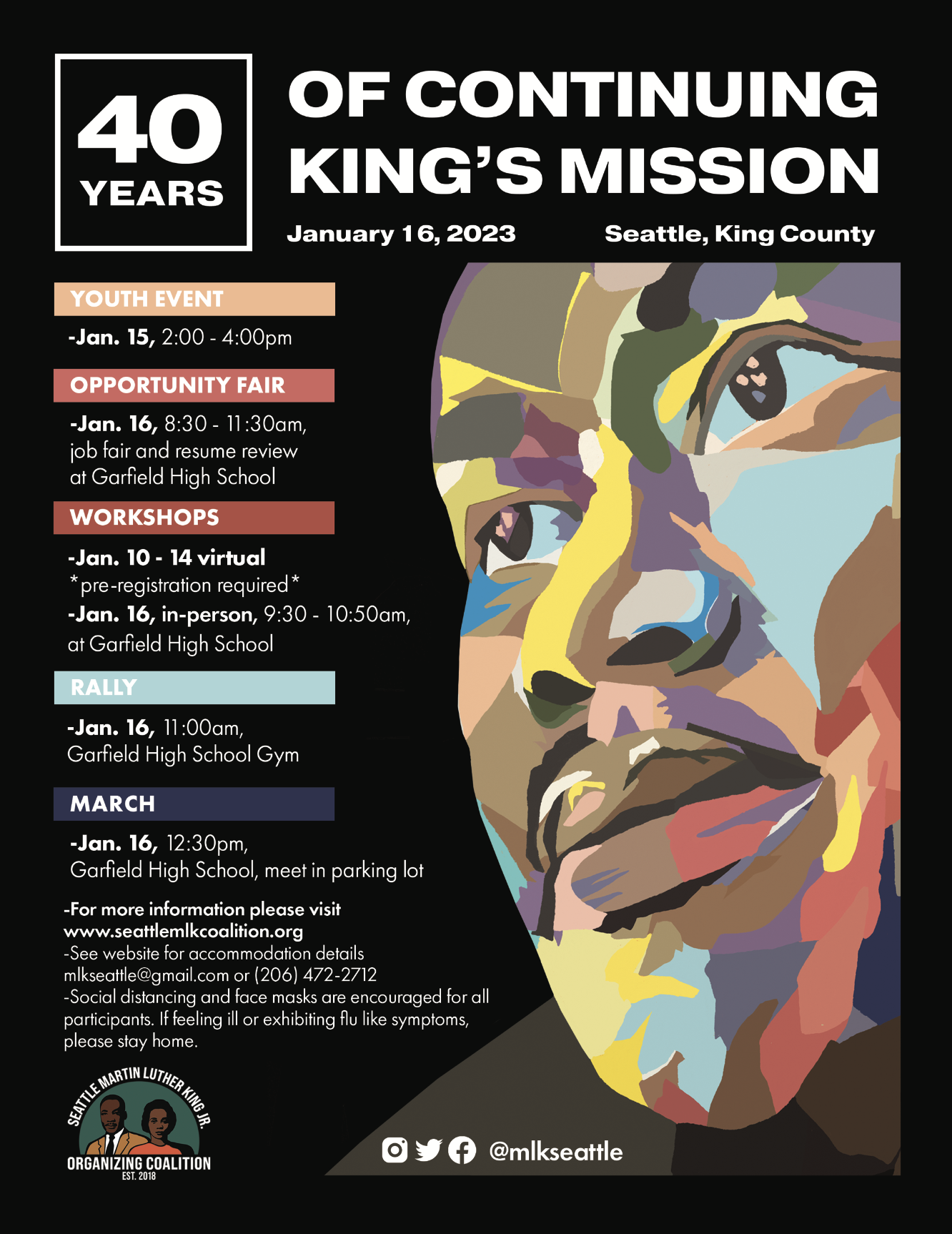 Seattle, WA, 98124
(206) 472-2712
The Seattle MLK Jr. Organizing Coalition is an all-volunteer organization composed of grassroots, labor, business, people of color, and progressive community organizations and volunteers from throughout the Puget Sound region. Annually, these groups come together and organize our community's largest tribute to the legacy of Dr. Martin Luther King, Jr. - the only geographic jurisdiction named in Dr. King's honor.