Calendar
How to use this calendar
Click a date on the calendar or search by location and event type.
An Enchanting Evening of Indian Classical Dance
'Horizons… Kathak and Beyond' explores the strength and flexibility of the age-old Indian classical dance form Kathak. Solo, duet, and group presentations in Kathak are beautifully interwoven throughout the performance. Horizons explores different facets of the beauty of Kathak: synchronization, technical prowess, Abhinaya, speed, poise, etc.
It transcends into contemporary themes and fusion music, only to prove the flexibility, adaptability and entertainment value that Kathak has as a holistic classical art form.
Storytelling through Abhinaya is a signature of Shambhavi ji. It will be evident in' Horizons'. As members of S.I.S.K. Dance Ensemble, Shambhavi ji's disciples have traveled and performed all over America, San Diego, San Francisco, Atlanta, Phoenix AZ, Fort Wayne IN, to name a few. They represent the younger generation of dedicated dancers in the USA. They bring out the playful and youthful essence of Kathak through their performances based on traditional forms like Thumri and Ashtapadi as well as a few choreographies with a dash of contemporary context. Kathak performed with live music has become a rarity now-a-days. In this performance, highly acclaimed young musicians from the USA will accompany Shambhavi ji. It will surely give the viewers an experience of the classical arts flowing from one generation to the next, for centuries together.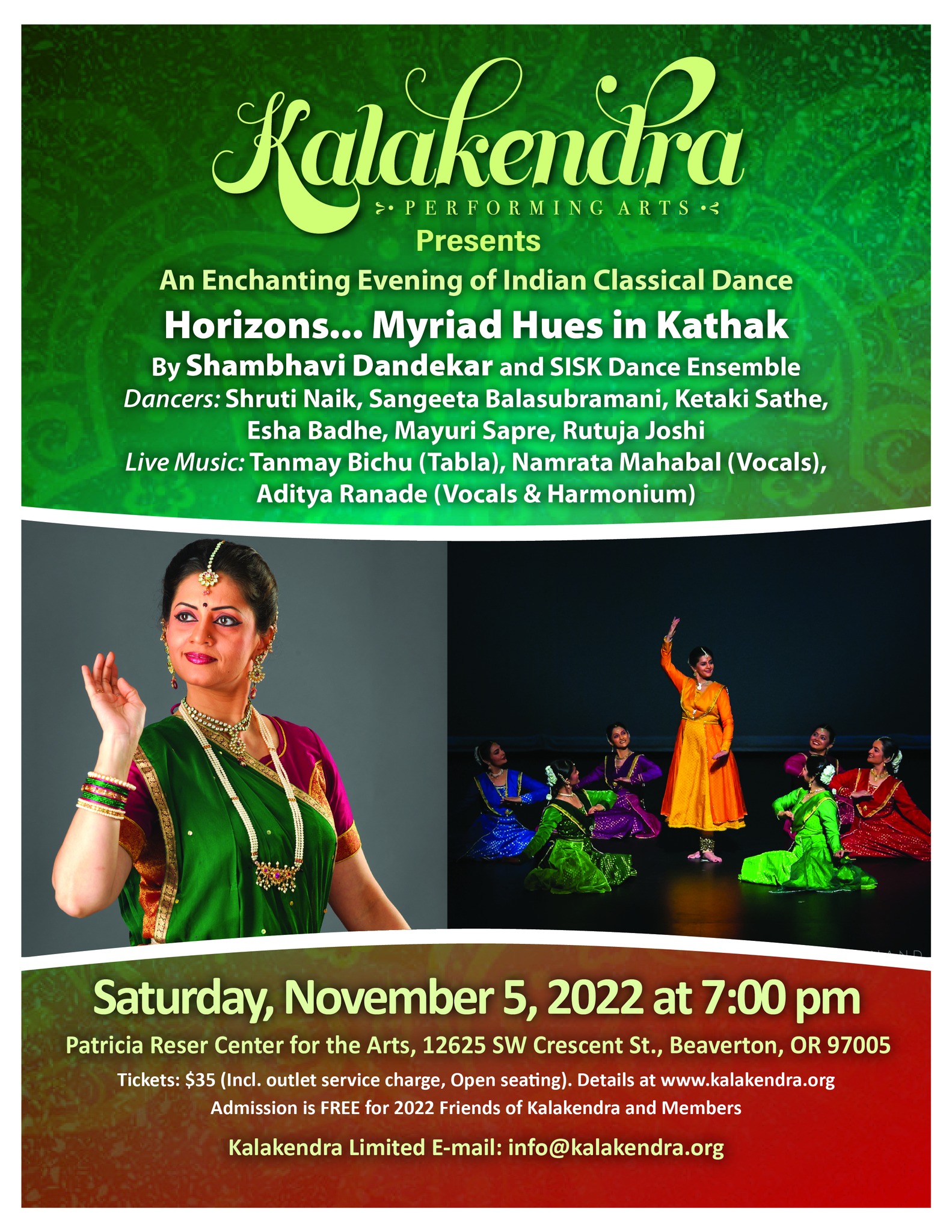 Cost
1
Location
12625 SW Crescent Street
Beaverton, OR, 97005
Get Directions
Host Organization
Kalakendra Performing Arts

Portland, OR

Promoting Indian Performing Arts & Artists in and around greater Portland Oregon.