Calendar
How to use this calendar
Click a date on the calendar or search by location and event type.
Annual Nesika Illahee Pow-Wow 2022: "The People are Dancing Again"
The Confederated Tribes of Siletz Indians hosts and invites all to come join & celebrate our annual Nesika Illahee Pow-Wow.  Our celebration takes place in the heart of the Siletz reservation in the town of Siletz, Oregon.  Every summer during the second weekend in August, Native & Non-Native people from all over the United States & further gather here to take part in our annual Nesika Illahee Pow-Wow.
For three days our community, situated on the central Oregon coast is transformed. On display is traditional dancing, drumming, and singing from all over Indigenous America and further.  Our gathering has an array of vendors that represents the many facets of Indigenous American Arts, Crafts and Cuisine. The Pauline Ricks Memorial Pow-Wow grounds on Government Hill becomes the beating heart of our community.
We hope you are able to come experience our Nesika Illahee Pow-Wow with us.
The Nesika Illahee Pow-Wow is a Drug and alcohol-free event. We are not responsible for accidents, lost or stolen items.
If you are interested in becoming a vendor, vendor registration is required. Please view the Nesika Illahee page for more information concerning vendors.
Camping: $25 trash fee, $5 pet fee/per pet (camping area)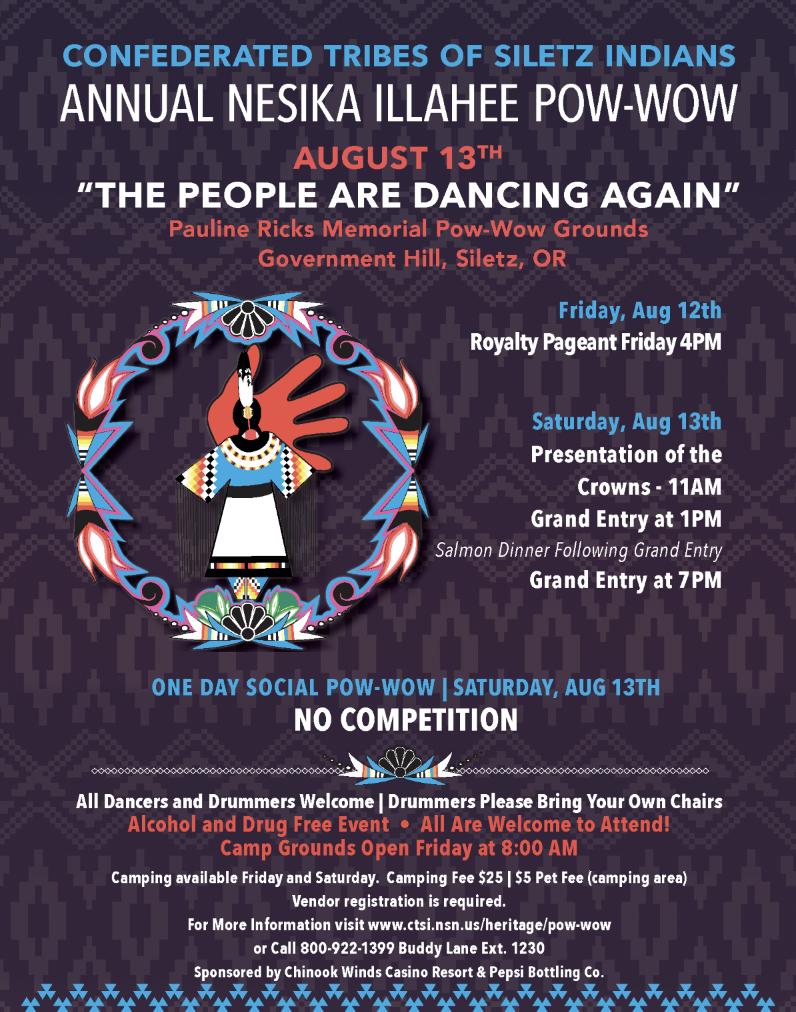 Cost
Camping available Friday & Saturday | Camping Fee $25 | Pet Fee $5 | Vendor Registration is required.
Location
Pauline Ricks Memorial Pow-Wow Grounds 402 Government Hill Rd.
Siletz, OR, 97380
Get Directions
Host Organization
Confederated Tribes of the Siletz Indians of Oregon
Contact
http://ctsi.nsn.us/
(541) 444-8230
BuddyL@ctsi.nsn.us
201 SE Swan Avenue
Siletz, OR, 97380
(541) 444-2532
The Confederated Tribes of Siletz is a federally recognized confederation of 27 bands, originating from Northern California to Southern Washington. Termination was imposed upon the Siletz by the United States government in 1955. In November of 1977, we were the first tribe in the state of Oregon and second in the United States to be fully restored to federal recognition. In 1992, our tribe achieved self governance, which allows us to compact directly with the US Government. This gives us control and accountability over our tribal programs and funding. We occupy and manage a 3,666 acre reservation located in Lincoln County, Oregon. We manage several resources, including water, timber and fish.