Calendar
How to use this calendar
Click a date on the calendar or search by location and event type.
Black Parents Alliance
About
The Black Parents Alliance works within the community to discuss relevant topics, gain information, and make decisions to improve the education of our children. We advocate for policies that improve the intellectual, social, and emotional success of Black scholars and families; empower and give voice to the concerns and successes of Black families and scholars in Tacoma; and mobilize allies within the community to highlight the need for more robust systems of support for Black scholars.
While leaders and elected officials trumpet the importance of family, current policies and practices at the federal, state, district and school levels rarely provide sufficient support to teachers or to parents, nor is anyone held accountable for comprehensively and consistently engaging a diverse range of families. Further, although there are excellent parenting education programs currently in use across the United States, many of them do not possess the depth of cultural relevance that allows the curriculum to fully resonate with Black parents, in particular.
BPA believes in prioritizing conversations about race, culture, class and gender in the context of family engagement; not to say that these things must, or should, be at the forefront of all of our conversations, but rather to say that those of us who provide services and solutions should learn as much as we can about the context of race and culture bias in which our children and families are embedded. It is critical for us to make conscious decisions about engaging with family and community members in ways that demonstrate a deeper and more complete understanding, as part of our efforts to build positive relationships that ensure parent engagement is an ongoing series of supports that create a strong foundation of connection, particularly in the early years.
GOALS
Meaningful engagement of parents of Black youth
Build the capacity of parents and service providers for partnership
Improving life outcomes for Black youth
PARTNERS
Tacoma Urban League
Peace Community Center
Tacoma Public Schools
City of Tacoma – Office of Equity and Human Rights
Meeting Schedule (2022)
4th Sunday of each Month
2pm to 3:30pm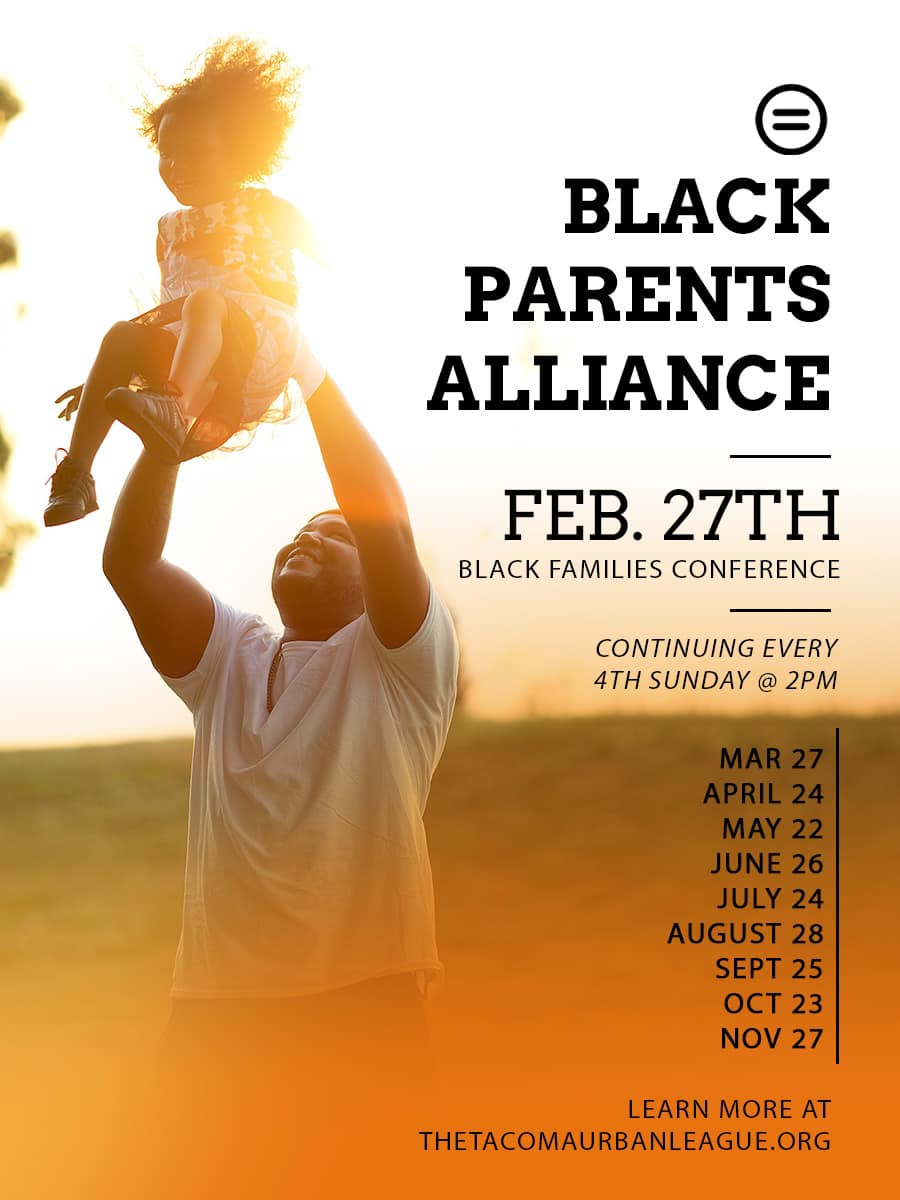 Host Organization
Tacoma Urban League

Tacoma, WA
(253) 383-2007
The Tacoma Urban League is devoted to empowering African Americans and other disenfranchised groups to enter the economic and social mainstream.