Calendar
How to use this calendar
Click a date on the calendar or search by location and event type.
Dahr Jamail and Stan Rushworth with Ilarion Merculieff, Lyla June Johnston, and Melina Laboucon-Massimo Indigenous Voices from Turtle Island on the Changing Earth
This is a virtual event, no in-person attendance is available.
It can be easy to settle into the narrative that short-sighted, individualist behavior is a natural trait of all humankind, especially when considering how the human impact on the Earth has only recently become apparent to so many. But this narrative is not shared by all people and cultures; for the Indigenous people of the world, radical alteration of the planet – and of life itself – is a story that is many generations long. It is also a story of adaptation, perseverance, courage, and resourcefulness in the face of genocide and destruction.
In an innovative work of research and reportage, We Are the Middle of Forever places Indigenous voices at the center of conversations about today's environmental crisis. The book draws on interviews with people from different North American Indigenous cultures and communities, generations, and geographic regions. Together, they share knowledge, experience, questions, observations, and dreams of maintaining the best relationship possible with all life.
We Are the Middle of Forever illuminates the perspectives of those who have been long-attuned to a changing planet. As we look for new ideas and responses to our shared human challenges, Indigenous voices offer hope, connection, and a welcome antidote to the despair arising from the climate crisis.
Dahr Jamail is the author of Beyond the Green Zone: Dispatches from an Unembedded Journalist in Occupied Iraq as well as The End of Ice: Bearing Witness and Finding Meaning in the Path of Climate Disruption. He has won the Martha Gellhorn Prize for Journalism and the Izzy Award. He lives in Washington State.
Stan Rushworth is a teacher of Native American literature and the author of Sam Woods: American Healing, Going to Water: The Journal of Beginning Rain, and Diaspora's Children. He lives in Northern California.
Lyla June Johnston is an Indigenous public speaker, artist, scholar and community organizer of Diné (Navajo), Tsétsêhéstâhese (Cheyenne) and European lineages from Taos, New Mexico. Her messages focus on Indigenous rights, supporting youth, traditional land stewardship practices and healing inter-generational and inter-cultural trauma. She blends undergraduate studies in human ecology at Stanford University, graduate work in Native American Pedagogy at the University of New Mexico, and the indigenous worldview she grew up with to inform her perspectives and solutions. Her internationally acclaimed presentations are conveyed through the medium of poetry, music, and/or speech.
Ilarion (Larry Merculieff) was raised in a traditional Unangan (Aleut) way and has worked almost exclusively as an advocate, leader, advisor, organizer, and facilitator for his people in Alaska. Merculieff was the Commissioner of the Alaska Department of Commerce and Economic Development and has extensive leadership experience with numerous Alaskan organizations focused on wildlife and the environment. He is he author of Wisdom Keeper: One Man's Journey to Honor the Untold Story of the Unangan People, and co-author of Stop Talking: Indigenous Ways of Teaching and Learning and Perspectives on Indigenous Issues: Essays on Science, Spirituality, Partnerships, and the Power of Words. He founded and currently heads the Global Center for Indigenous Leadership and Lifeways. His present work is with the Wisdom Weavers of the World, a council of Elders he has co-founded, which takes the messages of Elders from throughout the world to global attention.
Melina Laboucan-Massimo (Lubicon Cree) has worked on climate justice, Indigenous sovereignty, and women's rights for over 20 years. She is the founder of Sacred Earth Solar and co-founder and Senior Director at Indigenous Climate Action. She is the Host of a new TV series called Power to the People which profiles renewable energy in Indigenous communities. In 2021, Melina was named one of the 26 Climate Champions in Canada by the Canada Climate Law Initiative. She has also been recognized for her work throughout the years, being profiled and named as a social and climate justice influencer in Global Citizen, Elle Magazine, Chatelaine, Flare, CBC, 350.org and Refinery29. She received the Canadian Eco-Hero Award in 2019 by Planet in Focus.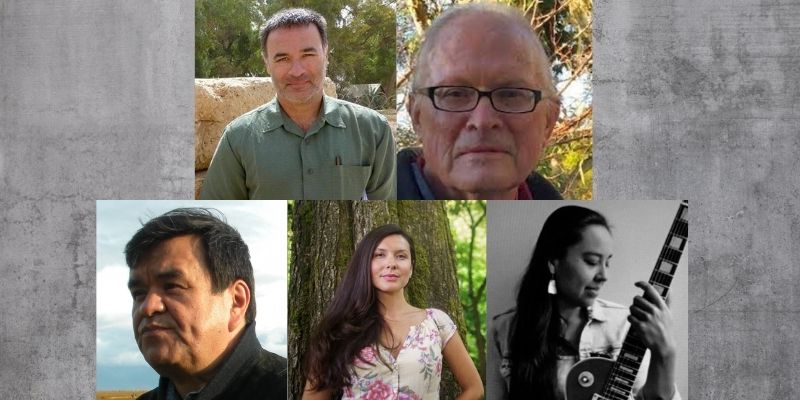 Cost
$5
Host Organization
Town Hall Seattle
720 Seneca St, Ste. A
Seattle, WA, 98101
(206) 652-4255
A vibrant gathering place in the heart of Seattle, Town Hall fosters an engaged community through civic, arts, and educational programs that reflect—and inspire—our region's best impulses: creativity, empathy, and the belief that we all deserve a voice.