Calendar
How to use this calendar
Click a date on the calendar or search by location and event type.
Dakota Modern: The Art of Oscar Howe
Dakota Modern: The Art of Oscar Howe introduces new generations to one of the twentieth century's most innovative Native American painters. Howe (1915–1983) committed his artistic career to the preservation, relevance, and ongoing expression of his Yanktonai Dakota culture. He proved that art could be simultaneously modern and embedded in customary Očhéthi Šakówiŋ (Sioux) culture and aesthetics—to him there was no contradiction.Howe challenged the art establishment's preconceptions and definitions of Native American painting. In doing so, he catalyzed a movement among Native artists to express their individuality rather than conforming to an established style. This legacy of innovation and advocacy continues to inspire generations of Native artists to take pride in their heritage and resist stereotypes.
Dakota Modern traces more than forty years of the artist's career and development from early conventional work created while in high school in the 1930s through the emergence in the 1950s and 1960s of his innovative and abstract approach to painting.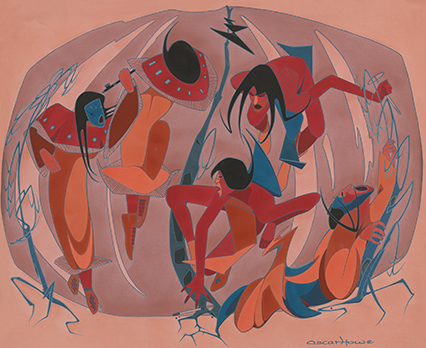 1219 SW Park Avenue
Portland, OR, 97205
(503) 226-2811
The Portland Art Museum strives to be an inclusive institution that facilitates respectful dialogue, debate, and the free exchange of ideas. With a deep commitment to artists – past and present – and freedom of expression, the Museum and PAM CUT's collections, programs and staff aspire to reveal the beauty and complexities of the world, and create a deeper understanding of our shared humanity. We are a Museum for all, inviting everyone to connect with art through their own experiences, voices, and personal journeys.