Calendar
How to use this calendar
Click a date on the calendar or search by location and event type.
Dala Horse Christmas Ornament Carving
Traditionally carved from pine wood scraps leftover by builders, the Dala Horse is a national symbol of Sweden and marks those dark winter days when carvers sit by the woodstove to whittle. With roots in the 1700s, and maybe earlier, the famous wood carvers of the Swedish Dalarna region still hand carve these pine figures today, and are finished with a traditional kurbits-style, hand-painted decoration. In this seasonal class, students will learn some basic carving and painting techniques as we work on our own dala-inspired horse ornaments. All experience levels are welcome.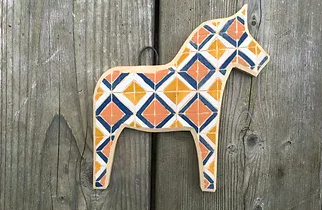 8800 SW Oleson Rd
Portland, OR, 97223
(503) 977-0275
Founded in 1986 to support the Nordic language programs at Portland State University, Nordic Northwest has expanded on its original mission over the past three decades to become the home for all things Nordic in Oregon and Southwest Washington. Anchored by a Midsummer festival in June and a Christmas market in December, Nordic Northwest's roster of programming includes concerts, exhibits, family programming, special events, film screenings, lectures, classes, dances, performances and celebrations throughout the entire year that focus on the cultures of Denmark, Iceland, Finland, Norway and Sweden.