Calendar
How to use this calendar
Click a date on the calendar or search by location and event type.
EntrAMAR
This workshop is a space to feel and recognize the dance and rhythmic plots that unite the African diaspora beyond national territories. We intend to EntrAmar (frame) the African diaspora found in different parts of the world with the dance, sound and cultural universe of African origin that was rebuilt in Venezuela. With the threads that each participant brings from their own Afrodiasporic cultural universe, we will weave our Afrodiasporic dances. It is a space to enjoy sounds, images, gestures and poetics typical of traditional Afro-Venezuelan dance, mainly those performed in honor of San Juan Bautista and San Benito. On this occasion we will focus on knowing in a playful way, the dances with deep spiritual, historical and cultural bases that are interpreted with the drum set "Mina", "Culo é puya" and "Quitiplás" from Curiepe, a Venezuelan town, which has 300 years of being founded as a town of free blacks.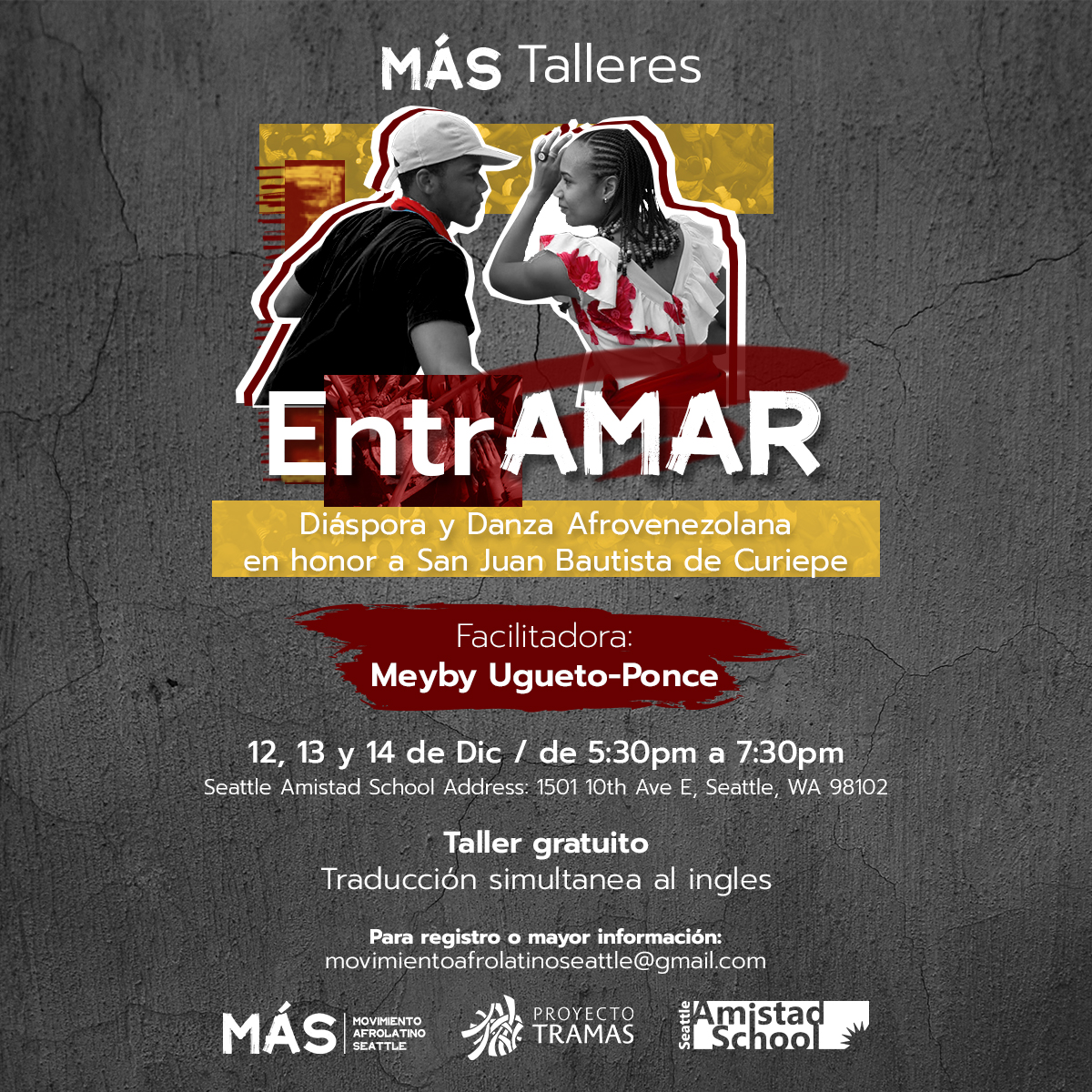 Location
1501 10th Ave E
Seattle, WA, 98102
Get Directions
Host Organization
Movimiento Afrolatino Seattle (MÁS)

Seattle, WA, 98114

Movimiento Afrolatino Seattle (MÁS) is a grass-root 501(c)3 non-profit organization created by Afrolatino communities and artists that appreciate Afrolatino arts and culture coming together to ensure the sustainability of ongoing cultural and education arts activities focused on Afrolatinos and open to anyone who is interested ininterested in learning and preserving this rich cultural heritage.