Calendar
How to use this calendar
Click a date on the calendar or search by location and event type.
JUMP's Día de los Muertos Celebration
Celebrate Día de Muertos or Day of the Dead at JUMP this year, as we host it once again on Wednesday, November 2nd from 5-8pm.
Día de Muertos honors the lives of friends and family who have died, with food, drink, parties, and activities the deceased enjoyed in life.
This holiday is celebrated with a burst of color and life-affirming joy as those who have passed are kept alive in memory and spirit. This ancient tradition is based on the unity of life and death, and the belief that the dead would be insulted by sadness.
DAY OF THE EVENT: WEDNESDAY NOVEMBER 2nd
-Entertainment and local dignitaries will open the celebration on the outdoor stage in the JUMP Park and will feature entertainers of all ages in colorful outfits and painted faces. List of performers below.
-Pan de Muerto and Mexican cocoa will be served.
-Catrin and Catrina Contest will be set during the event on the JUMP stage, with prizes for the best outfits. Come dressed up!
-The centerpiece of Día de Muertos is the Altar, which welcomes spirits with offerings that include photographs, food, marigold flowers, and candles. Altars created by local families, students and organizations will be on display throughout the lobby.
-Along with cultural short films playing on our Share Studio monitors, including "La Noria," "Lluvia en los Ojos," and "Ramona" in collaboration with the Mexican Consulate.
Performances by:
Cantares de mi pueblo mariachi band
Danza
Azteca Tonatiuh
Ballet Folklorico Yareth
Idaho Charter School
Norma Pintar
Mariachi Tleyoltlzin
Oyamel Folklorico
Kelli Brown
With headlining singer Omar Arreola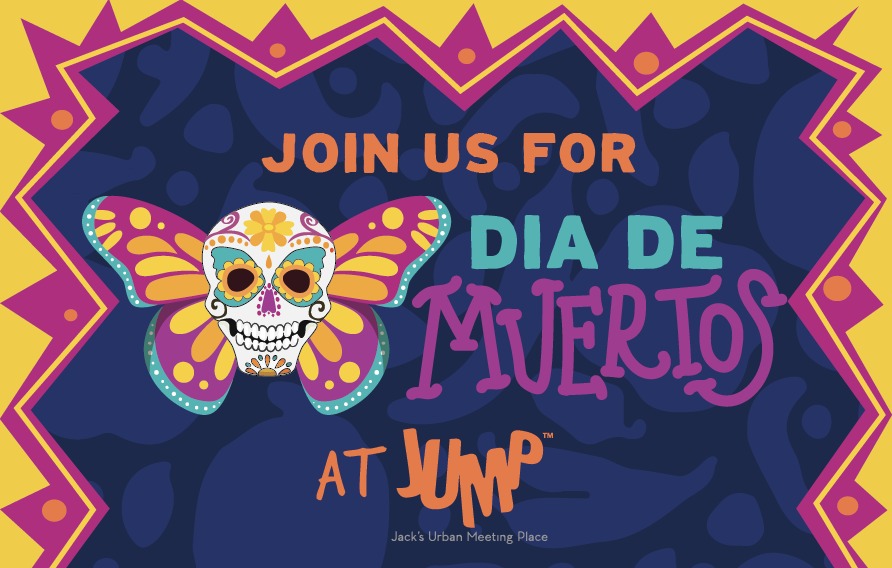 1000 W Myrtle St
Boise, ID, 83702
(208) 639-6610
JUMP is a non-profit interactive creative center and community gathering space. Come explore your passion, interests and creativity!