Calendar
How to use this calendar
Click a date on the calendar or search by location and event type.
KVRU 105.7 LPFM Annual Volunteer Appreciation & Holiday Party
Hello lovely KVRU Fam Bam!
It has been a rough few year and we continue to be strong and build. I believe that radio is transformative and I know you do to… so everyone is invited KVRU & SEED Staff, Volunteers, Advisory Board Members, Community Partners, Producers, DJs, Media Educators to….
….BUILD with me! (see attached flyers)
BUILD RECONNECTION to close our year!
Who? you and us
What? Close out the year at our annual volunteer appreciation and holiday party
When? 6:00 pm – 8:00 pm – Friday, December 16, 2022
Where? the Rainier Arts Center like last year
How? Bring 1 main dish, 1 side dish, or 1 dessert
How? Bring a gift to exchange in our 1st annual white elephant gift exchange. This is the game of friendly gift stealing, but you need to bring a gift to get one. $10 or less limit.
How? Also, we might do karaoke or sing-a-longs
RSVP by emailing Lulu with attendance and dish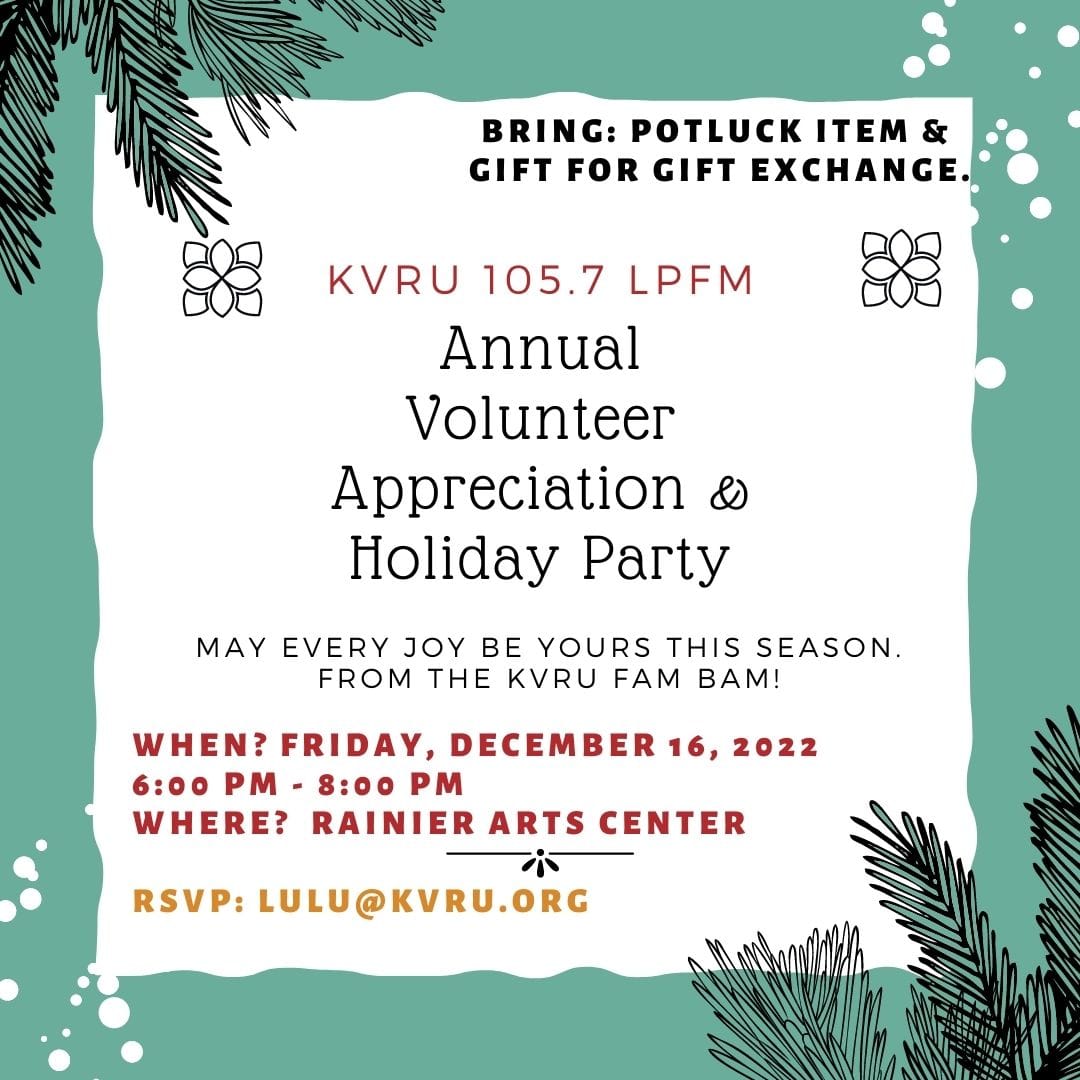 3642 33rd Ave S, Suite C-5
Seattle, WA, 98144
(206) 496-1180
Rooted in Southeast Seattle, KVRU 105.7 FM broadcasts the diverse voices of the community – providing a platform to share stories, discuss issues, and empower listeners to create a more equitable and just society.