Calendar
How to use this calendar
Click a date on the calendar or search by location and event type.
Losar Party 2023
Join the Tibetan Association of Washington in their Water Rabbit LOSAR Celebration
The celebration will include a LOSAR Photo Booth. They invite guest to bring their Chupa and Bodhsoh swag.
Entry fee includes Dinner.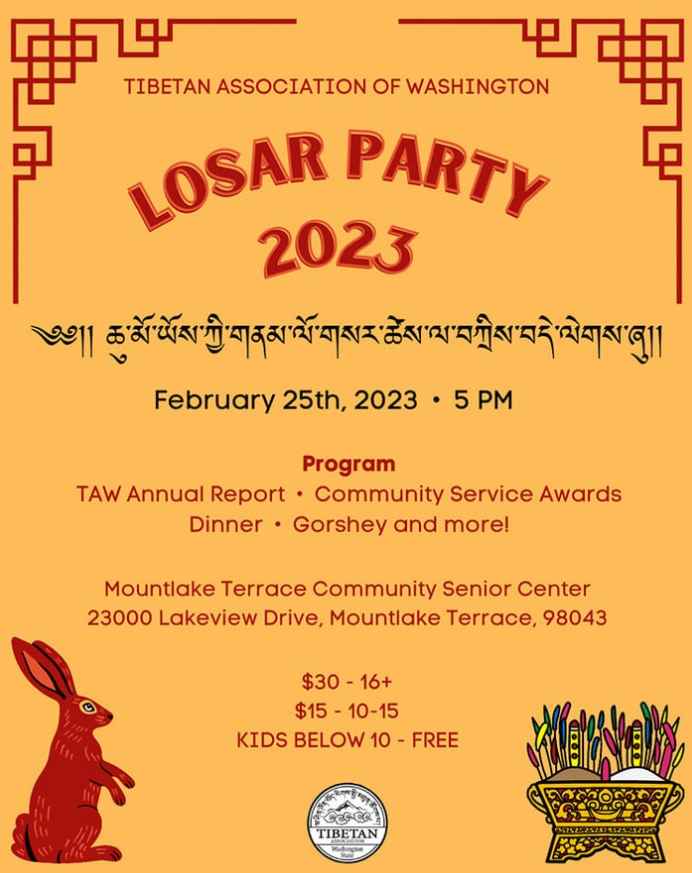 PO Box 77623
Seattle, WA, 98177
(206) 659-1137
The Tibetan Association of Washington is a non-profit organization of Tibetans in the State of Washington. It strives to preserve and promote the unique Tibetan Cultural tradition within the Tibetan Community and further the just cause of Tibet.

Aims & Objectives:

We seek to strengthen the unity and get connected with different Tibetan communities of North America, Raise awareness about the Chinese occupation of Tibet and the plights of the Tibetan people, Preserve and promote the Tibetan people's distinct religious and cultural heritage, Educate the younger generation of Tibetan-Americans about their history, religion and culture, Promote His Holiness Dalai Lama's message of love, compassion and kindness.