Calendar
How to use this calendar
Click a date on the calendar or search by location and event type.
Metresas and Imaginary Dissidents to Coloniality Workshop 3
The autobiographical writing workshop, metresas and imaginary dissidents to coloniality is an initiative of the publishing project Catinga Ediciones. This workshop is for LGBTQIA+ Black and/or Afro-descendant people, people of color and allies. Through this form you can apply to be selected and participate in this literary workshop. We ask the MÁS community to pay special attention to the central statement-of-reason questions contained in the second section of this form.
---
El taller de escritura autobiográfica, metresas e imaginarios disidentes a la colonialidad es una iniciativa del proyecto editorial Catinga Ediciones. Este taller está dirigido a personas negras y/o afrodescendientes LGBTQI+, personas racializadas y aliadxs.  A través de este formulario lxs interesadxs se postulan para ser seleccionadxs y participar en estas jornadas de producción literaria. Por lo que pedimos a la comunidad de MÁS prestar especial atención a las preguntas centrales de exposición de motivo contenidas en la segunda sección de este formulario.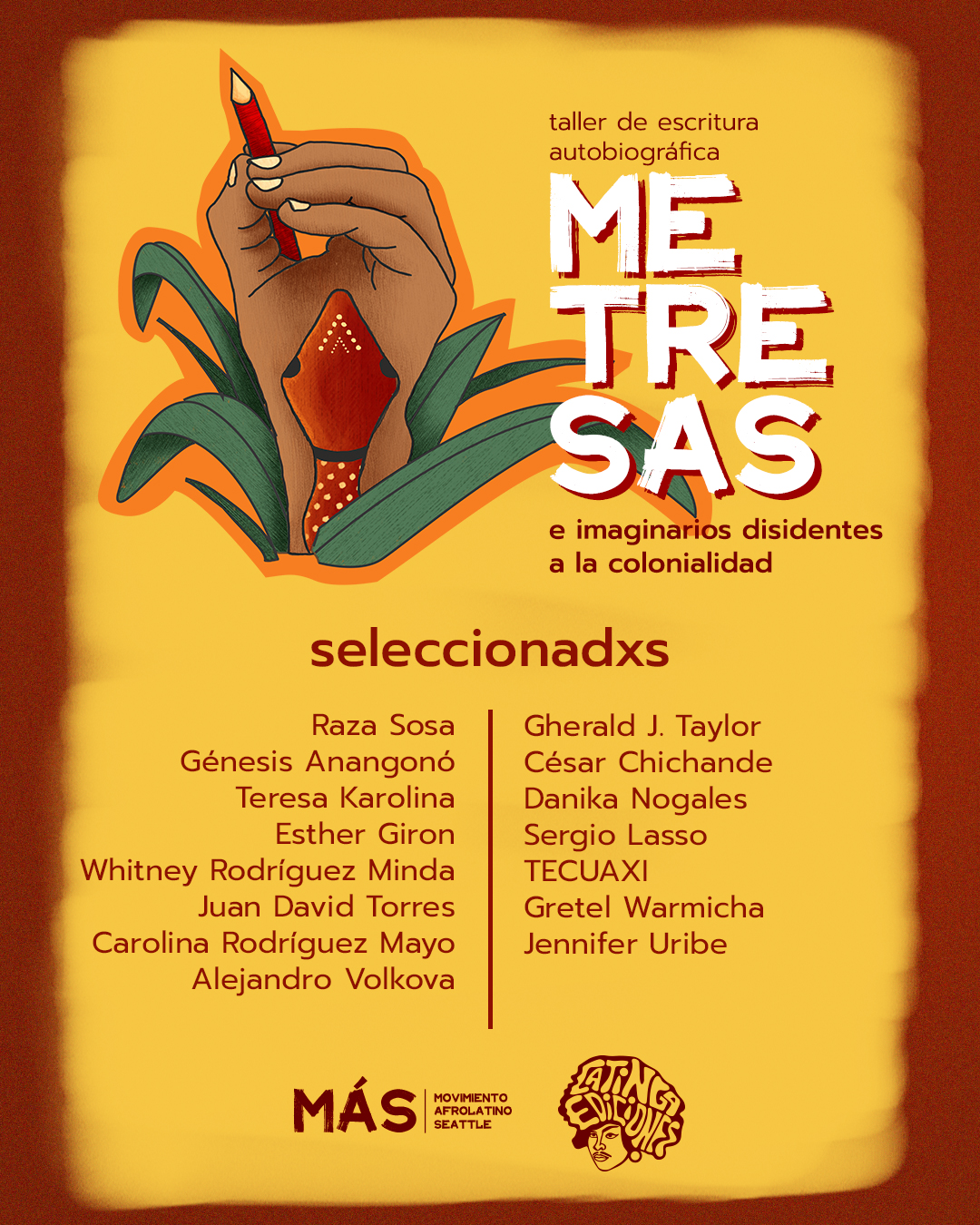 Cost
Free
Host Organization
Movimiento Afrolatino Seattle (MÁS)

Seattle, WA, 98114

Movimiento Afrolatino Seattle (MÁS) is a grass-root 501(c)3 non-profit organization created by Afrolatino communities and artists that appreciate Afrolatino arts and culture coming together to ensure the sustainability of ongoing cultural and education arts activities focused on Afrolatinos and open to anyone who is interested ininterested in learning and preserving this rich cultural heritage.