Calendar
How to use this calendar
Click a date on the calendar or search by location and event type.
Muckleshoot February Winter Powwow
Grand Entry 1:00 & 7:00 PM
DANCE CONTESTS:
GOLDEN AGE (50+)
———————————————-
Men's Combined
Women's Combined
ADULT CATEGORIES (18-49)
——————————————————
Men's Traditional, Men's Grass, Men's Fancy
Women's Traditional, Women's Jingle, Women's Fancy
TEEN CATEGORIES (13-17)
—————————————————-
Teen Boy's Traditional, Teen Boy's Grass, Teen Boy's Fancy
Teen Girl's Traditional, Teen Girl's Jingle, Teen Girl's Fancy
JUNIOR CATEGORIES (6-12)
—————————————————–
Jr Boy's Traditional, Jr Boy's Grass, Jr Boy's Fancy
Jr Girl's Traditional, Jr Girl's Jingle, Jr Girl's Fancy
COMMITTEE SPECIAL
———————————————
Sweet Heart Dance Special
This is a drug and alcohol free event. The Muckleshoot Tribe is not liable for any theft or accidents. No smoking on school grounds.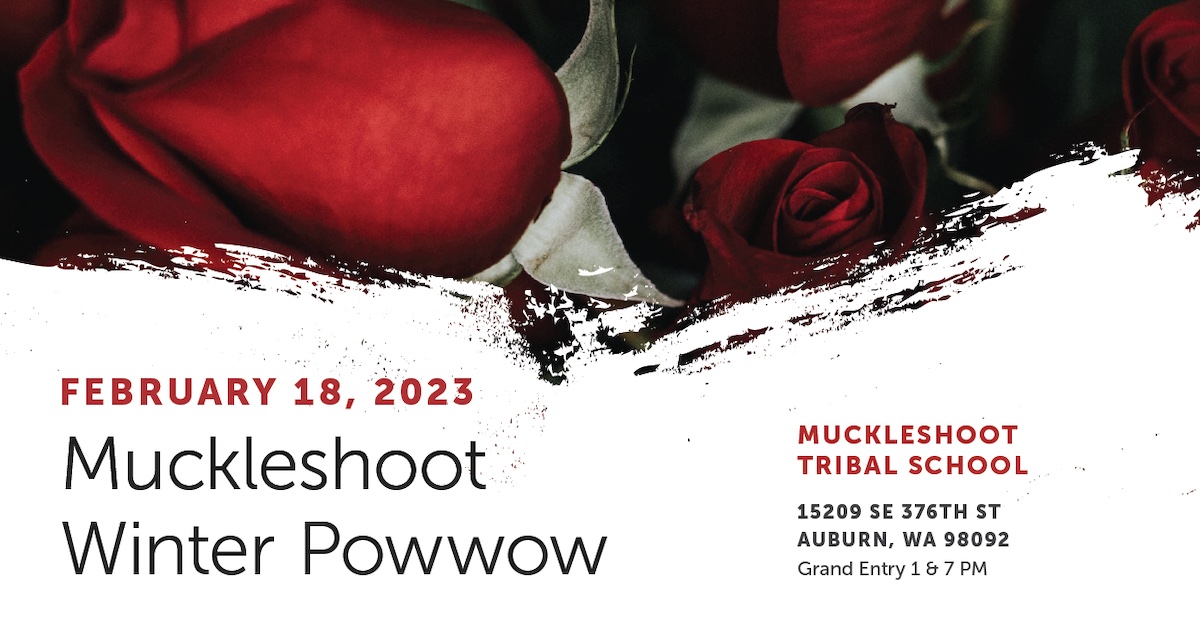 39015 172nd Ave. SE
Auburn, WA, 98092
(253) 939-3311
The Muckleshoot Indian Tribe is a federally recognized Indian tribe whose membership is composed of descendants of the Duwamish and Upper Puyallup people who inhabited Central Puget Sound for thousands of years before non-Indian settlement.