Calendar
How to use this calendar
Click a date on the calendar or search by location and event type.
Mygration: An exhibition of works by Tomas Colbengtson and Stina Folkebrant
For this show, the artists selected an episode at the intersection of Sámi and American history as the source of their inspiration, and they created a collaborative, immersive installation in response to it. In 1894 and 1898, Dr. Sheldon Jackson, the General Agent of Education in Alaska, recommended that the United States Government invite Sámi herders to Alaska for the purpose of teaching reindeer husbandry to Alaska Native Peoples. The herders and reindeer traveled to Alaska by way of Seattle. Upon the expiration of their contract in 1900, some participants remained and joined the Gold Rush, while others returned to Sápmi.
The work of Sámi artist Colbengtson and Swedish artist Folkebrant reflects on this narrative, exploring issues of migration, herd mentality, time, and forgotten past. For the Mygration exhibition, Colbengtson selected and printed archival photos of Sámi immigrants, which are paired with Folkebrant's large-scale paintings of the eight seasons of the mountain world, illustrating the Sámi concept of time and the life of the reindeer. The paintings are hung in a circle with the photographs at center, inviting the visitor to become immersed in a panoramic image. Additionally, the Museum has commissioned Folkebrant, a muralist, to create a piece related to the exhibition's theme on the façade of a building on its campus.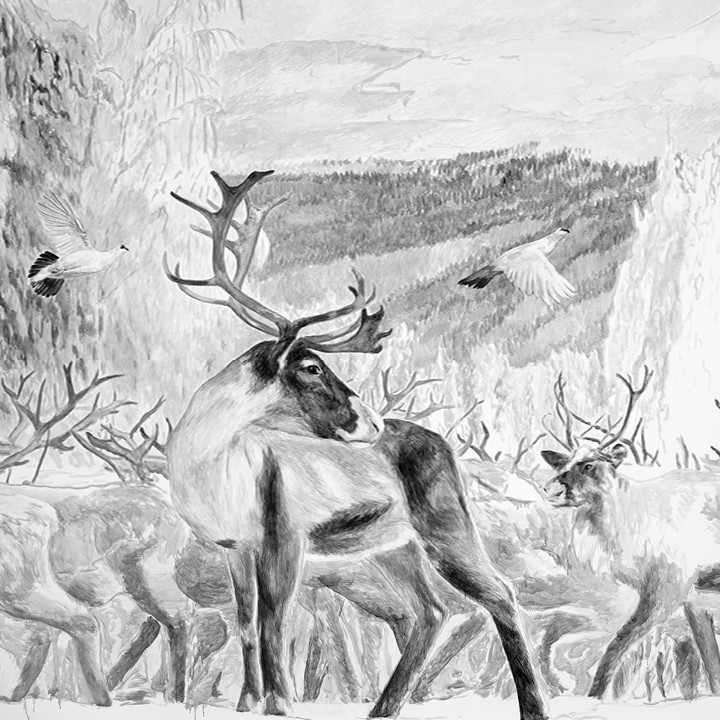 2655 NW Market Street
Seattle, WA, 98107
(206) 789-5707
The Nordic Museum is an internationally recognized museum and cultural center where people of all backgrounds are welcomed to be inspired by the values, traditions, art, and spirit of the Nordic peoples.

Dedicated to collecting, preserving, and educating since its founding in 1980, the Nordic Museum is the largest museum in the United States to honor the legacy of immigrants from the five Nordic countries: Denmark, Finland, Iceland, Norway, and Sweden.