Calendar
How to use this calendar
Click a date on the calendar or search by location and event type.
Northwest Folklife
The 51st Annual Northwest Folklife Festival takes place in person at the Seattle Center and virtually right here, on Memorial Day Weekend, May 27-30, 2022
Vaccines will be required for all participants at the Festival! Click below to read through our COVID safety plan and guidelines
Northwest Folklife's 2022 Cultural Focus, Metamorphosis: In with the Old, In with the New, celebrates people's natural propensity for change. This pandemic has proven to be one of those unique moments in our time; a turning point where we can point our compass true north, see the writing on the wall, and meet the challenges ahead.
A once-in-a-lifetime challenge offers us the opportunity for a once-in-a-lifetime solution. It is in moments like these when emerging ideas, movements, and practices can become new conventions; when new thoughts branch from older ones, connecting us to our past, and propelling us to our future; where changing perspectives can be fostered, not feared, or ignored. In with the old, and in with the new!
​​This year's cultural focus looks to our present, the urgency of now, and how that paves paths for our future. How do we translate the legacies and traditions of our fore-bearers and reflect them in our current selves, with our current identities, and our current conditions? How do we prepare and propel our current selves for the future we want to see? How is this unbroken circle reflected in the common good that exists in all cultures?
This year's approach to our annual poster design is going to emulate our cultural focus in a few ways. Metamorphosis is the process that a caterpillar goes through to become a moth or a butterfly. There is inevitability in that change; there is growth in that change; there is spontaneity in that change; and, there is transformation in that change.
We have invited 4 artists to collaborate on this design process, which will be split up into respective phases. Each artist will contribute a layer, each layer building on the previous artist's contribution. Like a relay race, not only will each artist be responsible for their own leg of the race, but the interim moments of passing the baton, and that exchange of ideas between each artist's transition, will equally influence the direction of the art.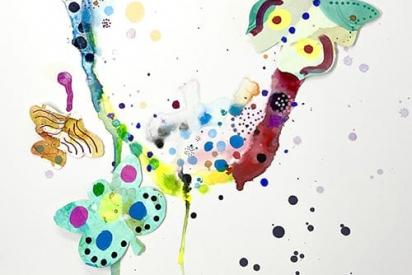 305 Harrison St.
Seattle, WA, 98109
(206) 684-7300
Since 1972, Northwest Folklife has been deeply committed to celebrating the diversity of our Northwest communities and demystifying our differences together, under one roof. Our work centers on preserving cultural arts, bridging connections to heritage and identity, and cultivating the ever-evolving traditions of the Pacific Northwest.