Calendar
How to use this calendar
Click a date on the calendar or search by location and event type.
Pankow '95
⚠️ Public safety notice ⚠️
NWFF patrons will be required to wear face coverings while in the building. To be admitted, patrons ages 12+ will also be required to present EITHER proof of COVID-19 vaccination OR a negative result from a COVID-19 test administered within the last 48 hours by an official testing facility.
NWFF is adapting to evolving recommendations to protect the public from COVID-19. Read more about their policies regarding cleaning, masks, and capacity limitations here.
About
The place is East Berlin and the year is 1995. Sort of. In Gábor Altorjay's campy, deliriously extra sci-fi romp, the capitalist system collapsed six years ago, and refugees are streaming into the newly ascendant Eastern Bloc. Less than thrilled with the triumph of socialism is the sensitive musicologist Johann Wolfgang Amadeus Zart (Udo Kier, in vintage pulpy form), whom the powers that be have locked up in a Cuckoo's Nest-y insane asylum to silence his dangerous discoveries about the cyclical nature of pop culture and youth rebellion. With the ticking time bomb of the lobotomy planned by the evil Dr. Frisch (played by Dieter Thomas Heck, known to most Germans as a genial TV presenter), Zart plots an escape with fellow misfits and undesirables, including a South American general (played by the Hamburg porn impresario Rene Durand) and Germany's first test-tube teenager (punk musician Tom Dokoupil, painted bright green and dubbed over with the voice of a small child).
In Pankow '95, Altorjay, a filmic outsider better known as an artistic companion of the Fluxus group, has created a fruitcake of early '80s paranoia. Gleefully picking at East/West division, artificial insemination, technological mind control, radical youth, and political collapse, Pankow '95 is punched up by a bizarrely catchy synth score by Tom Dokoupil (of band Der Wirtschaftswunder) and held together by a vintage turn from Udo Kier, alongside an extraordinary supporting cast that includes Germany's equivalent of Dick Clark and rock star Nina Hagen. Remastered and re-released, the film is finally available in the US, nearly 40 years late. But the delay doesn't matter much. As Altorjay says, "Pankow '95 is a film about the future of the past," says Altorjay. "As such, it is always current." (Martin Schwartz)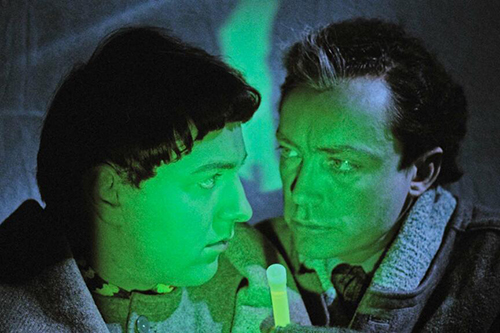 1515 12th Ave
Seattle, WA, 98122
(206) 329-2629
A nonprofit film and arts center located in Seattle, Northwest Film Forum presents hundreds of films, festivals, community events, multidisciplinary performances, and public discussions each year. A comprehensive visual media organization, the Forum offers educational workshops and artist services for film and media makers at all stages of their development. Artist services include access to space, gear, fiscal sponsorship, and an edit lab. Northwest Film Forum is a member-based organization.