Calendar
How to use this calendar
Click a date on the calendar or search by location and event type.
Queering Black History: A Roundtable on the Radical Queer Black Feminist Legacy of Pauli Murray
This will be a virtual event
Join the Pauli Murray Center and Black Women Radicals for a conversation on February 24th at 6:30 PM (EST) about transforming and queering Black History Month and how we uplift unsung Black queer figures from history. Register at bit.ly/QueeringBlackHistory
Panelists include:
Nana Brantuo (she/her) is an educator, researcher and writer. A doctoral student, she centers her academic interests on the mobility, migration and the educational experiences and trajectories of African and African descendant peoples.
Dolores Chandler (they/them) is a mixed race-Black, transmasculine and gender non-conforming, tender, tough human living in Durham, NC. They are a writer, equity coach, facilitator & consultant. When they are not working they like to build things and watch things grow.
Naomi Simmons-Thorne (she/her/hers) is a graduate student at the University of South Carolina studying social theory and educational foundations. She specializes in the sociology and philosophy of education and draws upon critical methodologies to analyze U.S. schooling and its attendant inequalities. She is best known for her work as an activist-organizer in the south and her writings on social justice, trans studies, and black queer feminist politics. Naomi is Brooklyn-born of Trinidadian descent and identifies as a transgender woman.
Trinice McNally (she/her) is a Black Queer Feminist Migrant & Survivor who is a nationally recognized transformative leader, student affairs professional, organizer, and creative committed to the liberation of oppressed people. She is most passionate about developing strategies, initiatives, and curating spaces for historically marginalized populations to transform & thrive through programmatic, advocacy & political education efforts. Trinice was born in London, England by way of Jamaica as a grandchild of the Windrush generation. She considers herself a practitioner of diasporic spiritual practices and is a priest of Ifa (Iyanifa) and Obatala (Iyaloriśa) in the Yoruba tradition. Trinice currently serves as the founding director of the Center for Diversity, Inclusion & Multicultural Affairs at the University of the District of Columbia (UDC), founding organizer of the Envisioning Safety On Our Campuses DMV Project and is the founding director/CEO of TJM Forward Culture, Education, and Organizing Group, a creative educational consultant agency committed to developing art, program and organizing initiatives that mobilize societal change & transformation.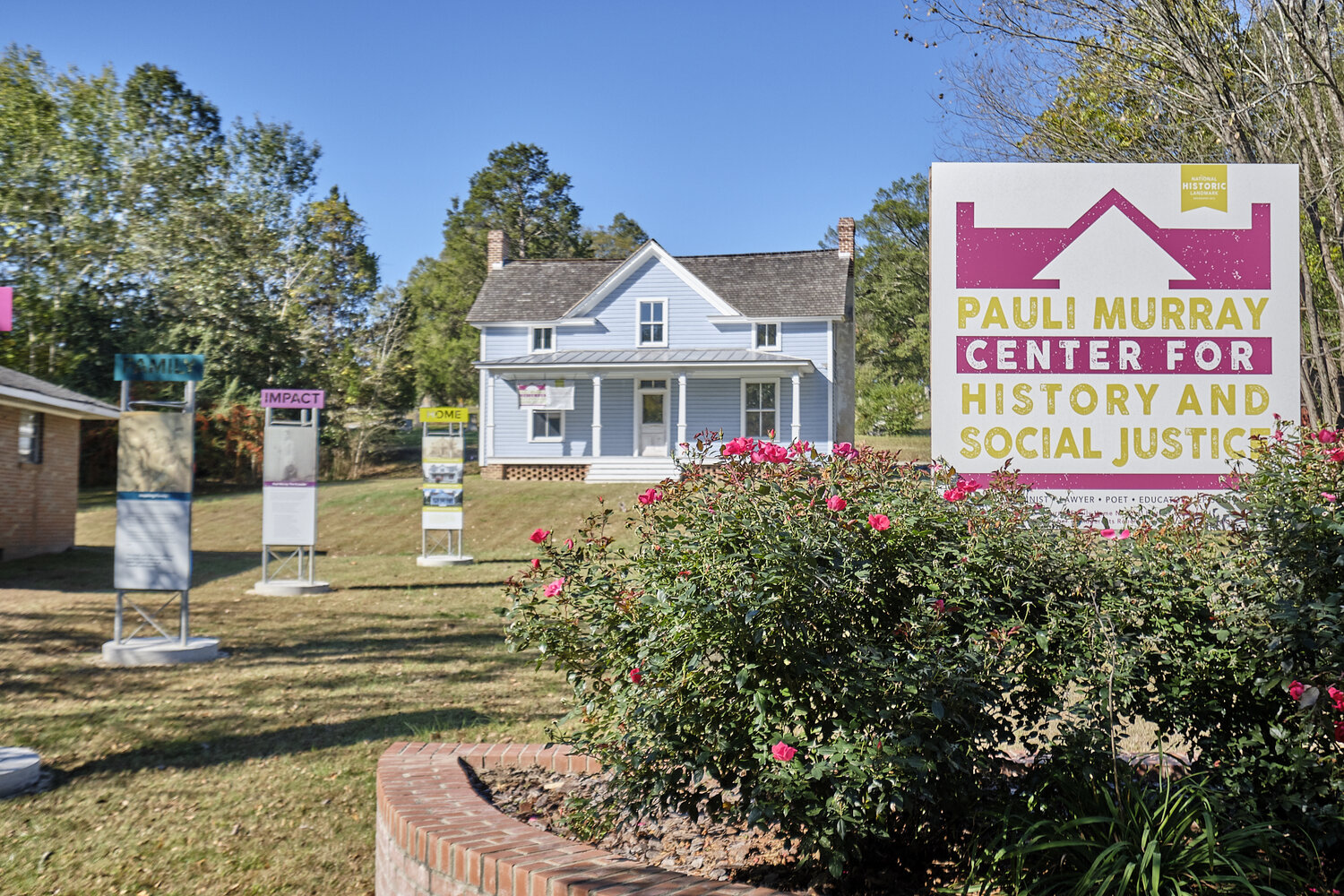 Host Organization
Pauli Murray Center for History & Social Justice
906 Carroll Street
Durham , NC, 27701


The Pauli Murray Center for History and Social Justice lifts up the life and legacy of human rights activist, lawyer, poet, Episcopal priest and LGBTQ community member Rev. Dr. Pauli Murray. Our site in Durham is a National Historic Landmark.