Calendar
How to use this calendar
Click a date on the calendar or search by location and event type.
Remember + Resist
Day of Remembrance marks February 19, 1942, when Executive Order 9066 was signed to authorize the incarceration of more than 125,313 community members of Japanese ancestry on the west coast and beyond.
Please join our friends La Resistencia, Minidoka Pilgrimage Planning Committee, Puyallup Valley JACL, Seattle JACL, and Tsuru for Solidarity on Saturday, February 18, 2023 to Remember + Resist!
– 11 am-12 pm at the Washington State Fairgrounds (Agriplex, 5th St SW, Puyallup, WA 98371 (indoors w/restroom facilities)
– and continuing 1-2 pm at the Northwest Detention Center (1623 E J St, Tacoma, WA 98421) in Tacoma, WA (outdoors)
Both locations will feature speakers, music, and healing and remembrance rituals. Confirmed speakers include: Rev. Karen Yokota Love, Rev. Cynthia Jikaku Yasaki, Tamiko Nimura, and Kiku Hughes. Please join us to make important connections between these American histories!
For any questions, please contact: minidokapilgrimage@gmail.com
Image descriptions: Artwork by Marie Okuma Johnston, Eugene Tagawa, and Erin Shigaki of Camp Harmony and Northwest Detention Center. Text: "2023 Day of Remembrance: Remember + Resist. Saturday, February 18. 11:00 am at the Washington State Fair Agriplex in Puyallup. 1:00 pm at Northwest Detention Center in Tacoma."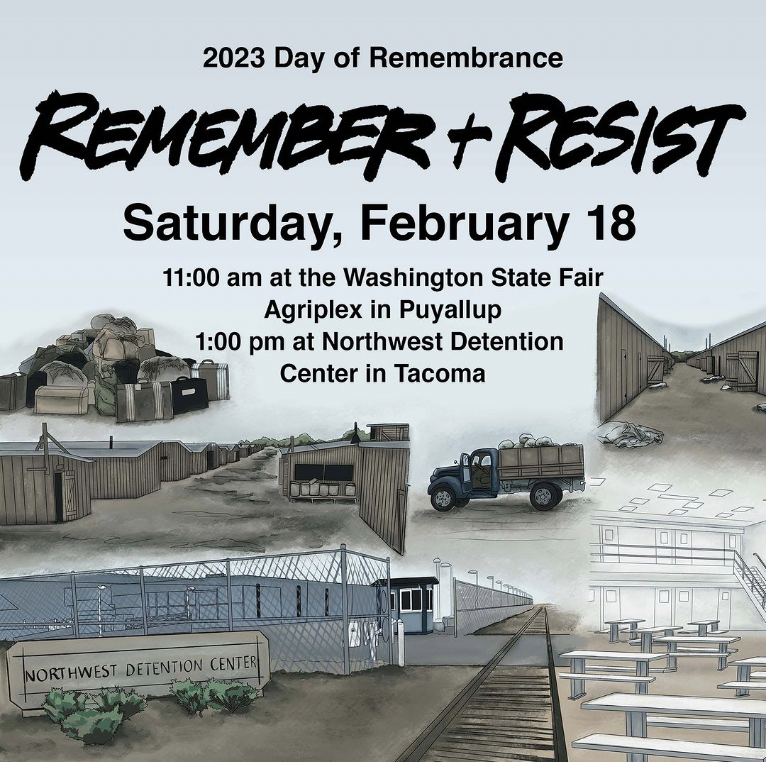 1416 S Jackson St.
Seattle, WA, 98144
(206) 320-0095
A grassroots organization dedicated to preserving, educating, and sharing the story of World War II-era incarceration of Japanese Americans in order to deepen understanding of American history and inspire action for equity.