Calendar
How to use this calendar
Click a date on the calendar or search by location and event type.
Show up for Minidoka
Idaho's Minidoka National Historic Site is at risk from a wind farm that threatens to irrevocably change the landscape. If constructed as currently planned, the Lava Ridge Wind Farm would sit on part of the original footprint of the camp and potentially create a visual wall of hundreds of wind towers.
As we address the climate crisis and shift to a clean energy economy, we cannot replicate the injustice where communities of color experience a disproportionate burden from our fossil fuel economy. Our sustainable, clean energy future must be intersectional, and must center those communities impacted. Minidoka must be protected as a place for learning and healing for generations to come.
The Bureau of Land Management (BLM) is hosting an open house at Mercer Island Community & Event Center on Thursday, March 2. Show up in person to protect Minidoka from development!
Can't make it in-person? Submit comments online at BLM's project website: https://bit.ly/3EirzxD
Check out Friends of Minidoka's website for resources on how to submit effective comments: https://www.minidoka.org/lava-ridge
And Minidoka Pilgrimage's website: https://www.minidokapilgrimage.org/call-to-action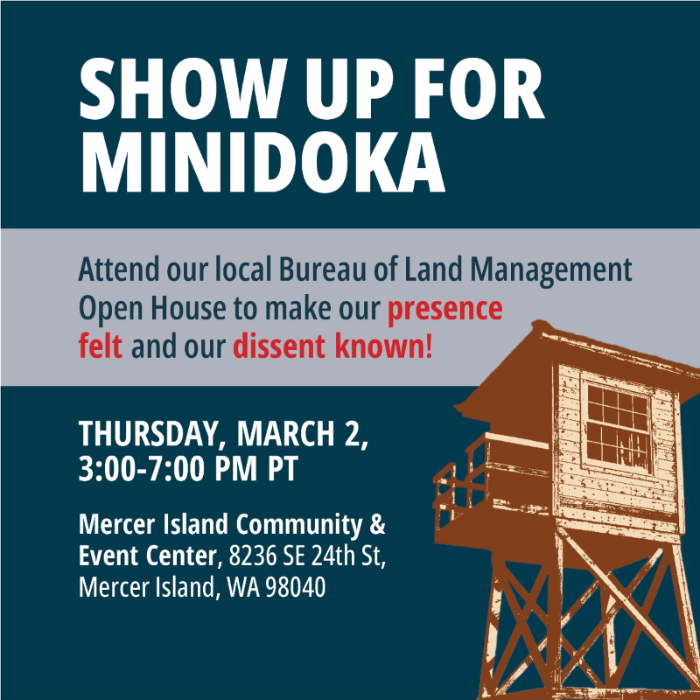 1416 S Jackson St.
Seattle, WA, 98144
(206) 320-0095
A grassroots organization dedicated to preserving, educating, and sharing the story of World War II-era incarceration of Japanese Americans in order to deepen understanding of American history and inspire action for equity.