Calendar
How to use this calendar
Click a date on the calendar or search by location and event type.
Spinning Babies Workshop
Faciliatated by partera Tema Mercado, CPM, LM
Spinning Babies® begins with fetal rotation to reveal the lesser known physiology of birth anatomy. Your passion, our approach. Start seeing solutions in labor progress with this new lens on childbirth. After this workshop you will be able to:
Facilitate comfort in pregnancy and ease in childbirth for your clients
Improve fetal position without manipulation of the fetus
Identify issues faster; gentle actions to shorten a long labor or avoid a cesarean
Use less (or no) force to resolve malposition and labor dystocia
And much, much more!
Spinning Babies® Three PrinciplesSM. Three BalancesSM, and Three Levels Solutions offers the world's first complete system of birth preparation and labor ease concepts using baby's position. Physiological techniques change the effective size of the pelvis through the body's own innate capacity to resolve or prevent labor dystocia. Registration required.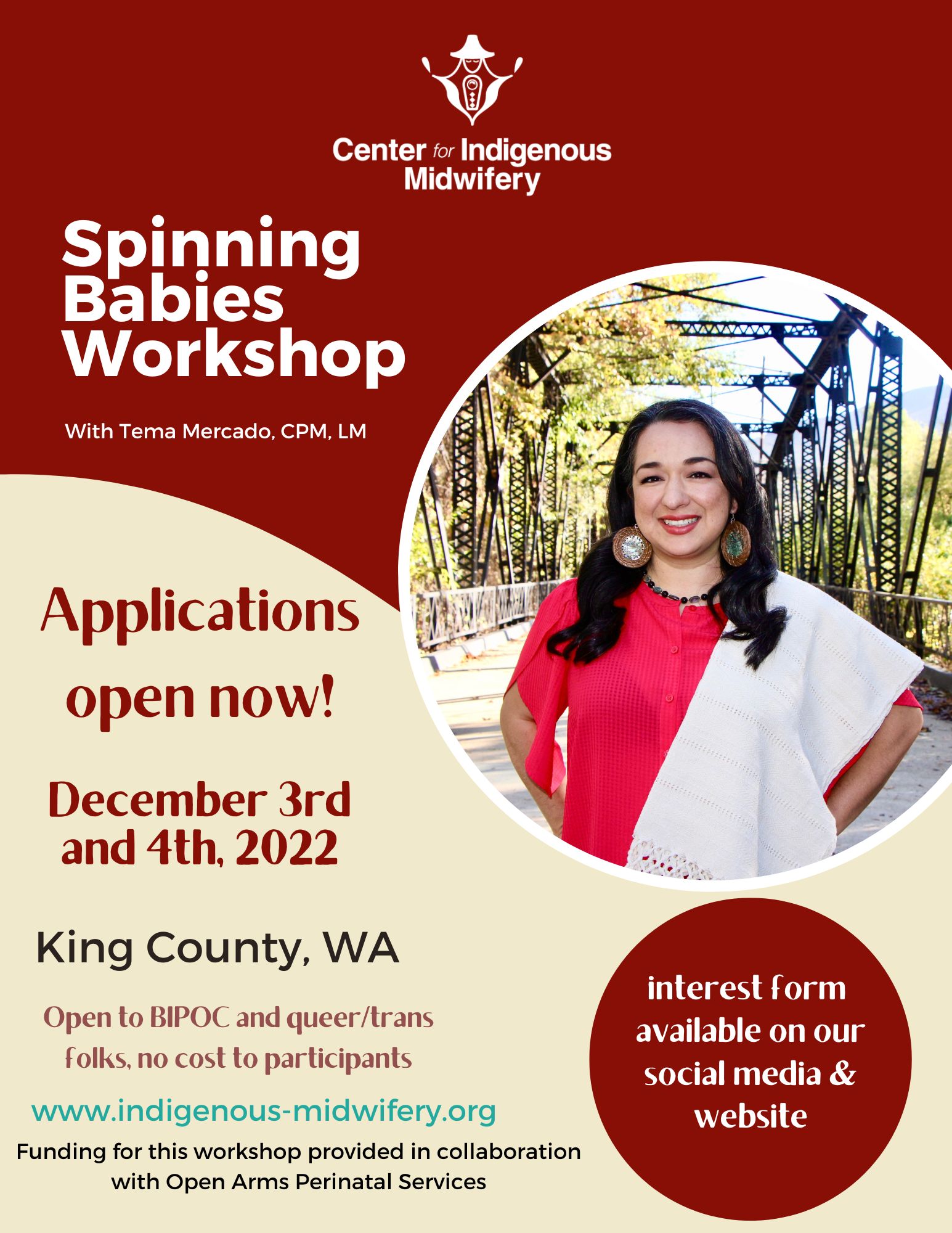 1910 4th Avenue East
Olympia, WA, 98506
(564) 202-5606
Center for Indigenous Midwifery was founded by Rhonda Lee Grantham, an Indigenous Midwife and Herbalist from the Cowlitz Nation.

Cowlitz people are a Salish-Sahaptian tribe of SW Washington that translates to "Seeker of the Medicine Spirit."

For over two decades, Rhonda has been actively catching babies and supporting programs within tribal communities, both at home and globally.

Rhonda also founded the Canoe Journey Herbalists Project, and when leading both, is guided by her lens as a cultural anthropologist and Native woman; in addition to her passions for global health, family wellness, and culturally-centered care.