Calendar
How to use this calendar
Click a date on the calendar or search by location and event type.
This Ain't The Love Boat: Transformative Relationships for Abolitionists
Are you an abolitionist wondering how to restructure your relationships to reflect your values? Our sexual, romantic, and platonic relationships are bound by rigid moral, cultural, and legal structures that dictate what types of sex, love, and care practices deserve recognition and legitimization, leaving behind anyone who doesn't play along. We examine the divide between legitimate vs. scrutinized relationships, and how you can craft connections that are anti-capitalist and anti-carceral. Challenging mainstream narratives in relationships, we evaluate how harmful relational constructs show up in all of our relationships, and explore the interpersonal skills that are necessary to build transformative relationships. This is an advanced workshop asking participants to reflect on their personal lives and cross-evaluate abolitionist practices.
API Chaya's Queer Network Program has been exploring the ways we connect, heal, & thrive as BIPOC, as QTBIPOC, as parents, and as survivors through our QT/BIPOC Parent Survivor Gatherings and DISH: Discussing Intimacy, Sex, & Healing programs. The HEAL Project works to prevent and end childhood sexual abuse (CSA) through healing the wounds of sexual oppression and embracing sexual liberation.
If you are BIPOC and exploring how to better live your abolitionist values at the interpersonal level, this workshop is for you!
Event Start Times:
10:00 AM – 12:00 PM PST
1:00 PM – 3:00 PM EST
Register here: tinyurl.com/QNPHEAL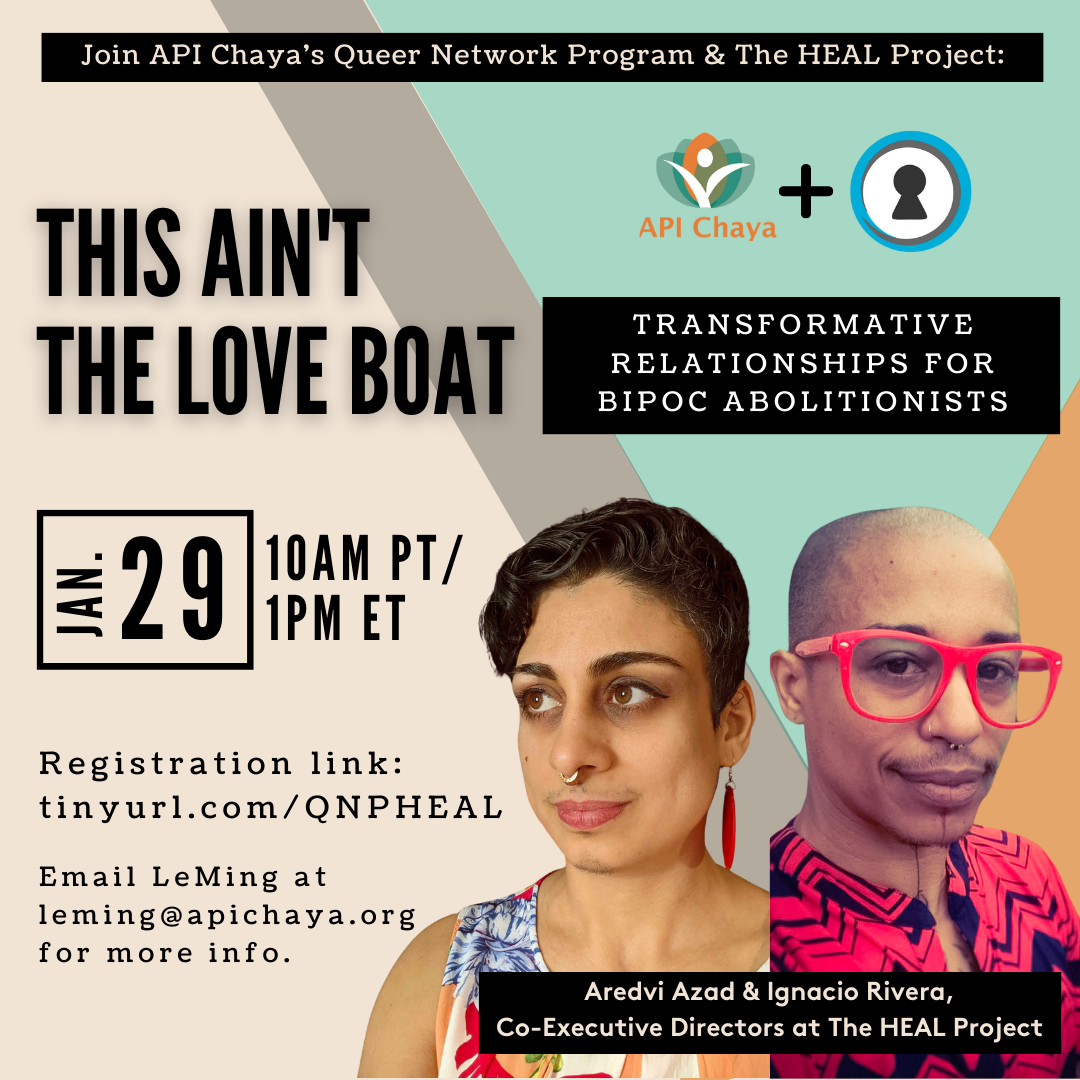 PO Box 14047
Seattle, WA, 98114
(206) 467-9976
25 years of supporting survivors & strengthening communities