Calendar
How to use this calendar
Click a date on the calendar or search by location and event type.
Tiffanie Drayton Black Womanhood and the Toll of Racism
In the early '90s, young Tiffanie Drayton and her siblings left Trinidad and Tobago to join their mother in New Jersey, where she'd been making her way as a domestic worker, eager to give her children a shot at the American Dream. At first, life in the U.S. was idyllic. But chasing good school districts with affordable housing left Tiffanie and her family constantly uprooted – moving from Texas to Florida then back to New Jersey. As Tiffanie came of age in the suburbs, she began to ask questions about the binary Black and white American world. Why were the Black neighborhoods she lived in crime-ridden, and the multicultural ones safe? Why were there so few Black students in advanced classes at school, if there were any advanced classes at all? Why was it so hard for Black families to achieve stability? Why were Black girls treated as something other than worthy?
Drayton's book, Black American Refugee, expands on her 2020 New York Times piece that details the pain and brokenness she experienced while living in the U.S. and why she ultimately left, returning to Trinidad and Tobago. In her book, she examines the intersection of her personal experiences and the broader cultural and historical ramifications of American racism and global white supremacy. Through the experiences of her family, as well as her own, she illuminates the toll that a lifetime of racism can take and evokes a critical question: Can Black people ever realize true emancipation here in the "land of the free?"
Tiffanie Drayton is a mother, world traveler, and journalist whose work has been featured in The New York Times, Vox, Marie Claire, Playboy, and Salon, among other outlets. She has published two non-fiction young adult books, Developing Political Leadership Skills (2019) and Coping with Gun Violence (2018). She grew up in the United States and currently lives with her family in Tobago.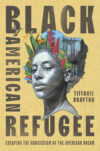 720 Seneca St, Ste. A
Seattle, WA, 98101
(206) 652-4255
A vibrant gathering place in the heart of Seattle, Town Hall fosters an engaged community through civic, arts, and educational programs that reflect—and inspire—our region's best impulses: creativity, empathy, and the belief that we all deserve a voice.