Calendar
How to use this calendar
Click a date on the calendar or search by location and event type.
Village of Lights
NEW CHANGES THIS DECEMBER & MORE MONTH-LONG CHRISTMAS FUN!
This December, midweek and on weekends, we plan on celebrating our eye popping display of over half a million lights and with music & entertainment, holiday characters for your photo ops, carolers, kids' activities, roasting chestnuts, Santa photos and so much more!
No more "flipping of the switch" on Saturdays and Sundays. Instead, the town lights will shine bright every day of the week.
***Events are subject to change due to Covid-19 mandates and restrictions***
It is no surprise that December is the most popular month for visitors to come to Leavenworth. Below are some great tips for those planning on coming to our beautiful Christmastown this December, so your stay is a most enjoyable one! For those of you not traveling this December, you can still enjoy The Bavarian Village of Leavenworth from the comfort of your home! We are rolling out a host of creative new virtual ways to brighten your season like a live webcam of the lights, an online Holiday Gift Giving Guide and a Advent Calendar where you can win prizes to some of your favorite shops, restaurants and activities!
Is the Christmas Lighting Festival or other events happening on the weekends and in the month of December?
Our festivals typically draw very large crowds and in our efforts to maximize safety for our community and visitors, we are no longer doing our  traditional countdown or "flipping of the switch" for those Saturdays and Sundays in December. Instead, the lights will always be on 7 days a week from Thanksgiving through February and we have scheduled lots of fun entertainment and events both midweek and weekends throughout the month of December. Pro tip: A visit midweek or after the New Year will see fewer crowds and the same beautiful lights! We also have a virtual live-feed experience available so you can look at our beautiful lights from the comfort of your home: Live Webcam For more information on Christmastown in December please click here.
What safety measures are in place for Covid-19?
Front Street (the main street in downtown Leavenworth) has been closed to vehicle traffic since July of 2020 to allow for additional social distancing. Masks are currently mandatory inside public spaces so visitors should expect to wear masks indoors. Masks and sanitizing stations are also readily available throughout downtown. Please help keep our community safe!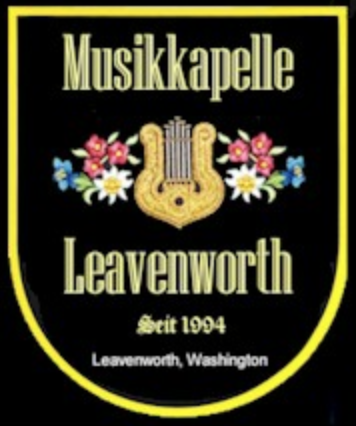 Wenatchee, WA
(509) 663-0102
Musikkapelle Leavenworth, the Bavarian Village town band, began in 1996 under the direction of Chris Shimer. The band performs at all major Leavenworth festivals and activities in addition to out-of-town appearances. It is typical of town bands of Bavaria.