Calendar
How to use this calendar
Click a date on the calendar or search by location and event type.
Word Works | Nicole Sealey: Why is Brigit Pegeen Kelly's "Song" the Perfect Poem?
There are so many good poems. There are, however, very few perfect poems. While we understand perfection is subjective and unachievable, why is Brigit Pegeen Kelly's "Song" a favorite, a perfect poem among poets? In this craft talk, Nicole Sealey examines "Song," its leaps, sounds, images, digressions, syntax, and embellishments, eight years in the making. Understanding the forces behind this beloved poem can give us strategies for writing our very own perfect poem. Sealey will be joined in conversation by Janae Johnson.
Word Works craft talks by novelists, essayists, poets, and memoirists focus on writing as process rather than finished product, examining how language works to inspire and provoke new ideas through live close readings of the writer's own or others' work. These talks are designed to apply to writers of all genres as well as illuminate well-known works for avid readers. The talks are followed by an interview with a noted editor, writer, or critic.
See the full 2022-23 Word Works series lineup here »
Interested in attending the entire series? Purchase a series pass to see all six events for the price of five »
This event will also be livestreamed! Purchase a livestream-only ticket to gain access to the stream during the event. The event stream recording will be available to view for livestream-ticket buyers through Friday, November 25th.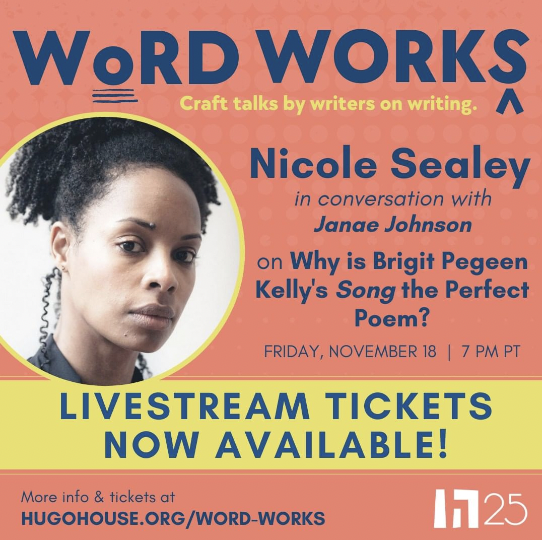 1634 11th Ave.
Seattle, WA, 98122
(206) 322-7030
Hugo House is now a hub for a swelling community—one that is producing some of the nation's most dedicated writers. Hugo House opened a brand-new home for writers in the fall of 2018, a place tailored to programs for writers and readers and dedicated to everyone who loves the art of writing.