How to use this directory of resources
Click on Browse/Filter to narrow your search by checking specific communities and services included in the EchoX community listings.
EchoX includes a steadily growing searchable database of organizations, groups, writers, artists and others organized by ethnicity, cultural focus, type of heritage work and/or type of community action. Check back often to see newly added listings!
Want to add yourself or a group to the EchoX community listing?
Community resource listings will grow organically as you and others are added! If you're involved with community work related to EchoX themes – ethnic cultural heritage and social action – click 'Sign Up' in the upper right corner and add your own page to the Directory for free!
After clicking 'Sign Up' you will be taken to a form to fill out to create your account. Once you open your account, you'll have ongoing access to an EchoX backend template where you may provide any information you want others to see. You can also add your own events to the calendar with details and artwork.
Send the EchoX link to your own supporters. Site visitors will learn more about you, your work and your events!
Directory

ADE Africana
Hello! My name is Laja Okunuga of Ade Africana Imports in Seattle, Washington , USA.

We have been trading in fine African Imports from our storefront business on the famous Broadway Ave. in the colorful and thriving Capitol Hill neighborhood for seven years now.

Over the years we have gained respect, and admiration in our community not only for our products, but also for our warm, friendly and comprehensive customer service. The people of Seattle have come to know us as a place where they can not only select from a wide variety of Carvings, Masks, Clothes, Jewelry, and Musical instruments, but also a place from which they can walk away garnering a smile, and a little better understanding of African arts and culture.
---
Contact
---
Resources
Expression

Music Organizations
Performing Art Organizations

---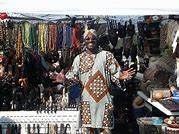 ---