How to use this directory of resources
Click on Browse/Filter to narrow your search by checking specific communities and services included in the EchoX community listings.
EchoX includes a steadily growing searchable database of organizations, groups, writers, artists and others organized by ethnicity, cultural focus, type of heritage work and/or type of community action. Check back often to see newly added listings!
Want to add yourself or a group to the EchoX community listing?
Community resource listings will grow organically as you and others are added! If you're involved with community work related to EchoX themes – ethnic cultural heritage and social action – click 'Sign Up' in the upper right corner and add your own page to the Directory for free!
After clicking 'Sign Up' you will be taken to a form to fill out to create your account. Once you open your account, you'll have ongoing access to an EchoX backend template where you may provide any information you want others to see. You can also add your own events to the calendar with details and artwork.
Send the EchoX link to your own supporters. Site visitors will learn more about you, your work and your events!
Directory

Squaxin Island Tribe
We are descendants of the maritime people who lived and prospered along the shores of the southernmost inlets of the Salish Sea for untold centuries. Because of our strong cultural connection with the water, we are also known as the People of the Water.

Vision: We envision a culturally and economically strong community of self-governing, resilient people united by shared values and traditions.



---
Contact
10 SE Squaxin Lane
Shelton, WA, 98584
(360) 426-9781

---
Mission
The people now known as the Squaxin Island Tribe are committed to the honoring of Mother Earth, the resurgence of our traditional ways and the respect and protection of all people, not only those who are living, but also those who have gone before and who are yet to be born.
We are a diverse and proud people. Our unity as a tribe goes beyond geography. Once we were many communities with a similar language. Following our confinement on the island, we once again dispersed. We are a returning people, returning to our land, returning to our culture. Our long memories, our ingenious adaptiveness and our confidence in knowing who we are have led to our continuing existence.
Our tribal family seeks to maintain the pride, honor and dignity that is our traditional way. Through art, singing, ceremonies, fishing, vocations and traditional medicine, we celebrate the individual abilities and talents which have made us the people we are today. It is our intent that our lives and our work be meaningful and will contribute to the well-being of the entire tribe. We believe this will bring about a resurgence of our culture.
Our greatest natural resource is our elders. They are our history. Another valued resource is the children. They are our future. It is the privilege and the responsibility of the young adults to see to it that the elders and the children are honored and nurtured.
We believe that the Great Spirit is with us in everything we do, and to maintain our relationship to Mother Earth and to achieve physical, mental and spiritual health, we will always need to remember who we are and why we are here.
---
Resources
Education

Youth Programs


Health & Wellness

Mental Health Services
Social & Health Services


Media

Literature


Essential Services

Family Services
Legal Services
Tribal Services

---
About
We are descendants of the maritime people who lived along the shores and watersheds of the seven southernmost inlets of Puget Sound for many thousands of years. Our culture is still very much connected to this aquatic environment.
On Christmas Day, 1854 the Treaty of Medicine Creek was negotiated in Chinook Jargon, a trade language inadequate to convey the complex issues of treaty making. This treaty, signed on December 26, was the first in Washington Territory. Approximately 660 people attended the negotiations, although it was raining and miserably cold. More could not attend because of the severity of the weather.
The ancestral lands ceded to the United States government (by the Squaxin Island, Nisqually and Puyallup Tribes) in the 1854 Treaty of Medicine Creek included 4,000 square miles, or 2,560,000 acres, extending from the Cascades on the east to the Black Hills on the west, and from Mt. St. Helens to the Skookumchuck and Chehalis Rivers on the south and Wilke's Portage Vashon Island and the divide between the Puyallup and White Rivers on the North. Three small reserves. Only one small island, four and a half miles long and a half mile wide was reserved as the main area for all of our people to live. The island was named after the people of Case Inlet and became known as Squaxin Island.
Our people gradually began to leave the island to take up permanent residence near their original homes. By 1862 the number of island residents had dwindled to 50. With so few tribal members remaining on the island, the Indian agency headquarters was moved to Puyallup. By 1959 only four-year-round residents continued to live on the island. Today there are none.
Although there are no year-round residents on Squaxin Island today, it is looked upon by our people as the bond that unites our past, present, and future generations. Squaxin Island is used for fishing, hunting, shellfish gathering, camping, and other activities. Only tribal members are allowed on the island, but permits can be obtained through the Tribe's Natural Resources Department for tribal members to take friends on the island with them.
Tribal headquarters are now located in Kamilche, between Little Skookum and Totten Inlets, where hundreds of acres of land has been purchased and a thriving community has been established. The General Council of all members elects a seven-member council that oversees all branches of Tribal government and enterprise.
The county surrounding the narrow inlet of Big Skookum, now known as Hammersley Inlet, was originally known as Sa-He-Wa-Mish in honor of our people who were living there. However, in 1864 the name was changed to Mason County in honor of Charles Mason, acting Governor in the absence of Isaac Stevens.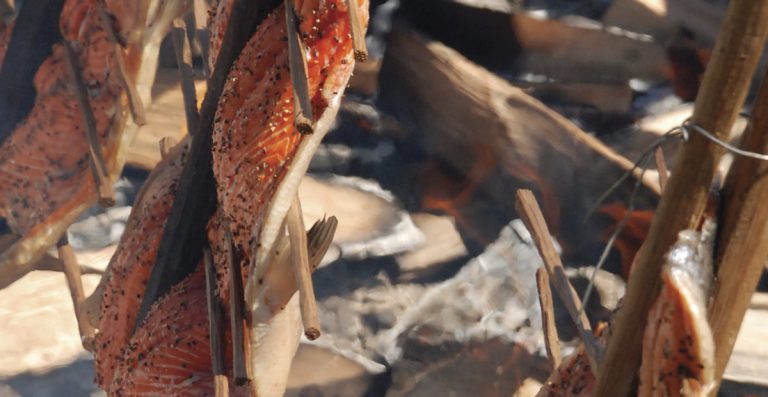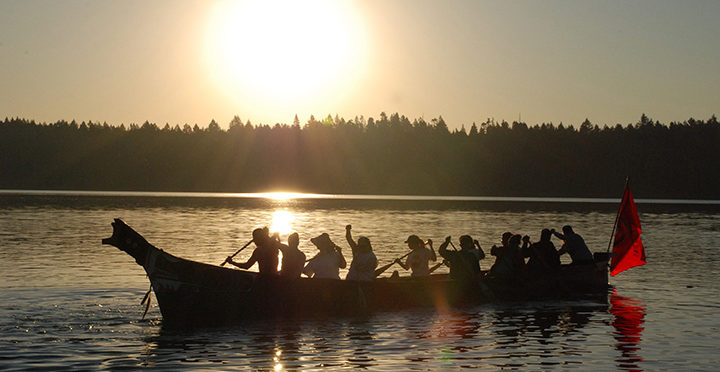 ---