Arts and Literature Posts
All Booked Up for the Winter!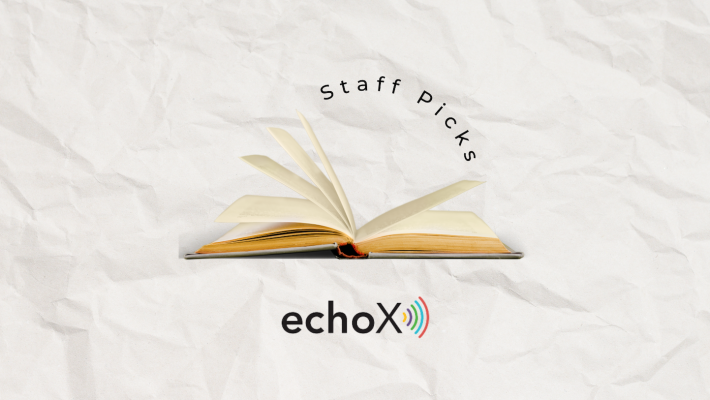 It's cold (and gets dark way too early) in the winter months when there's nothing better than a cozy place to curl up with a hot drink (or soup) and a good book! 
We asked EchoX staff to send us their favorite books written by POC authors – no genre was off limits! Our picks range from memoirs and historical fiction to poetry and comics! We've also listed some amazing POC-owned and supported bookstores to explore.  
If you're looking for your next great read, it just might be on this list! 
Staff Book Picks 
*Note: the opinions expressed here are representative of individual staff members and may not reflect EchoX as a whole. 
Custer Died for Your Sins  
Author: Vine Deloria (Standing Rock Sioux)

 

 Genre: Historical Non-Fiction

 
"If you're a Native in academia, you'll laugh along with Deloria's remarks in this relatable read. Even though this book was published in 1969, it remains relevant to the Indigenous experience." – Sierra 
Read more about 

Custer Died for Your Sins 

by 

visiting Goodreads

, a book-focused website for readers.

 
This Wound is a World  
Author: Billy-Ray Belcourt (Cree)

 

Genre: Poetry

 
"Indigiqueer poet Billy-Ray Belcourt speaks to love, sex, pain, and sadness through a series of poems in This Wound is a World. Belcourt speaks to how we embody our resistance, our love, and our future." – Sierra 
Marrow Thieves 
Author: Cherie Dimaline (

Metis)

 

Genre: Young Adult Science Fiction

 
"A gritty novel for young readers following Frenchie, a sixteen-year-old Indigenous girl surviving in a dystopian future where Indigenous peoples are hunted for their bone marrow." – Sierra 
We are Water Protectors  
Author: Carole Lindstrom

 (Anishinabe/Metis)

 
Genre: Children's Literature, Fiction

 
"This illustrated book inspires children to protect and steward their environment, continuing the legacy of our Indigenous ancestors, the original stewards of Turtle Island." – Sierra 
Moon of the Crusted Snow 
Author: Waubgeshig Rice (Wasauksing First Nation)

 
Genre: Science Fiction, Dystopian

 
"Great read as we enter the cold, wet, and maybe a bit snowy winter season. Waubgeshig breathes new life into traditional stories in this speculative fiction novel about an Anishinaabe community that goes dark." – Sierra 
Read more about 

Moon of the Crusted Snow

 and author Waubgeshig Rice by 

visiting 

his website

.

 
Unplugged    
Author: Donna Freitas

 

Genre: Non-Fiction

 
"I have read this book over 5 times and continue to learn so much and get enveloped by this series, it speaks about our society being addicted to our phones and the digital world so much that people choose to leave their physical bodies and live virtually." – Brenda 
Monstress    
Author: Marjorie Liu

 

Genre: Fantasy/Horror

 
"Monstress by Marjorie Liu is an epic fantasy/horror series that draws on a lot of Eastern influences to build this incredibly rich world. If you've enjoyed the shows Avatar: The Last Airbender and The Legend of Korra, Monstress gives me a lot of those vibes, but much, much darker. Disclaimer: Mature readers only!" – Lucas 
The Vanishing Half    
Author: Brit Bennett

 

Genre: Historical Fiction

 
"The Vanishing Half is a historical fiction novel about race, family, and sisterhood. It is about a pair of twins growing up in a light-skinned Black town in the segregated South. The book follows the sisters as their decisions shape their lives (one twin chooses to pass as White, the other twin does not)—and, eventually, their daughters' lives. The book explores themes of colors, race, and how our environmental and societal conditioning shapes and affects a person's "decisions, desires, and expectations" over two generations of women. 
The writing is rich, thoughtful, and enchanting—beautifully crafted but tragic. Another reason why I like this book is that it forces you to question your view of the world, of race, and how you move in such a racialized world. Do you make the decisions you make because you're trying to survive in a world that has been trying to extinguish you? Or is there something more deep-rooted driving your choices—internalized racism, or colorism, for example." – Kathryn 
Without You, There is No Us  
"I love a good science fiction novel, but I tend to gravitate towards non-fiction. I especially enjoy historical picks and memoirs. I'd also like to note that I like listening to audiobooks and lots of podcasts – most of my library is on my phone! For my pick, I'm choosing a book that I have in my audiobook queue, Without You, There is No Us. This nonfiction memoir by Suki Kim has been recommended to me by a few family members and after reading a brief description, I knew it was something that I had to download.  
I asked my sister to send me a brief description and thoughts she had after reading the book! I'm really looking forward to listening to it over the holiday." – Amy 
"The book is a rare glimpse into one of the world's most isolated countries. It's told through the lens of the author's personal experience working as a teacher at a Pyongyang university, which allows the reader to connect with both the author and her students. I thought it was a fascinating and more personal way to learn a bit more about the history and culture of North Korea. The book also helps humanize the North Korean people in a way that the media often doesn't. (Because the media is so focused on Kim Jong-un and the government.)" – Quote from Amy's sister 
How We Became Human   
Author: Joy Harjo

 

Genre: Poetry

 
I have been following Joy's poetry for about 35 years and enjoy how she is able to paint the unsaid into being and bring the known into a new realm in a way that only poetry, which she has mastered, can accomplish.  This book is a selection of her work (1975-2001)." – Ann 
POC-Owned Bookstores in Seattle, WA 
Estelita's Library – Justice Focused Community Bookstore and Library – 

Website

 
Estelita's is a black/brown-owned bookstore in Seattle. "The goal of Estelita's Library is to have community book talks, classes, meetings, history lessons, and much more to strengthen and develop our collective analysis for justice. Estelita's Library's model is to build upon the traditional bookstore model and include community book lending. The space and books are open to everyone, at no charge." [Estelita's Library website] 
L.E.M.S Life Enrichment Store – 

Website

 
"L.E.M.S. Life Enrichment Bookstore in Columbia City, is the state's only black-owned bookstore. Vickie Williams founded & ran L.E.M.S. for over 2 decades, focusing on black literature, history, and empowerment. L.E.M.S. has held countless community events & was a hub for community-building, learning, and organizing – as well as a space for youth that received mentorship & guidance from Ms. Vickie." [L.E.M.S Life Enrichment Store website] 
"We are family-owned, community-owned, LGBTIQQ-owned, Black-owned, woman-owned. Our family has Southern roots and through various migrations, we ended up in the Pacific Northwest. Parable is co-owned by three family members who are cousins and sisters." [Parable Tacoma website] 
*Bonus* Picks from EchoX Staff 
Outsider Comics and Geek Boutique – 

Website

 
Outsider Comics and Geek Boutique is located in Fremont, Seattle. Their mission is to "bring together a community of individuals (women, minorities, LGBTQ groups) who identify with geek culture, but have traditionally been underserved by comic shops". [Outsider Comics and Geek Boutique website] 
"I'd also throw in a shoutout to my favorite comic store, Outsider Comics. They're not POC-owned, but their mission is to provide a space for women, POC, and LGBTQ folks that often have trouble finding a place in comics, and they do a great job!" – Lucas 
Chin Music Press Publishing – 

Website

 
"Chin Music Press is a curiously bibliophilic indie publisher located deep in the recesses of Seattle's historic Pike Place Market. For 15 years, we've been creating beautiful, engaging, and affordable books on a wide range of quirky and eclectic topics." [Chin Music Press Publishing website] 
"Chin Music Press is one of those little jewels in every city.  This press delivers books that will strike close to your heart.  Their selections include many culturally relevant editions both locally and internationally.  A must see stop." – Ann 
POC-Owned Bookstores in Portland, OR 
Third Eye Books Accessories and Gifts – 

Website

 
"Third Eye Books Accessories & Gifts LLC was founded in 2019 in Portland Oregon by Michelle Lewis and Charles Hannah. Our vision is to be the number one supplier of African Centered books, accessories and gifts in the Portland Metro Area. We believe our products can be used as a tool to motivate, inspire, restore or enhance a person's cultural pride and to bring forth happiness and healing into the hearts of our customers." [Third Eye Books Accessories and Gifts website] 
Recent Arts and Literature Posts