Supporting EchoX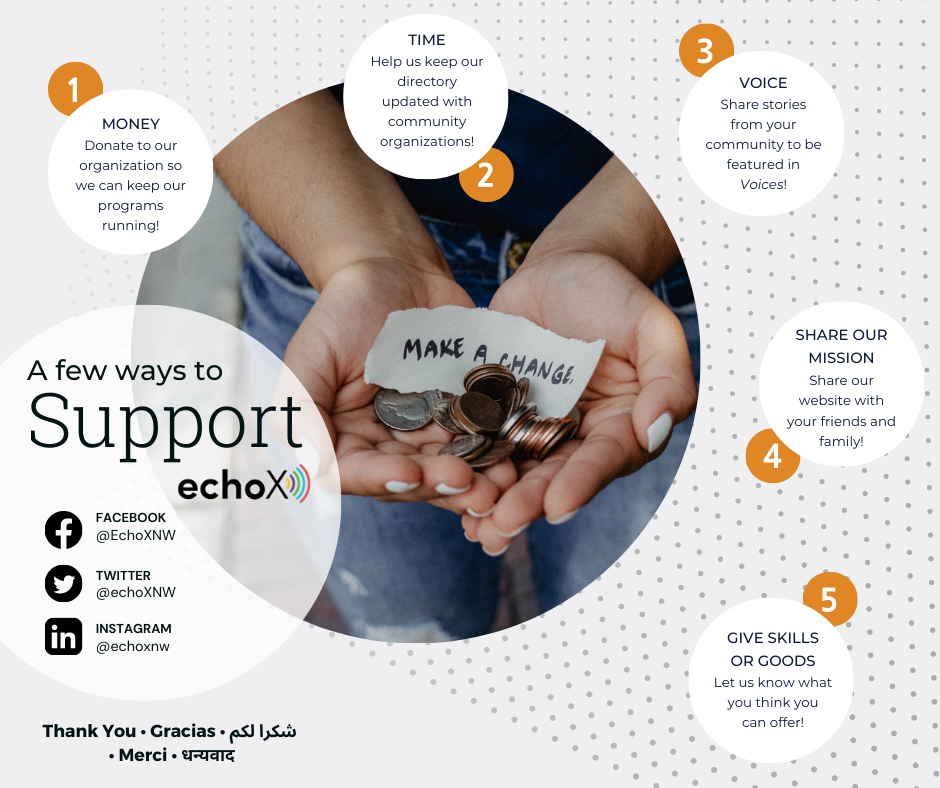 Photo credit: Katt Yukawa
We hope you will take the time to get to know us or reacquaint yourselves with us by looking through our website's different initiatives. In that process, please take note of how we implement our vision and mission by focusing on amplifying the direct voice of communities. All of us at EchoX work on our initiatives with a passion to create a holistic view of communities as a public service free of charge to everyone.
EchoX's mission, vision, goals, and initiatives can be found on our 'About page'.
Contact us at info@echox.org to support us with your talent OR click here for monetary donations.
INITIATIVES IN DETAIL
DIGITIZE: "Empowering youth identity and voice through digital, multimedia storytelling." & "Advancing digital access and literacy"
From EchoX staff member: "I work with PNW youth who aspire to be digital creatives in their communities. In the next year, I hope that we can connect with more youth from more diverse communities so we can provide them a space to share their stories."
CALENDAR: "Connect with community in real time"
From EchoX staff member: "When working on the calendar, I add events from all backgrounds and cultures. What I would love to accomplish in the next year for EchoX is to let the communities and organizations that we add on our calendar know that we support them and they can support us."
DIRECTORY: "Building community resource networks"
From EchoX staff member: "The directory connects community, inspiring engagement and lifelong cultural learning. The directory hopes to grow and connect directly with organizations to meet community needs and amplify voices."
VOICES: "Highlighting diverse narratives across community groups"
From EchoX staff member: "Voices seeks to create and provide articles and multimedia that spotlight and support cultural communities around the Pacific Northwest. We aim to share stories that center around the truths and experiences of the communities we feature. In the future, we hope to feature more BIPOC spotlights in the form of short comments/interviews and provide website space for artists to showcase their material."
Your support allows EchoX to remain free for the community.