Arts and Literature Posts
Artist Spotlight: Songcatcher Koli Kohler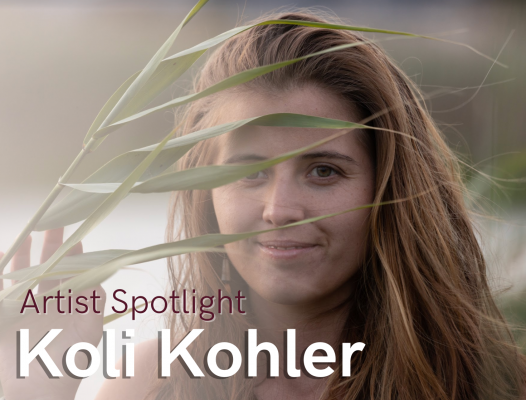 Singer-songwriter Koli Kohler (Yurok/Karuk/Hupa) has been writing songs and singing story for as long as she can remember. Her first album, titled How I Am, was nominated for three Native American Music Awards. She recently released a seven-song EP, Better, this past September. We sat down with her at Voices for a Q&A. These answers are edited for clarity and brevity.  All images were supplied by Kohler.
Kamna: Could you please introduce yourself and tell us some things you like people to know about you?  
Koli: My name is Koli Kohler, its actually Koleyna Kohler which is Miwok for "fish coughing" so my friends call me fish bubbles sometimes. I am Yurok, Karuk, and Hupa – but my grandpa lives on the Hoopa reservation, so I identify as being Hupa. I currently am living in Nashville but from California. I started writing songs when I was eight years old and my first song was about Columbus with the big butt and that was like the worst because in my head that was like the worst insult you could come up with. My parents, especially my mother, would always read the true accounts from Howard Zinn on how Columbus would cut off the fingers of the Natives and how he would rape the young children. At eight years old, I was like "Ah! He has such a big butt!" I wrote this whole song and that is what started my music career. 
Kathryn: How would you characterize your music style and work?  
Koli: Basically, I see song writing as song-catching. I'm not really convinced I write these songs. I think they are just sent to me and I am supposed to catch them from whoever sends them to me and my job is just to put them out there. So 'Have You Seen My Sister,' I think I wrote it in 10-15 minutes after an interview with this Native woman from my tribe, Rhonda. She runs a newspaper in my tribe and she was interviewing me about the Native American Music Awards and was asking me if I had a song about Missing and Murdered Indigenous Women. I said "No, but I know the title. I want it to be 'Have You Seen My Sister?' and I know I want the tempo to be the same as a heartbeat." But other than that, I had no clue because it was such a sad subject and then she said "Okay, well, let me know when you write it." And right after that, I just caught this song. Like yup, this is exactly what I wanted! 
I see my song writing as storytelling. I think it's just a thing that was passed down to me from generations and my job is just to continue it in a song form. So, acoustic folk pop is a long way around.  
Kamna: Do you have any stories or memories of when the music bug clicked for you?  
Koli: I grew up in a very musical family so my parents fell in love in a top-40 band. They were writing music forever, so I was used to singing Native songs, they would perform their songs sometimes, so I was really used to that lifestyle of music. It's in our blood. Growing up my sister, who is three and a half years older than me, and I would sing harmonies together all the time – musicals or songs. I think since I had that all around me, apparently, I started singing before I could talk, when I was six months old! Any song, any music, anything that had words, it was in me.  
I knew it was there but I kind of thought it was normal. Until maybe high school and then I started owning my songwriter title: I'm a songwriter, I write songs, this is what I do. That's when it really clicked. 
Kathryn: What really caught me when I listen to your music is the storytelling aspect. Was that something you cultivated or changed over time?  
I think I've always had that storytelling aspect somewhere, somehow. I think that is why I feel like I catch songs. I catch the feeling of what I want to portray, and it comes out in the feeling and the way I write words. I think that is just something that I've kind of always had but I've definitely always worked and improved on it. Taking classes to get feedback and learning how to accept feedback as an artist is the best skill to have because that is how you really hone in. Now that I know where my voice is, I know how I write stories, I just go way too hard into the metaphor most of the time. Like with my new album every song is a symbol or a metaphor. It's kind of crazy. But I like it. I like when the music and the words just come together perfectly to give you that emotion.  
Kamna: In general, what sort of things influence the various different aspects of your song writing and catching and composing?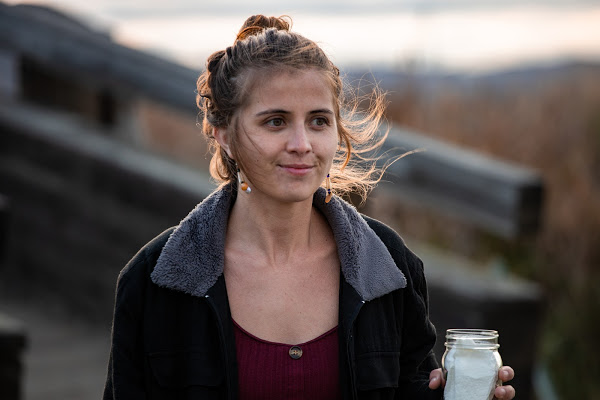 Koli: You can kind of tell on the album which ones are the older ones because of the way I tell stories, definitely was more like "this is how I'm feeling." So, I think I got to this point kind of within the last couple of years where I want to tell stories that aren't mine and I want to catch the feeling and use the skills that I've learned by writing my own stories to write stories that I might not feel are directly applicable to me but are applicable to other people and somehow make it universal.  
I think visuals spark my songs, which is interesting because, you might think it's something that I hear. But if I'm at the beach and I see sea glass, I'll see that and think of a metaphor for that and write a song about how you change. [It's] kind of is crazy how it falls together. That's why I feel like I catch the songs. It's definitely something I see first. It's kind of magic really! 
I don't even know what something means until someone's like "that line really meant so much to me" and I didn't even think of it like that so I think that is the power of a song, it can change and evolve. 
I've learned this past year how to be receptive to a song, whereas when I was teaching, it was impossible. I wrote one song over the three years I was teaching, one or two songs max because I just never had the time. You really have to drop everything you are doing and grab a piece of paper, your voice memos and sing into it. I just didn't have the time as a teacher so I took this year off and was like I need to learn how to do this, figure out how to catch these songs. 
I just wrote this song recently, which is not going to be on the album but the idea: the storyline is the documentary on Epstein, I was just hearing about all the girls' experiences – it was just kind of stuck in my brain. And then I saw this ad on my computer for this masterclass on how to become an astronaut and those two topics came together in a song that has nothing to do with me but somehow tells the story. It's kind of about how you feel weightless when you are in space but the verses are all about going through trial and dealing with this abuse. You've just got to be receptive to things coming because you never know when a song will hit you.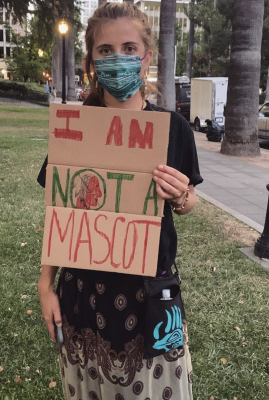 Kathryn: How does your identity impact your music or your artistic expression? 
Koli: Definitely from my Native background, I feel like this is the way I just naturally tell stories. I feel like when you are growing up, you are always the center of every story you write. But I think what I've learned with and am also coming to terms with [regarding] my identity, that I am biracial, that I look very white, and that a lot of people don't see me as being Native. Instead of choosing, well I'm white. My sister's very vocal: "Yeah, I'm Native!" Because she looks Native – she's got dark hair. My hair turns light in the sun. She's got dark eyes and I have green eyes – and nobody in my family has green eyes. And just everything about her when she speaks out, it's like of course you are Native. But when I do, it was always hard to prove myself. 
My new music became my voice of expression – first the Columbus thing and then I wrote a song in high school 'How I Am' which is what my debut album is titled. It's all about being biracial and trying to figure out where you stand in your community.  
 I think it's just the way I connect to being Native and connect my voice and I think it allows me to tell a story in a Native way that is also contemporary. When you tell traditional stories there is never a human in the story, or ever rarely. It's always about the animals, they personify different characters and the coyote is the trickster, and you got to be careful.  
I think the way I tell songs is in a vague enough way where it can apply to anyone and that is how traditional stories are supposed to be told. You are supposed to learn a lesson and I think that I show I approach songs too. At the end of this song I want someone to feel a specific something.  
Kathryn: So, let's talk about your production team 
Koli: I have my "prodadcer" – Jack Kohler. I pretty much play all the instruments and do the basic production, then my dad takes it from there. I have a couple of friends from Nashville on this new EP. It's really fun to be able to write the song and produce it yourself and get the sound that you want and then my dad takes if rom there. 
He is self-taught which is really awesome, and it's free which is every musician's dream. 
Kamna: What's next?  
Koli: This past year I have written about 100 songs which is really awesome. [I've been] co-writing a lot with people and really working on my skills and production skills and co-producing this album with my dad. What is next is… I have a seven-song album EP called Better. I put a lot of thought into where the songs are going and where the story is told. 
From the start it is about a relationship ending, and the singer being like "okay, it's time for me to figure out my own life because this isn't really working and going through the healing process of post-breakup." None of these songs are really about my life because I've been dating my boyfriend for six years but it's been really fun to explore this character kind of. It feels like a short story. 
In the next year I am hoping to get two EP's, seven songs each, out.
Kathryn: On a random note, what is your favorite fry bread topping? Just because I always like to know what people like on fry bread. 
Koli: Anything on fry bread is amazing.   
NDN tacos at pow-wows are the best thing ever. I also really like strawberries and powdered sugar, honey. With camping it was always easy to bring a little thing of powdered sugar – there were really tiny fry bread pieces. It was the perfect amount.
You can stream Kohler's EP, Better, at kolikohler.com where you can also find her previous album, How I Am. Kohler has also recently begun to release merchandise which can be found in the 'Store' tab of her website. 
Recent Arts and Literature Posts