Calendar
How to use this calendar
Click a date on the calendar or search by location and event type.
2023 Refuge Outdoor Festival
Refuge Fest is a 3-day outdoor recreation and camping weekend centered and led by the BIPOC community. All are welcome!
You BELONG outside. Join us for the 6th annual Refuge Outdoor Festival campout. 3-days and 2-nights filled with opportunities to build community via outdoor recreation, art, music, and conversations. Leave rejuvenated and connected.
ALL bodies are welcome at Refuge– Black, Indigenous, People of Color, Allies, Queer, Trans, Straight, Disabled, and the multitude of other identities that we hold. New to exploring the outdoors? Expert in all things outdoors? Just want to kick it? This event is for you! This event is to build community and take refuge. We design our festival and events to create a safe space for emotional and physical safety, accessibility, connection, joy, and belonging. All ages, all experience levels, all people are welcome, sorry only service animals.
Schedule to include a variety of activities including justice conversations, physical recreation & skill-building opportunities at various levels, healing practices, art creation, musical experiences, partner and vendor market, community service projects, AND of course our silent disco. Choose your adventure, and do as much or as little as you would like.
You have options! Camping at Refuge Outdoor Festival isn't just in a tent. We offer a number of lodging options including open-field glamping, private car camping, RV or Campervan sites, REI pre-set camping, and 6-person yurts with electricity.
This is for you if you:
-Are a BIPOC person that wants to build community with other BIPOC and allies.
-Are a white person that respects, supports, and want to build community with BIPOC and other allies.
-Have an interest in the outdoors but don't know where to start.
-Love the outdoors and are looking for a community to share it with.
LOCATION
Ancestral lands of the Snoqualmie Tribe . Prior to white settlement of the Snoqualmie Valley in the late 1850s, this area was home to several large permanent winter villages occupied by the ancestors of members of the Snoqualmie Tribe. The 575-acre Tolt-MacDonald Park and Campground is located in Carnation at the confluence of the Snoqualmie and Tolt Rivers in the beautiful Snoqualmie Valley. Because this is high-quality salmon habit, during the fall, visitors can observe chinook salmon spawning in the river below while eagles and osprey soaring above.
COVID PRECAUTIONS
The safety of all guests and staff is our top priority. There is an inherent and elevated risk of exposure to COVID-19 in any public place or place where people are present and there is no guarantee, express or implied, that those attending the festival will not be exposed to COVID-19. As BIPOC communities have been disproportionately impacted by COVID-19, Refuge Fest is committed to staying up-to-date with current state and local mandates and guidelines from the CDC.
Friday
Activities have included a time for check-in, a camper social, and a welcome experience (such as outdoor movies, curated meditation, or star gazing).
Saturday
Activities have included outdoor recreation activities & workshops, a partner market where our attendees can learn more about our sponsors and community partners, with musical guests, and a silent disco!
Sunday
Activities have included a service project and closing circle so attendees can say goodbye and carry their connections beyond the festival.
Reservations may be required on a workshop-by-workshop basis. Some facilitators request an attendance cap for a variety of reasons.
By purchasing a ticket you agree with the following:
* Golden Bricks reserves the right to refuse admission or to eject a pass holder for behavior likely to cause damage, injury, or nuisance. This is a hate-free safe space if a pass holder's behavior is unbecoming of policies that Golden Bricks has set forth ejection will be immediate. Intoxication or aggressive behavior is unacceptable and will result in ejection from the park. Those ejected from the venue will not be readmitted to the event and tickets will not be refunded.
Don't miss out on the fun!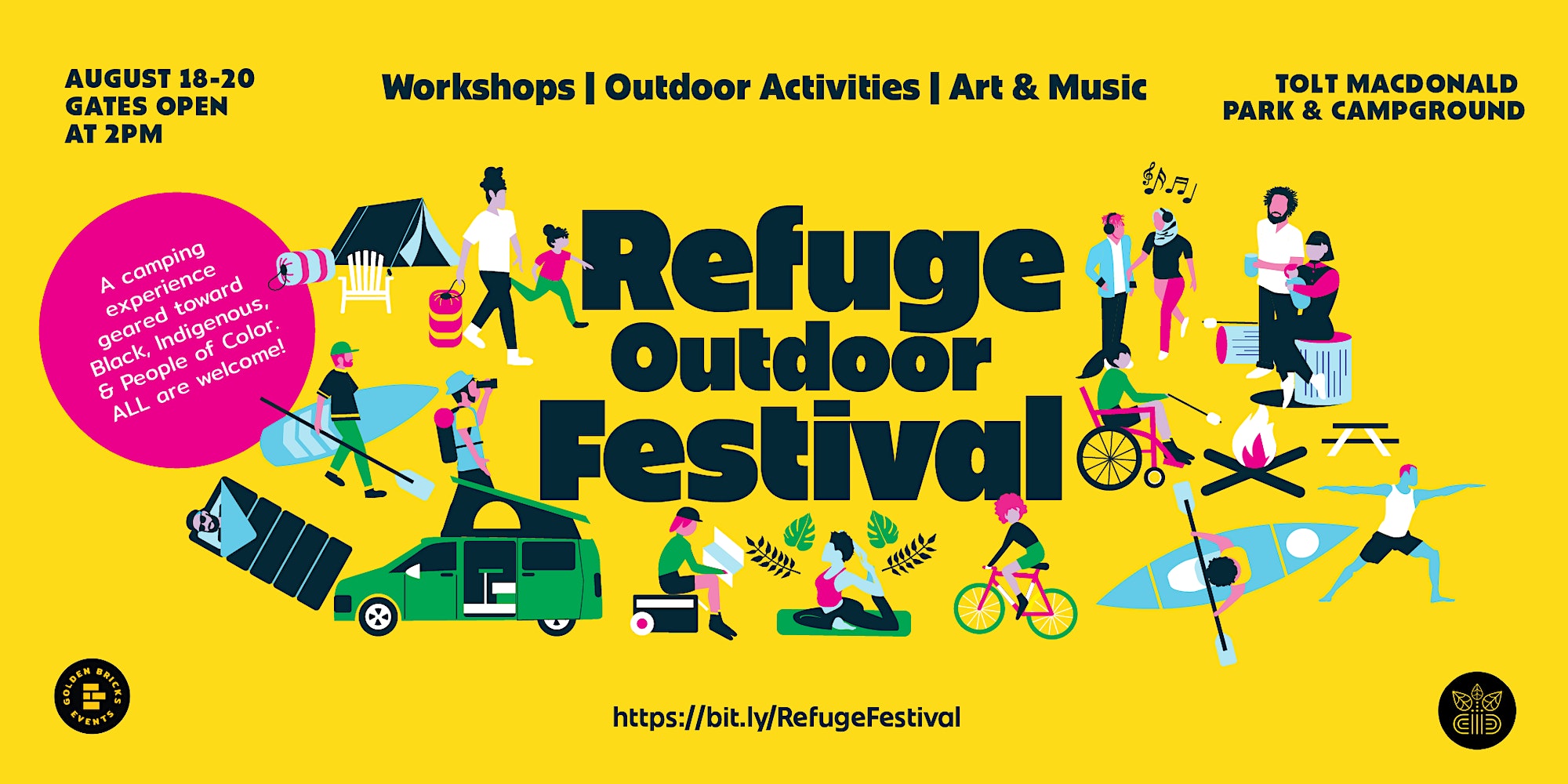 (206) 588-5790
A camping experience geared toward people of color, Refuge builds community through outdoor recreation, conversations, music, and art.