Calendar
How to use this calendar
Click a date on the calendar or search by location and event type.
Festival Xopantla Tianquiztli
La palabra "Xopantla" significa en tiempos de verdor y "Tianquiztli" se refiere a un mercado al aire libre, ambas palabras provienen del náhuatl, lengua indígena hablada por los aztecas.
Creemos que los mercados callejeros son restos fascinantes de la era prehispánica y siguen siendo muy importantes para el intercambio comercial de la mayoría de las comunidades y también una excelente manera de comunicar ideas y abogar por la comunidad.
Están todos invitados a aprender, celebrar y experimentar la belleza y la riqueza del arte y la cultura tradicional mexicana a través de un mercado público que destaca artistas y vendedores locales de la región. Mientras admira a los artistas, puede comprar, saborear la comida mexicana al estilo de la calle, beber y disfrutar de bebidas inspiradas en el tequila y a emocionarse con lo que sucederá durante el día.
El evento es ideal para familias y encontraran actividades que todas las edades pueden disfrutar.
Xopantla Tianquiztli se presenta en colaboración con el Comité del Festival del Día de Muertos, dedicado a preservar la cultura y las tradiciones.
The word "Xopantla" means in verdant times, and "Tianquiztli" refers to an open-air market, which both words come from Nahuatl, an indigenous language spoken by the Aztecs.
We believe that street markets are fascinating remains of the pre-Hispanic era and are still very important for the commercial exchange of most communities and also a great way to communicate ideas and advocate for the community.
You're all invited to learn, celebrate, and experience the beauty and richness of traditional Mexican arts and culture through a public market highlighting artists and local vendors from the region. As you admire the performers, you can shop, savor street-style Mexican food, sip and enjoy tequila-inspired concoctions, and be moved by what happens throughout the day.
The event is family-friendly, and you'll find activities that all ages can enjoy.
Xopantla Tianquiztli (XŌPAN, -TLAH TIĀNQUIZ-TLI) is presented in partnership with the Dia de Muertos Festival Committee, dedicated to preserving culture and traditions.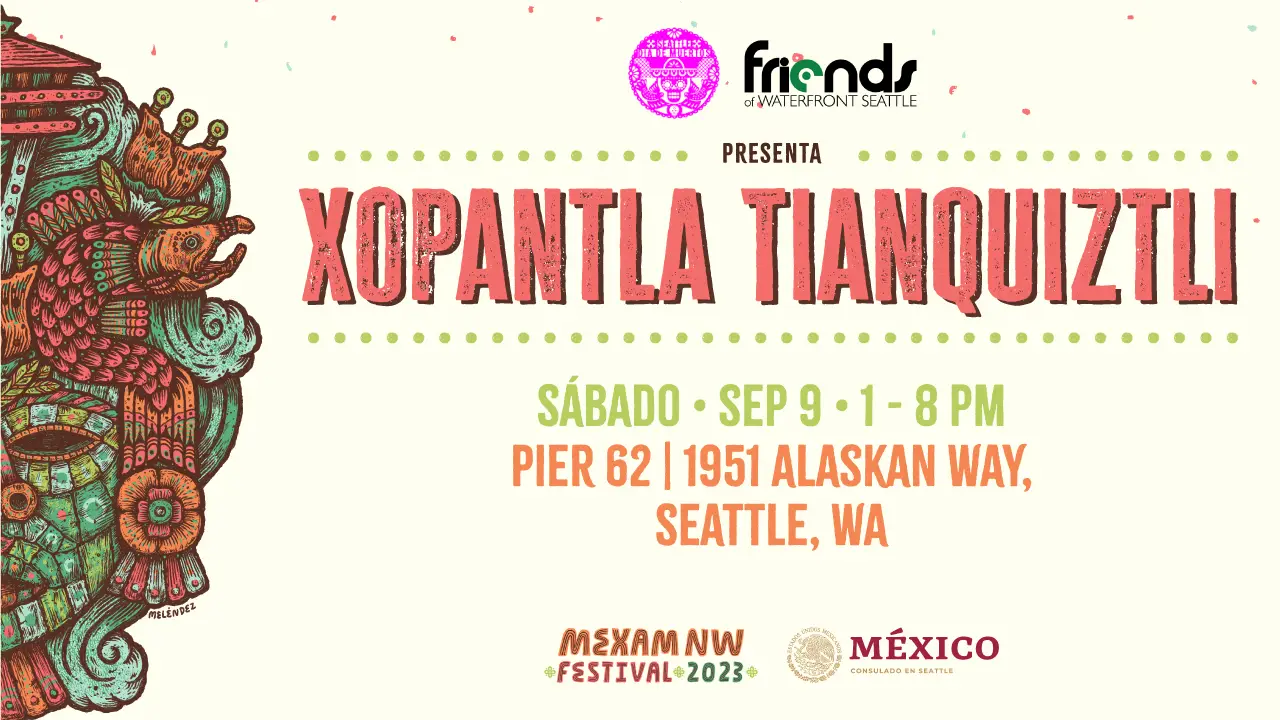 425 SW 144th St
Burien, WA, 98166
(206) 504-0320
¡VEN E INSPIRA A OTROS!
Come to be part of this celebration where the colors give life to the moments of mourning. Be part of this tradition as a visitor or as a volunteer. We will wait for you!

Ven a ser parte de esta celebración donde los colores le dan vida a los momentos de duelo. Se parte de esta tradición como visitante o como voluntario. ¡Te esperamos!