Calendar
How to use this calendar
Click a date on the calendar or search by location and event type.
Harana for the Aswang: Duyong Excerpt⁠
Join House of Kilig at Enby Party to celebrate a works-in-process showing of Harana for The Aswang! Starting at 8 PM, they will show a film excerpt of their BASE residency experience (edited by V Babida) with a poem animation digitally produced by Arabella Bautista. Following this viewing, there will be a dance excerpt performed by Gaby Colon. Stay at the end to hear about our upcoming workshop and to listen to a short Q&A about our experience!⁠
⁠
Harana for The Aswang is an audio-visual-performance work centered on queering the research of Harana, a Filipinx-Ilocano-Southern Americas diasporic serenade song form rooted in courtship and grief rituals. Aswang is an umbrella term for various shape-shifting, mythological, animist, folkloric, "evil" spirits and creatures in Filipino folklore. Harana for the Aswang is researched through 7 different Aswang archetypes, starting with the Siren archetype. This research modernizes Aswang spirits to those who root into our intersectional QT diasporic lives.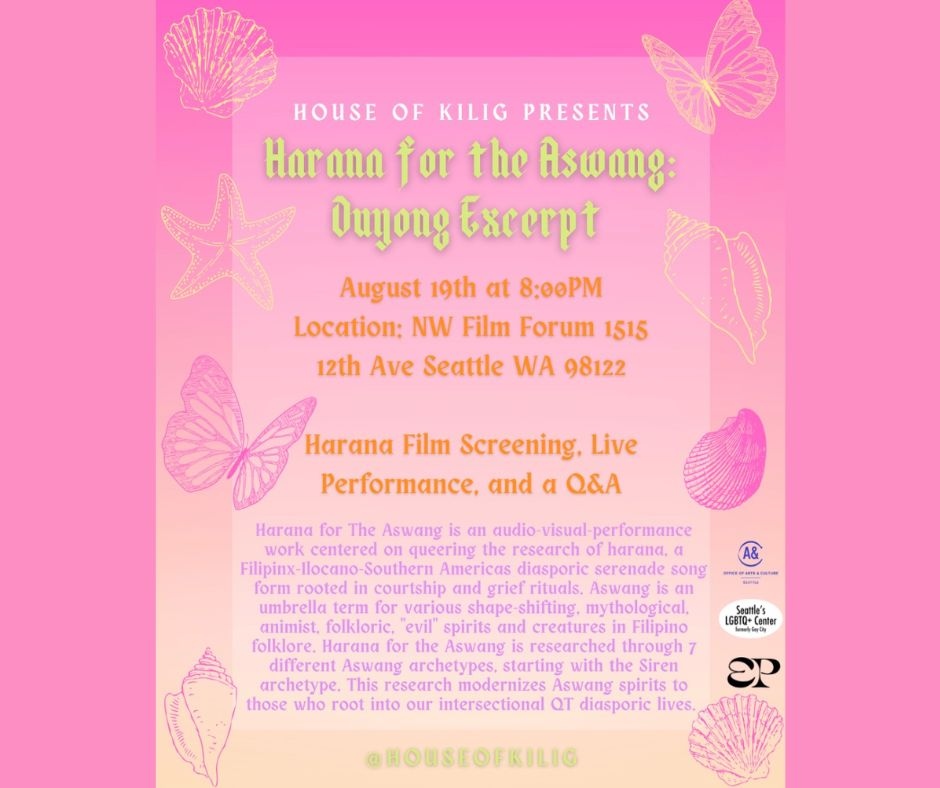 Location
1515 12th Ave, Seattle
Seattle , WA, 9812⁠2
Get Directions