Calendar
How to use this calendar
Click a date on the calendar or search by location and event type.
Honored to Tell
November 4, 2023 - January 20, 2024
We are very excited to announce that the first graduating cohort of our Seattle Black Spatial Histories Institute is ready to share their work with the world. They have spent the last year creating art from the oral histories they recorded, and the upcoming exhibit at Wa Na Wari is the culmination of that work. We invite you to join us for the opening of this exhibit:
"Honored to Tell": An exhibit of art and oral histories created by the first cohort to graduate from the Seattle Black Spatial Histories Institute
Featured artists: Brenetta Ward, Akoiya Harris, Ariel Paine, Sierra Parsons, Ricky Reyes, Nia Amina Minor, Brea Wilson, Eboni Wyatt
Art Opening & Reception: Saturday, November 4, 2023, from 6-8pm
6:30pm Hear from the artists
7:00pm Dance performance by Akoiya Harris and Nia Amina Minor
At Wa Na Wari, 911 24th Ave. in Seattle's historic Central District
Refreshments provided
Listen to the stories of Black waterfront workers, Black educators, Black barbers and beauticians, and Black dancers; stories that the artists have incorporated into textile art, dance, film, zines, listening stations, and more.
The exhibit will be on view until January 20, 2024.
More info at https://www.wanawari.org/sbshi_show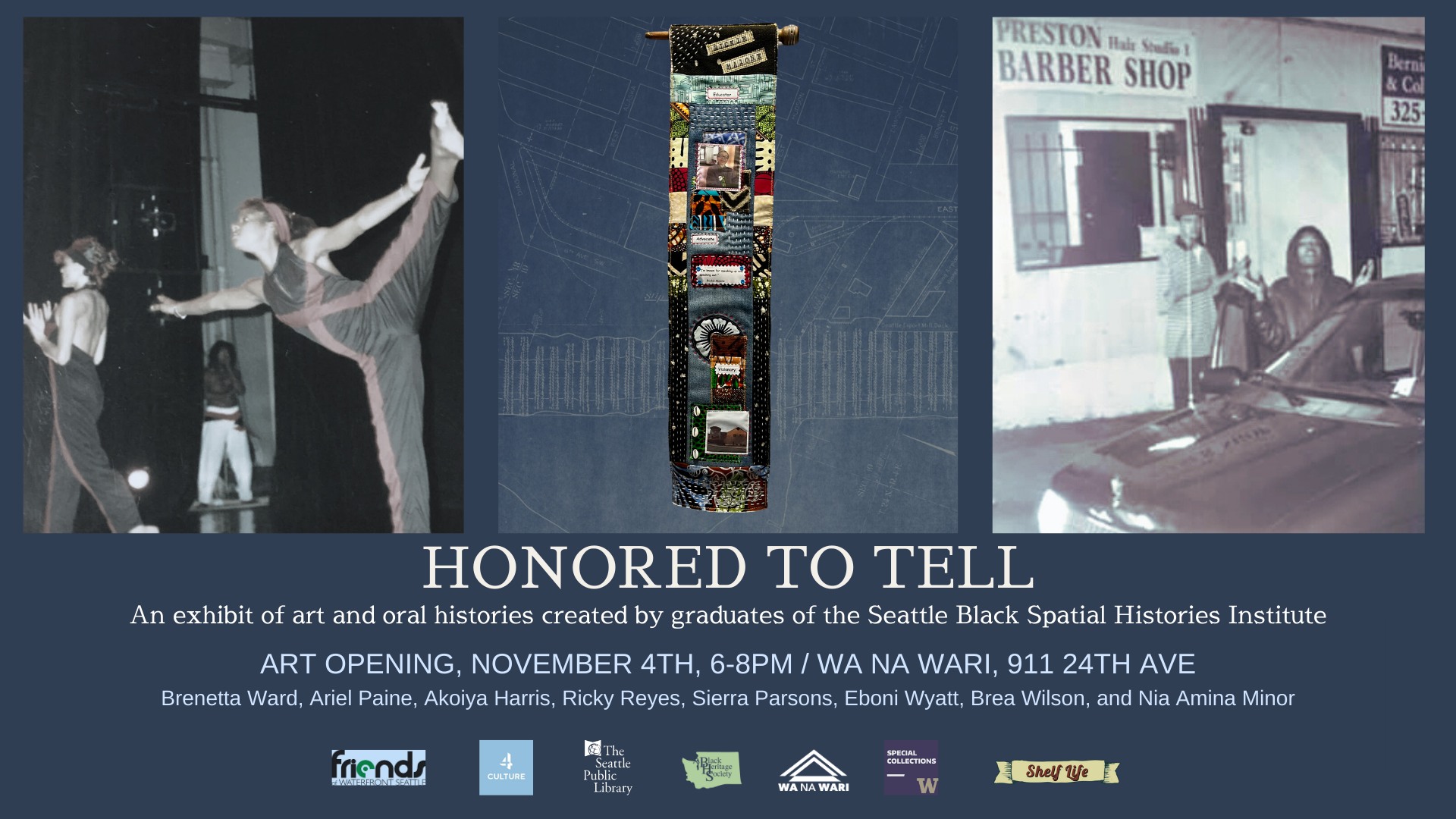 911 24th Ave
Seattle, WA, 98122
(206) 485-7563
Sited in a fifth-generation, Black-owned home, Wa Na Wari is an immersive community art project that reclaims Black cultural space and makes a statement about the importance of Black land ownership in gentrified communities. Our mission is to create space for Black ownership, possibility, and belonging through art, historic preservation, and connection. Referred to as a "container for Black joy," Wa Na Wari incubates and amplifies Black art and belonging while providing a safe space for organizing and movement building. By renting a house from a vulnerable Black homeowner, and giving that space back to the Black community, Wa Na Wari is an active model for how Black art and culture can combat gentrification and displacement.