Calendar
How to use this calendar
Click a date on the calendar or search by location and event type.
Interactive Story Time
October 8, 2023
Enjoy a reading of "Ayomide and Seyi's Kitchen: A Kids' Guide to Plant Based Nutrition from A to Z" written by Margaret Towolawi, MD and illustrated by Anabella Ortiz.
The book is narrated by six year old Ayomide who takes you on a fictional tour of various plant-based foods, including some interesting facts – with his four year old little sister, Seyi, alongside him. This ABC book is a "bite-sized" course on plant-based nutrition while keeping readers engaged through beautiful illustrations.
The Interactive Story Time will go live on our official YouTube channel at 1PM. Ring the bell on our Youtube page to be notified about all upcoming Interactive Story Time releases.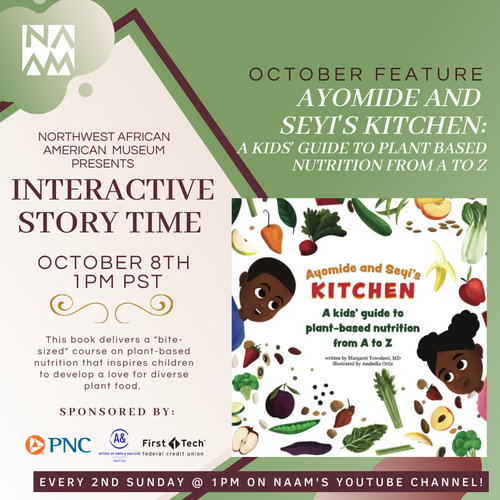 2300 South Massachusetts Street
Seattle, WA, 98144
(206) 518-6000
The Northwest African American Museum (NAAM) is housed in the historic Colman School building (built in 1909) which overlooks a beautiful, sprawling green park, named after rock legend, Jimi Hendrix, in the heart of Seattle's Central District. See ongoing virtual series: Historians on Hope. Each week, NAAM features words of hope from notable African American historians in our #HistoriansOnHope virtual series. We invite you to share these graphics on your favorite social media platforms. Be sure to tag us at @naamnw!