Calendar
How to use this calendar
Click a date on the calendar or search by location and event type.
The Hugo House Party
Kick off the start of our academic year at The Hugo House Party! We're serving up bevvies and beats along with an array of activities, plus a speech by Executive Director Diana Delgado, all in celebration of Hugo House's programs, writing community, legacy, and future!
We're opening our doors for everyone who loves books and writing—students, teaching artists, and community members will recognize each other and reconnect in the crowd; for those curious or new to our space and offerings, join us to learn all about the Hugo House experience. Expect good vibes and literary surprises!
Throughout the evening, our Salon will host live music featuring the talents of Lucia Flores-Wiseman, Drea Marilyn, and Willow & Wood.
We're welcoming the return of our in-person open mic series, Works in Progress, with special guest emcee Melany Bell!
Plus, we're installing literary activity stations throughout The House!
Hugo House teaching artists are encouraged to mix and mingle in the Instructors Lounge.
We're bringing back a special encore screening of Hugo House Founder Frances McCue's documentary, Where the House Was.
Spark your imagination with writing prompts provided by Hugo House instructors in our Writing Room!
We're dusting off the magical mechanics of our old-fashioned typewriters with a room dedicated to micro poetry.
Plus, we're raffling off goodies and prizes, hosting a crafting station that's "totes adorbs," and more!
NEW: Limited Edition Tote for New Members!
Become a Hugo House member between September 5-14 and receive a LIMITED EDITION Hugo House tote bag and a FREE TICKET to the Hugo House Party!*
Pick up your tote at the Hugo House Party where we'll have a crafting station ready for you to decorate and personalize your bag and answer the question: What do you write at Hugo House?
*Tote bags MUST be picked up at The Hugo House Party, Thursday, September 14. Shipping not available.
**Promo available while supplies last.
Get your tickets NOW! Attendees who purchase an advanced ticket through our website will receive an exclusive discount coupon from our neighbors at Oma Bap.
Admission is offered on a sliding scale: $5, $10, $15, and $25*. Revenue from ticket sales directly supports Hugo House's mission to provide space for all to read words, hear words, and make their own words better.
*Attendees who purchase a pre-sale ticket at $25 will receive one free drink ticket with admission.
The House bar will be open to serve alcoholic and non-alcoholic beverages.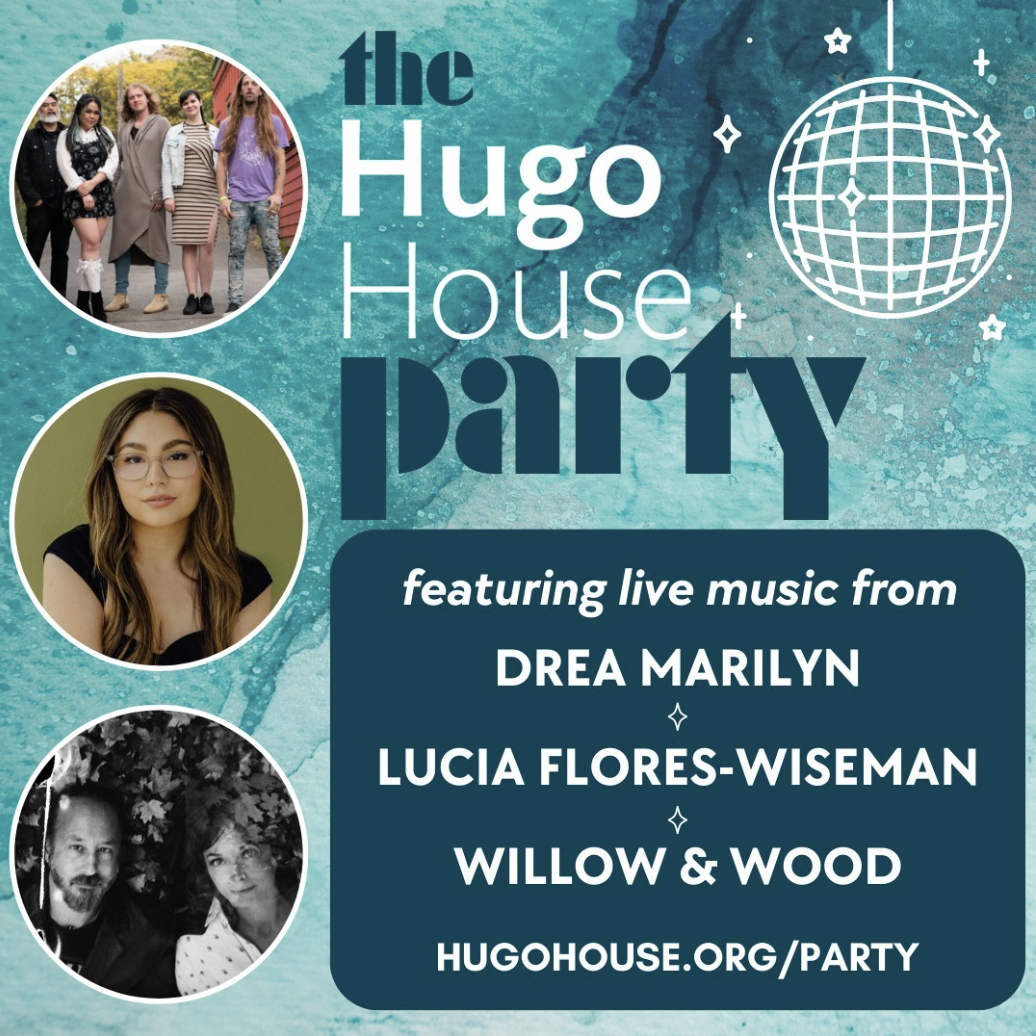 1634 11th Ave.
Seattle, WA, 98122
(206) 322-7030
Hugo House is now a hub for a swelling community—one that is producing some of the nation's most dedicated writers. Hugo House opened a brand-new home for writers in the fall of 2018, a place tailored to programs for writers and readers and dedicated to everyone who loves the art of writing.