Calendar
How to use this calendar
Click a date on the calendar or search by location and event type.
Unity in the Pursuit of Justice: CAIR-WA's 2023 Banquet
October 14, 2023
Join CAIR Washington for an evening with two of the most renowned students of knowledge the ummah has to offer. Shaykh Hasib Noor and Ustadh Ubaydullah Evans will be in town for one evening only to speak at the CAIR-WA banquet, where we can benefit from their expertise and knowledge.
The banquet will be hosted by Zahra Billoo, the Executive Director of CAIR-SFBA and a civil rights advocate. CAIR Washington is presenting a Community Service Award to Dr. Ahsen Nadeem, beloved outgoing MAPS Youth Director, and will hear from special guest Imam Farid Sulayman, whose story of travel delays and watchlist issues was recently featured on the front page of the Sunday Seattle Times. This packed program is one that you won't want to miss.
This year's theme is "Unity in the Pursuit of Justice". No matter what, our communities come together to uphold the civil rights of our brothers and sisters, and to pursue justice for those who need it. Most recently, our community came together at a crucial moment to help fund an Afghan brother's travel costs in order to make a vital asylum interview.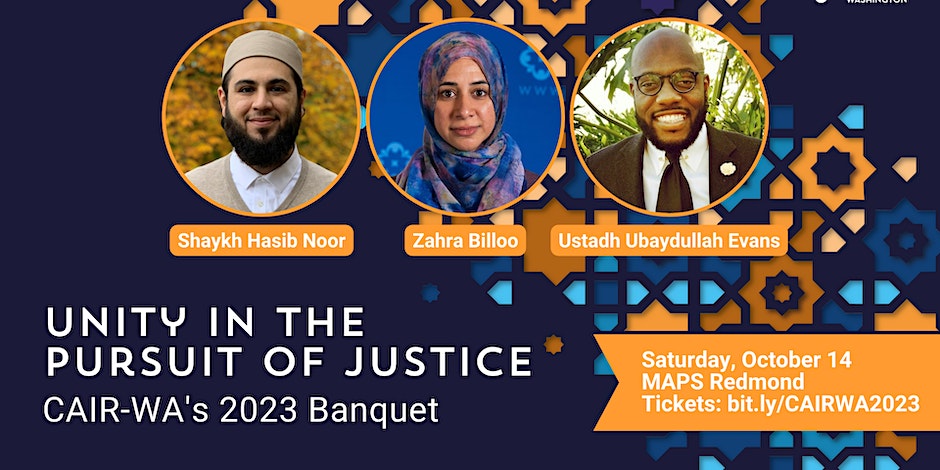 815 First Avenue, #204
Seattle, WA, 98104
(206) 367-4081
CAIR Washington is grassroots advocacy and civil rights organization based in Seattle that serves the Muslim community across Washington state. Our purpose is to defend the civil liberties of Muslim Washingtonians no matter where they live or their level of income. We do this by 1) providing free legal services to Muslims who've been discriminated against because they are Muslim, 2) working to combat Islamophobia and bigotry through education and storytelling, and 3) empowering our community to be politically and socially engaged while shaping laws and policies that impact us.