News
A Look into Somalia's Representation in Film
Recognition without true representation can be a complex discussion and something that is difficult to clock. On one hand, seeing your community on the big screen is exciting. Familiar faces, traditions, and even language, are shown to the world and add a watchful thrill. However, what happens when your community falls victim to continuous inaccurate portrayals? I'm often left with a headache, wondering why this occurs and about the harm it causes to my own Somali community.
Prior to this piece, I had never seen one of the biggest movies starring Somalis, "Captain Phillips". Released in 2013, the film follows Tom Hanks as the titular character, Richard Phillips, leading a cargo ship through the Somali Basin, only to be hijacked by Somali pirates. It made $220.6 million at the box office and received critical acclaim as the film went on to be nominated for an Academy Award and a BAFTA (British Academy of Film and Television Arts) award. Additionally, the film was well-received by many Somali communities, even my own family who I overheard watching it on the TV as a child.
So how does a blockbuster, thought of as a win for Somali representation, fail as an authentic portrayal of Somali culture? The answer lies not only in "Captain Phillips," but also in the Somali-centered films and TV shows that followed.
"Captain Phillips" is not only the biggest in terms of box office gross but is unique in its own right. This movie was a stepping stone for a typecast stereotypical way Somalis were portrayed in later films. We had never seen this kind of movie before and that is why it appealed to so many Somali communities. Even for someone like me who did not actually sit down to watch it, the movie sparked my interest because it starred Somalis. It showed that people were interested in going to a movie theater, sitting down, and watching a two-hour epic starring Somali actors.
"…while Captain Phillips showed Somalis in an extensive light, it also subjected us to the narratives the film portrayed such as the pirate stereotypes.
However, when reflecting back on the time this movie came out, all that comes to mind are the stereotypes and judgments Somalis fell victim to because of this film rather than the excitement of my people being represented on the big screen.
In an interview with my friend Ameera Ahmed, an 18-year-old high school student, I asked about the cultural impacts of "Captain Phillips."
"People just started…stereotyping Somalis as pirates every time you bring up Somalia. The only thing they bring up is like terrorism or just pirates. That's all they think about," she answered.
What this reveals is that while Captain Phillips showed Somalis in an extensive light, it also subjected us to the narratives the film portrayed such as the pirate stereotypes. Subsequently, the famous line, "I am the captain now," said by the character Abduwali Muse (Barkhad Abdi), was often quoted as a form of mockery by non-Somalis to the faces of Somali people.
The film's consequence of stereotypes and judgments was not its only wrongdoing. The Somali actors were significantly underpaid—specifically the supporting actor, Barkhad Abdi.
Despite being nominated for Best Supporting Actor for his performance in "Captain Phillips" at the 2014 Academy Awards, Barkhad was unfairly compensated. According to The New Yorker, Barkhad was paid $65,000 despite the film's $55 million budget.
"Oh, yes, I heard about that, how…it was very little compared to the other actors in 'Captain Phillips.' And it's kind of ironic because he was literally the star, the lead actor," said Ameera. "It's kind of sad to see that he was ripped off."
In contrast, Hanks was paid $15 million for his role.
"Underrepresentation can allow studios to take advantage of an actor's lack of knowledge while paying the, often White, lead significantly more.
The disparity in payment between Barkhad and Hanks does not reflect the talent and enriching performance Barkhad brought to his character—Hanks, for example, was not nominated for Best Actor that year.
Ultimately, this reflects a more significant issue of payment literacy for new and even experienced Somalis actors. Because we are underrepresented in the media, many may not have had enough experience with acting to know what constitutes good pay for film and TV. As a result, they may end up in a situation similar to Barkhad's. Underrepresentation can allow studios to take advantage of an actor's lack of knowledge while paying the, often White, lead significantly more.
Thankfully, despite Barkhad's small payment, he continued to act in numerous films post-"Captain Phillips." One of these films, "The Pirates of Somalia," is a true story that follows writer, Jay Bahadur (Evan Peters), as he strives to become an established journalist. Bahadur goes to Somalia to research Somali pirates for what would later become his book of the same name. While there, he hires Abdi, played by Barkhad, to accompany him.
The film is reminiscent of many movie tropes that star Somalis inauthentically. It is a continuation of the Somali pirate spectacle and is eerily similar to "Captain Phillips" in its most basic form. It portrays Somalia as a violent, dangerous, and tyrannical place all through the lens of Bahadur's White perspective.
This violent portrayal is accompanied by an orange-toned filter shown only once Bahadur arrives in Somalia, compared to the cooler tones shown at the beginning when he is in Canada. According to Elisabeth Sherman, writer for Matador Network, this is called yellow filter. The fact that this filter is used so often it needs a name reveals how it is used intentionally to deem places "…dangerous or even primitive."
While I understand this is likely a creative choice to show a difference in the environment and temperature, it can present harmful undertones and is a repetitive way of portraying foreign countries in film and TV.
"The films that are in America, like I said before, they portray Somalis as terrorists or pirates, just dehumanizing overall," said Ameera when I asked her about the ways Somalia is shown in films. "[They] only put us in a little box compared to the Somali films back home."
Ameera explained how the Somali films back home were similar to the vast genres of movies we normally see in America such as comedies. They did not reduce Somalia to pirates or terrorists or portray us through an outside lens.
I noticed how, many times, Bahadur measured the competency of Somalis based on his own frame of reference or standards, resulting in an ethnocentric portrayal. This is in addition to Bahadur's mockery of the Somali language, and making questionable comments such as "Your English is good" to Abdi who, in addition to being Bahadur's companion, is also translating for him.
"'Pirates of Somalia' strives for 'Captain Phillips" success by emulating critical features of its plot but does so without adding nuance and authentic representation, resulting in a disinterested and wearisome portrayal of Somalis.
When Somalia is shown from an outside perspective, the result is oftentimes inauthentic. It diminishes the chance to truly see the Somali culture, prioritizing the White lens instead. For example, "Pirates of Somalia" strives for "Captain Phillips'" success by emulating critical features of its plot but does so without adding nuance and authentic representation, resulting in a disinterested and wearisome portrayal of Somalis.
Lastly, "Pirates of Somalia" criticizes another American film that takes place in Somalia but does not star any Somalis—"Black Hawk Down." The criticism comes from Maryan, someone Bahadur is interested in.
"The movie I think is very wrong is 'Black Hawk Down,'" said Maryan. "Because it's about our people, and they do not use a single person from Somalia in it. It is wrong."
I find her frustrations about poor Somali representation very ironic. While I can applaud "Pirates of Somalia" for actually starring Somalis, it still fails to represent us authentically regardless.
Another film, "A Girl from Mogadishu," attempts a new narrative. Its main attraction isn't violence or pirates but an inspiring true biographical story of Ifrah Ahmed, a real Somali woman who escaped war by going to Ireland to seek asylum. During her stay, she discovers that the female genital mutilation (FGM/C) she experienced as a young girl is not a universal experience and is instead heavily stigmatized. This leads her down a path of political activism, fighting to make FGM/C illegal in Ireland.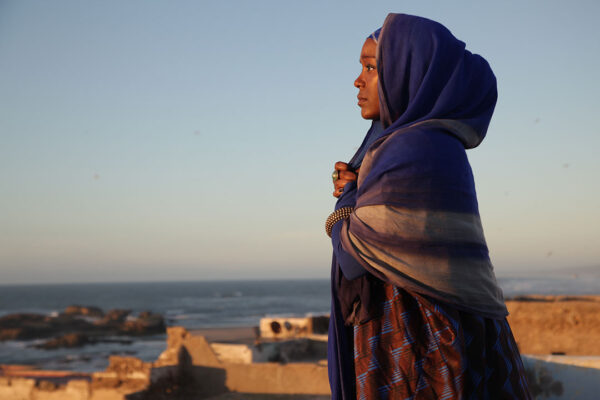 In the biopic, A Girl from Mogadishu, Aja Naomi King plays Ifrah Ahmed, a young Somali woman who escapes war and ends up in Ireland—where she becomes a leading activist against gender-based violence and female genital mutilation. (Photo courtesy of the Film Collaborative)
I really liked how the film chose to tell a beautiful and inspiring story of life. However, while the film chose to stray from the constant narratives shown, it does not include Somalis at every level of film production. This is because the girl from Mogadishu, Ifrah, is actually played by Aja Naomi King, an African American actress known for her role as Michaela Pratt in ABC's "How to Get Away with Murder."
While I was aware of this before watching the film, it became even more jarring that they did not cast a Somali woman as I was watching it. For example, there were many moments when Ifrah would have conversations in Somali. However, King's butchered Somali (and Somali accent in English) was especially apparent in contrast to the few Somali actors cast in supporting roles.
While Somali is typically spoken in a fast-paced manner, King's slow pronunciation and lack of fluency could have been fixed through proper dialect and language training, similar to the attention given to British or non-American actors playing an American role. For example, four actresses from the film "Little Women" had British, Australian, or Irish accents. According to Susan Stamberg, writer for NPR, the four went through dialect training to perfect the American accents spoken in the 1800s.
This ability to perform accurate accents is something many actors pride themselves in. However, this luxury is not afforded to stories of diverse cultures. "A Girl from Mogadishu", for example, did not do this at all. Attempting to learn the pronunciation and memorize lines in a different language is a lot of trouble to go through. At this point, why not just cast a Somali actress?
In my research to see whether any of the actors in the film or if the director spoke about King's non-Somali identity, I wasn't so successful. I was instead met with reviews praising King's performance with no mention of the casting choice.
To my surprise, one article even claimed the movie had perfect casting because King and the real-life Ifrah Ahmed have similar facial features.
"The two bear a strong resemblance," wrote Virginia Debolt for Old Ain't Dead, a movie review site for women by women. "The two share a similar beautiful smile, which adds to how much they look alike."
But looks only go so far. "A Girl from Mogadishu's" attempt to capture the life and experiences of a Somali woman is overshadowed by a missed opportunity to cast a Somali actress. King isn't able to draw on a Somali experience to put into her performance, channel the experiences of speaking Somali into the film, and consequently accurately portray the life of a Somali woman.
This sets the harmful standard that Somali women are interchangeable, that anyone can portray the Somali experience, and that preference for a much more known actor over the authenticity that comes with casting a Somali woman is somehow reasonable.
"A movie where casting should have mattered a lot more… The lead should have been a Somali woman," wrote one user on Letterboxd. "[It] would have made the story more potent with a lead who could understand the intricacies, the emotions, and what was at stake on a much more intimate and nuanced level."
Representation does not stop at the faces shown on the screen or the types of stories told. It lies in the script, the script's subtext, the perspective, and the faces you don't see at all: directors, writers, producers, designers, et cetera.
Thankfully there's hope.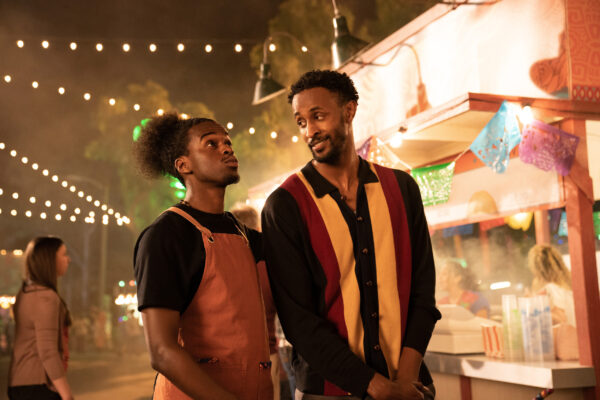 Hanad Abdi (left) plays restauranteur Jibril whose dream is to win the Minnesota State Fair with his camel on a stick. Faysal Ahmed (right) plays his older brother. (Photo courtesy of Apple TV, Jessica Brooks)
The anthology "Little America," streaming on Apple TV+, had a Somali-centered episode in its second season. "Camel on a Stick" was co-written and produced by Idil Ibrahim, a Somali director. It follows Somali chef Jibril, played by Somali actor Hanad Abdi as he prepares for his booth at the Minnesota State Fair, something he has always wanted despite doubts from his community.
"There are many fellow Somali storytellers from all corners of the diaspora and the horn in the industry at the moment—authors, playwrights, screenwriters, directors, musicians, actors, etc," Ibrahim revealed in my interview with her. "I look forward to continuing to see the fruits of their creative contributions as they continue to share their work with audiences."
All Somali stories deserve to be told. Whether it is comedies, biopics, or fictional stories, we are all unique and expressive. Somalis also deserve to be behind the camera, telling the stories they have experienced and starring people who understand what it is like to navigate the world as a Somali. Ibrahim expresses this same desire.
"We live in a diverse and multicultural society and world, television should reflect this. When I was younger I did not see myself and people I knew reflected on screen. Somali culture is not a monolith," Ibrahim told me, "we are equally diverse and our experiences in Somalia and in the diaspora are nuanced. It is important this is reflected anytime Somalis are on screen. We deserve to have characters and storylines that reflect us and our culture."
---
Jehan is a high school student at Mount Rainier High School. She was a fellow in the 2023 pilot Story Gathering Workshop, a program that gave twelve students the opportunity to write and publish an article for our news outlet, Voices.
Our Northwest ethnic cultural communities have stories to tell and we need your support to amplify them! Donate $5 or $10 to help us continue raising the visibility of Northwest cultural community organizations and members. Follow us on social media or sign up for our mailing list to stay up to date on the latest in the Northwest.