News
An Interview with Ann Wright
On technology, building bridges, and amplifying voices.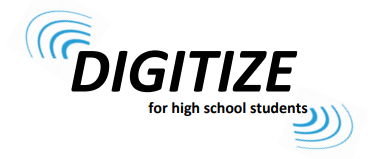 Learn about how technology can aid (and hinder) the building of bridges and the amplification of cultural community voices with Hidaya, our DIGITIZE Social Media Fellow: 
"…I put together a few questions on creating safe communities in the digital world and why that's important for my interview with Ann Wright, the Director and Co-founder of EchoX." 
---
How can technology be used to build bridges within different communities? Give an example.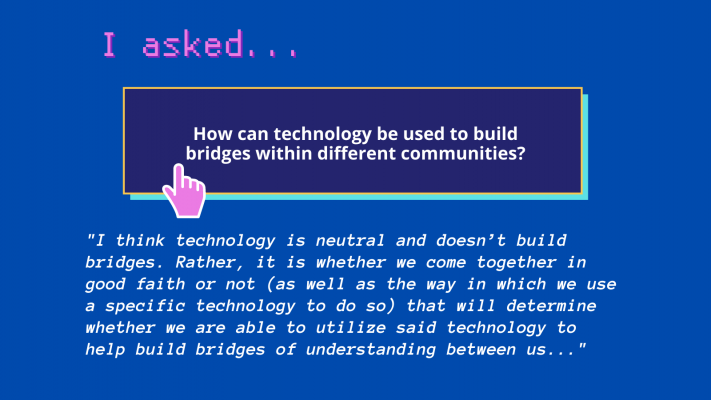 Ann: I think technology is neutral, so it's less about technology building bridges and more about whether we are coming together in good faith—as well as how we use technology—that will determine whether we are able to utilize a specific technology to help build bridges of understanding between us.
Historically, technology has eased the flow of information whether it be technology of transportation (the wheel, trains, cars, planes) or of communication (printed word, maps, newspapers, books, maps, radio, telegraph, telephone, television, film). With each new technology we have adapted, part of that adaptation has been acknowledging what aspects of that contribute to our understanding of each other and, furthermore, what has been blocking that understanding. It is our use of the technology at hand which determines whether it will build bridges between us. A simple example is how, before the U.S. entered WWII, there was a publication in New York City that was teaching Americans how to read photographs so they could see and recognize the propaganda in photos of Hitler. This effort was made to prevent people from being sidetracked into disinformation campaigns of propaganda – something that often keeps communities apart from one another.
In our current time, the technology of computers and the internet have brought us even closer together. How we use that juxtaposition determines whether a bridge between different communities can be achieved. At EchoX, we recognize the importance of direct voice in our content as an attempt to reach fuller understandings. The social media campaign on Facebook on behalf of the Standing Rock Tribe is a powerful example of a direct voice bringing in support and allyship from communities around the world into Standing Rock, South Dakota. We all need to take responsibility for the online media we create and share, remembering the power of the internet to reach around the world within seconds means the impact is swift.  So, the intentionality of online content must be learned and reviewed in the same fashion as understanding photographs at the turn of the 20th century. The challenge for us today is: Can we bring ourselves in good faith to online conversations, including checking the resources we share, so we can fulfill the original intent of the creation of the worldwide web: to "cross barriers, and connect cultures"? (Quote from Tim Berners-Lee – the inventor of the world wide web).
In your opinion, what impact does the media's inaccurate portrayal of cultures have on society and people of those backgrounds? 
Ann: The detriment of inaccurate portrayals to communities, especially BIPOC ones in the U.S., is immense and incalculable. These false portrayals are entrenched in much of our knowledge systems and are extremely destructive for they create layers of misinformation and disinformation that harm people's lives by disadvantaging them.    
Unfortunately, many of us are siloed off into our own community bubbles. We do not necessarily engage or understand people from outside our own communities. This creates a gap of firsthand information rendering us susceptible to the information media content creators deliver to us. While there are media community members qualified to help us fill in the gaps, historically most media content—especially towards BIPOC communities—has been created by non-community members with little understanding and, often, prejudices on the communities they are covering. The layers of misinformation and disinformation created then force a community to lose its ability to create and share a self-narrative which, in turn, extinguishes a communities' ability for self-determination. This has a profound impact on everyone in a community (and, I would argue, all people in society). The importance of accurate representation is a continual struggle only corrected when we make space for those voices to be heard.  
Why is it important to have people in our community that focus on creating a space for people of color?

Ann: Providing a space for people's own narratives is paramount not only to the health of BIPOC communities but also to the overall health of our nation. It is only through speaking for ourselves and listening to each other in good faith that we can start to improve the health of all our communities. Without community control of our own narratives, we end up with both disinformation and misinformation. This leads us into a dangerous path of not understanding the realities of our society which means we cannot accurately work together, solve problems, or create new ideas that could be truly beneficial. To live the best lives we can, individually and as a group, we must understand our realities from the source. From everyone's self-expressed narratives.
In what ways has Seattle University helped you gain interest in community work? Would you say that a college or any environment plays a part in shaping who you are? 
Ann: An environment that naturally aligns with your ethics is ideal.  But never forget that you, as an individual, are an active agent in shaping your life.     
I have always been interested in community and social justice work, that desire and interest had been with me long before I attended Seattle University. However, Seattle University was a good partner for me in creating EchoX because of its emphasis on social justice. I think environments do shape our life experiences and thus shape us. But we are still free agents within any environment we find ourselves and find allies. The same is true with colleges. How we navigate our college experiences within the given environment is as important as the environment itself. We can seek out the best opportunities for learning from all environments.  
Now that you've created a platform to showcase people's stories, what steps will you take to amplify those voices? 
Ann: EchoX's first step of amplifying direct community voices is achieved by existing on the worldwide web.    
We created the concept of EchoX for the purpose of amplifying our region's cultural community voices on our website and through our social media. This is based upon survey results from various statewide community organizations saying their number one need was visibility. Now that we have our prototype, the next step for this year is to grow our capacity for further community relationships by building, and then broadening, our structure to increasingly include more community voices. One area of capacity increase is our increasing membership of our Community Advisory Committee (a group of community leaders who advise us on the best ways to amplify their community needs). So, while we continue with our online platform services (highlighting cultural community organizations/artists, offering a place for teen expression on ethnic cultural identity, highlighting community events, and centering community stories) we will also strive for ways to increase our internet imprint.
---
DIGITIZE Youth Fellowships are paid, short-term opportunities for high school students. They provide guidance and experience to those who want to gain skills in the digital sphere. We continue to create new opportunities and welcome questions, inquiries, or suggestions! To learn more, email us at DIGITIZE@echox.org or sign up for our mailing list. 
Our Northwest ethnic cultural communities have stories to tell and we need your support to amplify them! Donate $5 or $10 to help us continue raising the visibility of Northwest cultural community organizations and members. Follow us on social media or sign up for our mailing list to stay up to date on the latest in the Northwest.