News
Holi, the Hindu Festival of Colors versus the Color Run: Appreciation or Appropriation?
The Hindu festival of Holi celebrates many things at once and is marked by the manifestation of joy. It is a festival of love, of colors, of spring and of new beginnings. Holi is primarily celebrated in India and has spread across the world along with the diaspora.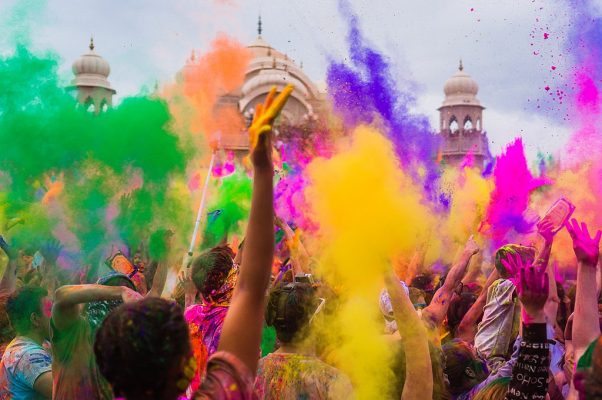 The celebration itself is characterized by colored powder, called gulaal, sometimes mixed with water. People of all ages dress in white and "play" Holi by throwing colored powder on one another. (There are no rules, just make sure you get a little powder on everyone who is on your list!)  By the end of the play, the white clothes have been colored in a rainbow of hues. This aspect of the festival is one that transcends religious barriers and people of all religious traditions often take part in the color-throwing fun.  
As people from South Asia have migrated across the globe, they have brought their traditions with them, including Holi. Prior to the COVID-19 pandemic, communities organized cultural events to replicate the festivities from back home at temples and local parks. One city in Washington, Redmond, collaborates with local Indian organizations to throw a Holi event on city property every year,  attracting attendees outside of the Indian community as well.  
However, another trend has emerged especially across college campuses where student groups and youth organize a "Color Run," a corporate 5K marathon characterized by participants wearing white and throwing plumes of colored powder. The company says their goal is to encourage a joyful and active lifestyle, and occasionally donate a percentage of the event's earnings to local charities.  
The Color Run bears an uncanny resemblance to Holi, yet its website does not acknowledge its resemblance to Holi. 
"It seems everywhere we turn, someone is culturally appropriating the Hindu festival of Holi," begins a video from Brown Girl Magazine, a publication by and for South Asian women. 
This frustration is shared by many young South Asians in the diaspora and brings up the question—what is the line between appropriation and appreciation? And when is the line crossed? 
We encourage you to engage with the resources below, click links, and read articles before answering these questions for yourself.  
Part 1: The Significance of Holi
Holi marks the coming of spring after a long, lazy winter and is resplendent with the colors that come with a new season. Like all other Hindu festivals, Holi also has multiple stories that serve as parables for the universal tenet of good over evil. There are two main stories behind Holi. One features King Hiranyakashipu and his son Prahlad, another one extols the love story of Radha and Krishna. 
These stories are steeped with mythology and a universe of gods, goddesses, magic and folklore. But it is important to remember that these stories function as parables for the universal principle of good forces prevailing over evil ones. Holi's significance of new beginnings in combination with the colors of spring signifies a move from the dormancy and stagnancy of winter to the new possibilities of spring.  
Click here to read in-depth about the many stories behind Holi.  
Part 2: How is Holi Celebrated
The following videos give you a glimpse of how communities celebrate the holiday. Explore celebrations in the subcontinent and throughout the South Asian diaspora.  
Organizers and attendees 

of East Side Holi sing and discu

s h

ighlights from 

Seattle's

 festival include music, dancing, food, and playing Holi with

 gulaal,

 its 

signature colored

 powder.

 This 

particular festival

 was also organized to raise money for Susan G. 

Komen 

Breast Cancer Foundation.
People 

gather in Redmond to celebrate Holi and countdown the moments before sending colored powder, 

gulaal

, into the 

air

.
A multicultural group of attendees celebrate Holi at the Lotus Temple in Spanish Forks, Utah

.

 All are welcome

 to play regardless of 

religion

—some are there 

out of spiritual devotion; others are simply curious.
Devotees celebrate Holi in India with music, singing, dancing, and lots of colors—in the form of clothes, flower petals, and colored powder, or gulaal! 
Holika Dahan

—

the night before playing Holi with colored powder, a makeshift bonfire is made to reenact the story of 

Holika and Prahlad.
Holi

 festivities and prayer

s at home. Every Hindu household will have a home altar where ritual prayers and offerings are made 

to the divine. 
Part 3: Appropriation or Appreciation?
As celebrations and events mimicking the colors of Holi become mainstream across the world, many South Asians —especially young people—have raised questions about whether Holi has been appropriated.  
HuffPost religion reporter Carol Kuruvilla lays out the many perspectives around this argument in a 2018 article from HuffPost. Read more to understand the push and pull between viewpoints in this debate.  
According to the Interfaith Youth Core, an organization for Interfaith dialogue founded by Eboo Patel 0 who served on Barrack Obama's Inaugural Advisory Council on Faith Based Neighborhood Partnerships,  "when something feels like appropriation, it's often because something that has deep meaning has been taken out of context and used for another purpose that doesn't acknowledge the origin." 
Without careful thought, appreciation for a celebration like Holi, can toe the line of appropriation. This is made clear in  culture writer Ruchira Sharma's op-ed in Vice. The piece is a searing but personal critique of why a watered-down approach to Holi-like festivals feels…plain uncomfortable. Read it. here.  
Part 4: Questions to Consider
Now that you have some background on the significance of Holi and how it is celebrated, and have read perspectives on the debate of appropriation, we encourage you to consider for yourself whether events like the Color Run might be hinging on appropriation. 
What did you decide? How did you weigh what constitutes appropriation and when the line of appreciation is crossed? We'd love to hear your thoughts. Connect with us at voices@echox.org.
Photo credit: Steven Gerner, Flickr (CC BY-SA 2.0)
Our Northwest ethnic cultural communities have stories to tell and we need your support to amplify them! Donate $5 or $10 to help us continue raising the visibility of Northwest cultural community organizations and members. Follow us on social media or sign up for our mailing list to stay up to date on the latest in the Northwest.