News
Remembering the Occupation of Fort Lawton 51 Years Later
This week is the 51st anniversary of the occupation of Fort Lawton in Seattle, WA, which began on March 8, 1970. Today, Daybreak Star Cultural Center stands on the reclaimed military base in what is now Discovery Park.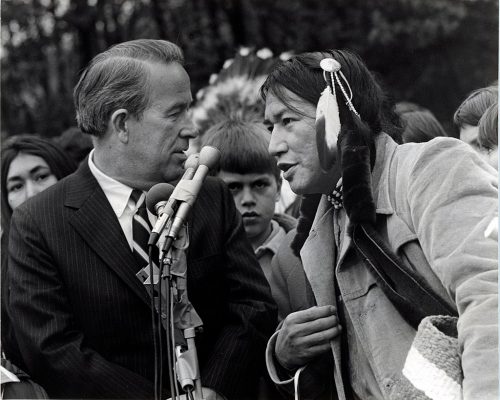 The story of Fort Lawton's occupation is a layered one, linked to the complicated nature of a relocation campaign spearheaded by the Bureau of Indian Affairs. The campaign brought many American Indians into cities with the incentive of finding better jobs for better pay. The tradeoff, however, was losing the protections, recognition, and land rights that came with living on a reservation.  
This was a systematic approach to stripping Native people of their rights while assimilating them into mainstream society. After moving to the city, many individuals felt that they didn't quite fit in on the reservation either. 
These dynamics set the backdrop for the occupation of Fort Lawton as the government was dismantling the military post.  To make a political statement, an organized group of Indigenous activists laid claim to land and demanded cultural space in a cityscape that had extracted them from their cultural communities and given them little in return.  
Plenty of complicated history informs movement, and this was one of four successful occupations in the Seattle area where communities of color claimed space for themselves by occupying public spaces.  
We chose the following resources to highlight because they draw an in-depth picture of this important historical event and what it means today. Indeed, Daybreak Star Cultural Center wouldn't be here without it.  
1) This important collection of documents and events by the University of Washington's Seattle Civil Rights and Labor History Project gives an in-depth look into how the occupation happened and why it matters. A must read!  
2) Colville Confederated tribal elder, Randy Lewis (Wenatchi [P'squosa]), who was instrumental in the movement, explains how it all happened.  
3)  The occupation of Fort Lawton led to the creation of Daybreak Star Cultural Center. Learn more about their work and services here. 
4) Learn more about the context of the Bureau of Indian Affairs' relocation efforts which set the backdrop for the occupation of Fort Lawton
These are just a few resources to begin an exploration. To contact us with any questions, or suggestions, reach out to voices@echox.org.