News
It Looks Just Like Heaven
My sister once said that our home, the land of our ancestors, looked just like heaven. She was showing me a photo of a beautiful river with the sunlight beaming perfectly on the branches and trees, the rocks formed on the river to make smoothly balanced bumps in the water.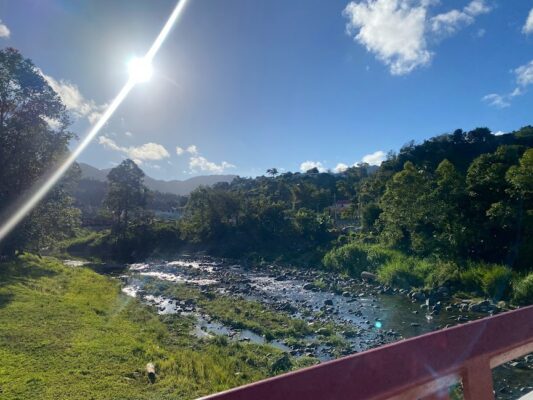 Puerto Rico's beautiful landscape. (Courtesy of Gabby)
This love and beauty of the island is felt throughout the Puerto Rican diaspora. Not only through the fantastic views but also the people, the music, and the food. But I'm not here to persuade you to buy a one-way ticket to San Juan. I'm here to share my story of the enchanted island and why I'm so proud of being a Puerto Rican.
My mother's ancestry is traced from being Indio Taino in Puerto Rico. My father's roots are traced to the Lenca civilization in Honduras. My siblings and I were born in the U.S  and raised in the Catholic faith, like most Hispanics. We still had the experience of our culture—just in small measurements.
Then, when I was four, there was an emergency and we had to go to Puerto Rico. There, we had the whole experience of being Puerto Rican.
As a child, it was entertaining and incredible. It felt like watching a new colorful Disney movie in theaters or trying a new culinary dish you have never tasted, all the flavors bursting in your mouth. I got to see where my mother was raised and meet new loving family members. We went to weddings and parties. I met my cousins and I learned Spanish. It felt like being in a movie but, of course, this explanation is from the perspective of one singular person who was only four at the time, me.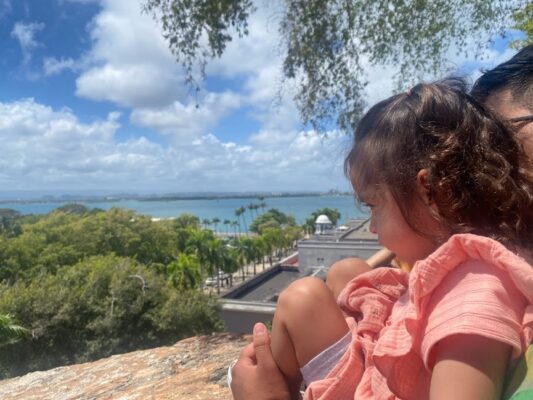 Gabby as a child in Puerto Rico. (Courtesy of Gabby)

THE HARDSHIPS
Things were not always perfect. When I was seven, my family had to move back to the U.S.  I always wanted to know the truth behind our leaving. I never understood why my mother wanted to leave the beautiful island and why she wanted to come to a city full of buildings and depressing weather.
"One of the reasons we decided to leave was because of the education system," my mom told me. "There was [an] option to go pay a private school, but that was not an option at the moment."
My mom said that there were some economic and financial issues that came out of living there. She felt like she couldn't support my siblings and I, especially when having to leave work all the time to pick us up from school.
"I had a teacher that would never be there [and] we didn't have substitutes," said my older sister, Tiffany. "So, I missed a lot of class" When Tiffany went to Puerto Rico she was very advanced in her academics.
"I didn't learn that much and I didn't know how to read really well in English, so then coming back to Seattle it was like 'They are super excelled!'" Tiffany explained.
After the realization that Puerto Rico was affecting our stability and opportunities as a family my mother decided to move to Seattle, Washington. But life didn't turn happy just because of moving. Because of the education system in Puerto Rico and the language barriers, I was far behind in school. I soon adapted, but this change still affects me to this day.

BORICUA IN SEATTLE
You might ask me why even be proud? If so many of these things that happened in Puerto Rico were negative and affected you negatively, why be proud of wearing your flag?
Well, I believe that as a society when bringing up moving or hardships we tend to make it negative as if it were something sad. But my family and I make it into a celebration. Though we don't live there anymore (and it was hard when we were living there), we still celebrate how beautiful the island is, its history, and, of course, our family. Though it has its rough times, you can't look past the positives. When you're Puerto Rican, it feels like it's the best thing you can be and it's hard not to wear your flag with pride.
Being Puerto Rican is like a family. When you recognize the flag it's a reminder of the island and of the people. My mom has the flag hanging in her car.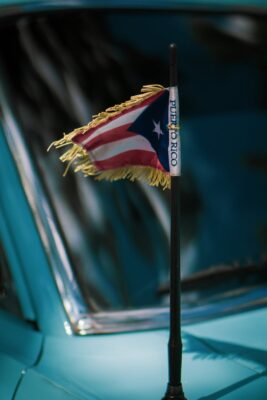 Puerto Rican flag on a car. (Blue Arauz/Pexels)
For my family, it's important to show our pride and be part of the Puerto Rican community as much as possible. That's why we go to festivals and parties with other Boricuas in Washington. When you're there, you can immediately feel the family in the air and you feel like you can just be yourself. As if the island's magic is floating through the air and its dust placing itself onto us.
Since our hardships, it's been clear to us that many other Latinos with children who have moved here have similar struggles. Understanding that we are all in the same boat and that we need to fight stereotypes makes it easier to be proud and recognize that my being held back in school is not a sadness, but a happiness. It shows that I know where I come from and that a part of my life was once palm trees, water, family, and food.
Though it sounds naive, those years that caused me to be held back when we returned to the U.S. were the happiest. It's important for us Hispanics to show our roots and be proud of our difficulties and our beauty, especially in primarily white schools. It's hard enough living through higher expectations in our society, but something we can count on is each other. Let's all be proud together!

WHAT HAPPENED TO HONDURAS?
Puerto Rico is my calling, the place I feel my truest form. But, I could never forget the place I long to discover. The place I never got to feel and touch with my soul as I did with Puerto Rico—Honduras. My siblings and I also love being Honduran, but we have a little bit more of a disconnect especially since we have never lived in Honduras.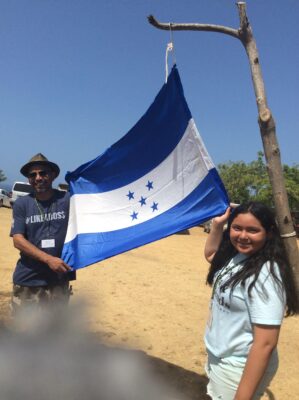 Gabby and her dad hold up the Honduran flag. (Courtesy of Gabby)
"I just listen to [our dad's] stories more. I think a lot of what I know about Honduras is all from him. And the thing is … I feel a lot of it is the same… so I feel like when I see Puerto Rico and I see Honduras, they are very similar but they do have their differences in culture," Tiffany said.
It's not as if we don't try to search for our other half of our roots, it's just harder. You could just go online and look it up, but after the other part of your culture was revealed to you by moving and having the full experience, it's hard to feel the same from a Wikipedia article or a YouTube video. But my siblings and I try our best to listen,  watch home videos and find others who are Honduran cause when we do we get excited to learn more.
When others say "Oh, you're Puerto Rican," I always say that I'm also Honduran. I still know where I come from and I'm glad these are the places I was born into. Finding your love in a culture isn't as easy as it seems. I believe that you can only feel the love if you are shown it.

HEAVEN SPEAKS THROUGH ME
My sister and I once were in a conversation where she was speaking about heaven. She talked about how little things that we enjoy on earth is a little ounce of what we will experience there. God gave us these little things to remind us of paradise, something to look forward to. And I believe that God giving me the chance to be Boricua is like my quarter of heaven, something to remind me of all the goodness of life, a place that feels like a true home with Him.
As we come to the end of our journey together, I would just like to say: Remember to wear your nationalities proudly wherever you come from and whoever you are. Do not be afraid. We are one big island.
---
Gabby is a high school student at Summit Sierra High School. She was a fellow in the 2023 pilot Story Gathering Workshop, a program that gave twelve students the opportunity to write and publish an article for our news outlet, Voices.