News
Juneteenth Becomes a Federal Holiday
Also known as Jubilee Day, Black Independence Day, and Emancipation Day, Juneteenth is a day that commemorates the emancipation of enslaved people in what is now known as the United States. Observed on June 19, Juneteenth has been celebrated in various parts of the United States since 1866 when it first started in Galveston, TX. Juneteenth was officially signed into law on June 17, 2021.
The Juneteenth flag was created by Ben Haith, founder of the National Juneteenth Celebration Foundation (NJCF), in 1996 with several collaborators. It was modified a few times, with the 2000 iteration being the most recognized one today. Each aspect of the flag has a certain meaning to it.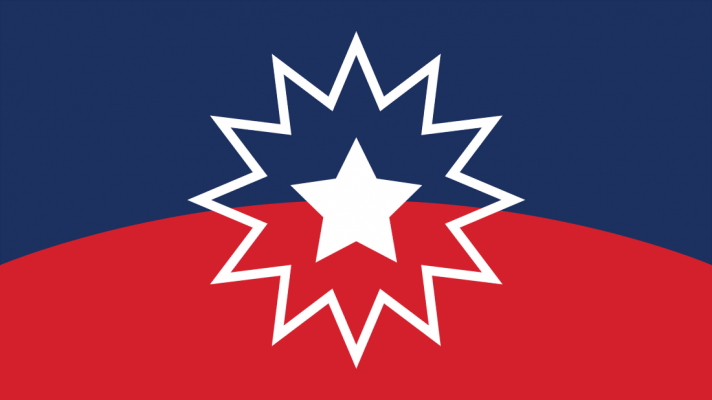 The white star in the center symbolizes both Texas (the Lone Star State where, in 1865, the last remaining enslaved people were informed by Union soldiers that they were free. The emancipation Proclamation had been issued two years earlier.) and the freedom of enslaved people across the nation. The white burst around the star symbolizes a nova, or new star, which represents a new beginning for Black Americans. The arc which runs across the flag and divides it into blue and red symbolizes a new horizon to represent new opportunities and promises ahead for Black Americans. The colors (red, white, and blue) symbolize the American flag to show that enslaved people and their descendants were and are Americans.
Another version of the flag, created in 2007, has the date June 19, 1865, written on it, representing the day that enslaved black people in Galveston, Texas, found out that they had been freed and thus became Americans under the law. As we acknowledge this important day, it is also important to point out that the inequalities faced by Black people in this country did not end with the emancipation of enslaved people. We must prioritize Black liberation "in its totality," as put by Congresswoman Cori Bush. We must acknowledge and be accountable for police brutality, reparations, housing and education apartheid, and commit to ending the war on drugs.
We encourage you to learn more about Juneteenth and some of those lived experiences of being Black in the United States from those who have already had years of experience being part of the community. By no means is it an extensive list so, if you have any suggestions, don't hesitate to drop a line to voices@echox.org with an article and why you think it should be on this list so that we can learn and grow! Someone from our team will get back to you shortly.
"Juneteenth Festival of Freedom 2021: Virtual Event Videos," a collection of videos from Lift Every Voice Legacy's (LEVL) Juneteenth event. LEVL is a community organization which creates programs throughout the year using spoken word, music, and dance, based in Edmonds, WA.
"Rep. Cori Bush: Juneteenth freedom should also mean safety from police violence," an op-ed in US Today by Congresswoman Cori Bush on Juneteenth and the "promise of freedom from bondage and white supremacy."
"Ava DuVernay's '13th' proves black people are not crazy," a 2016 article in The Undefeated about Ava DuVernay's documentary, 13th, explores the 13th Amendment and suggests that, due to prison labor and the mass incarceration of Black people, slavery never really ended.
"The New Jim Crow: Mass Incarceration in the Age of Colorblindness," a book by journalist and civil rights activist Michelle Alexander about how how the war on drugs is a way to criminalize Black people. (Do an internet search for "John Ehrlichman war on drugs." Ehrlichman was President Nixon's domestic policy chief and has said that the war on drugs was fabricated to criminalize Black people and hippies.)
"'There's a concerted backlash': Ibram X Kendi on antiracism under attack," an interview with Ibram X. Kendi, an author, professor, anti-racist activist, and historian of American race and discriminatory policy. As Kendi says in the piece, "…it's important to teach children that the cause of racial inequality and inequity in our society is the result of structural racism, not the behaviors or the cultures of those people of color on the lower end."
"Next in Fashion's Eliminated Designers On the Fight for the Soul of Streetwear," an interview with Kiki Kitty and Farai Simoyi, two Black designers who were eliminated from Netflix's Next in Fashion's in the street wear round, highlighting how fashion often steals designs from Black artists and profits from them while keeping Black designers marginalized. "It's not cool until it's flipped and reversed. They take our ideas and then try to resell them to us as if it's their ideas. That's what really pissed us off in that instant," said Simoyi. Kitty put it succinctly as: "It's ghetto until proven fashionable."
"EchoX Community Directory," a list of Black community organizations in the Northwest doing amazing work to uplift and amplify. Don't see someone or a group who should be on here? Send an email to info@echox.org and someone from our team will amend the list.
Our community calendar also features several events celebrating Juneteenth in the region!
Our Northwest ethnic cultural communities have stories to tell and we need your support to amplify them! Donate $5 or $10 to help us continue raising the visibility of Northwest cultural community organizations and members. Follow us on social media or sign up for our mailing list to stay up to date on the latest in the Northwest.