News
'Take the Mic' with Alianza Youth Leadership Program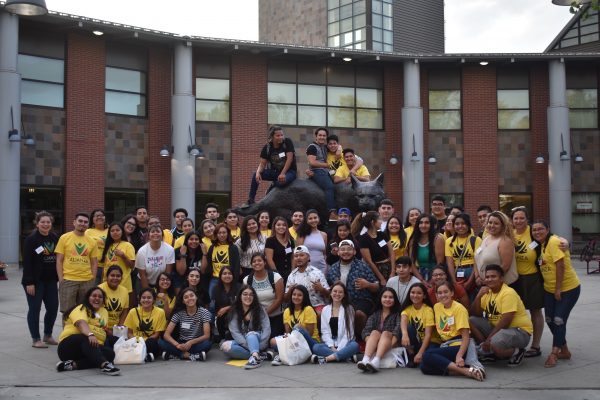 Despite the pandemic, Merivet Lombera is busier than ever. Co-manager of the Alianza Youth Leadership Program, each day she plans workshops, engages youth, and builds relationships across Washington. The only difference is that much of this work is now taking place over a laptop.
"I read and respond to a lot of emails" is how Merivet describes the work.
Alianza is a youth-led leadership program that stemmed from Latino Community Fund. It connects young Latinx leaders across the state and works to bring positive change to their communities. The program provides workshops, mentorship, and direct-action projects that allow youth members to practice their skills in real-world settings. 
"[Alianza students] learn how to be civically engaged and how to advocate for themselves and their community," Merivet says. "We also compensate them for their time because they bring in a lot of ideas that improve the program." 
Although the program shifted to a virtual setting in 2020, Alianza students maintained their stride. In the past year, they attended a Diversity, Equity, & Inclusion training and mental health series, published a new blog about Latinos in STEM, and participated in an online advocacy program. In the advocacy program, students spent six months researching legislative bills that impacted their communities and prepared testimonies for their representatives in a virtual trip to Olympia.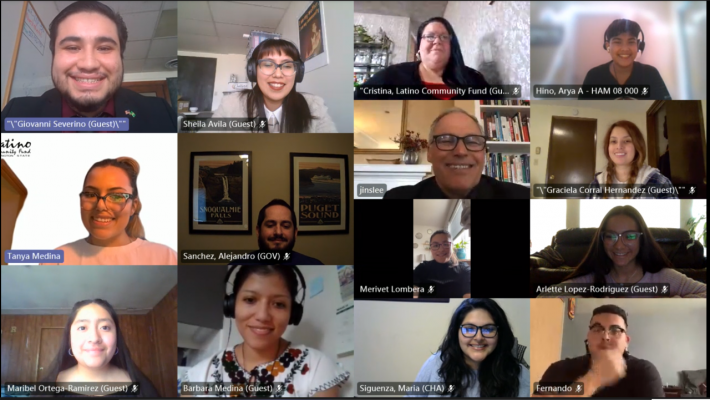 "It was a really good turnout," says Merivet. "Prior to our virtual trip, we brought in a speaker from our own team, and he did a training on how to create a testimony and share your story. We also had legislators come and speak to the youth and keep them motivated, interested, and continuing to advocate for their communities. It was really cool to see the [students] break out of their shells and step out of their comfort zone to get their messages across." 
Merivet understands the importance of youth voices in public decision-making. She became involved in Alianza in 2015 and recalls what it was like taking her first steps into activism: 
"At the time, I was interested in pursuing a bachelor's degree in political science, but then I became involved with Latino Community Fund. I realized that in order to be civically engaged to advocate, talk to representatives, or even to run for a political position, you do not need to pursue a whole academic career in political science. So, I became really involved in Alianza and learned about legislative districts, city councils, commissioners, and all the different things you would normally learn in a political science degree." 
Merivet, a first-generation college student, completed her degree in psychology and communication from Central Washington University in 2020. As the co-manager of the Alianza Youth Leadership Program, she enjoys being an active role model for its members. 
"When I talk to the [Alianza] students and they're asking me questions and picking my brain – I remember when I was in their shoes," Merivet explains. "I try to be as much of myself with them and share the stories that I was once hungry to hear."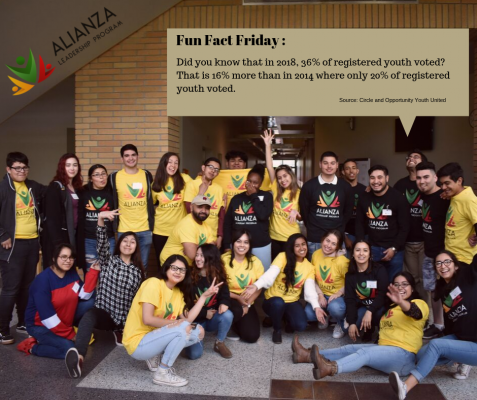 Next month, Alianza will be hosting their first virtual listening summit, "Take the Mic", on August 5, 6, and 7. The listening summit will be an opportunity for youth ages 14-24 to join in on facilitated discussions around social and environmental justice. Additionally, they will provide an open floor for youth to share their stories. Participants will receive a $50 gift card for a 1-hour Zoom call and a quick 5-minute pre- and post-call survey. 
"We're going to focus on listening rather than being the ones talking," shares Merivet. "Our facilitators are trained and prepared to make sure the conversation is moving smoothly. I'm really excited to hear all the stories from the youth and learn what unifies us around the state!" 
---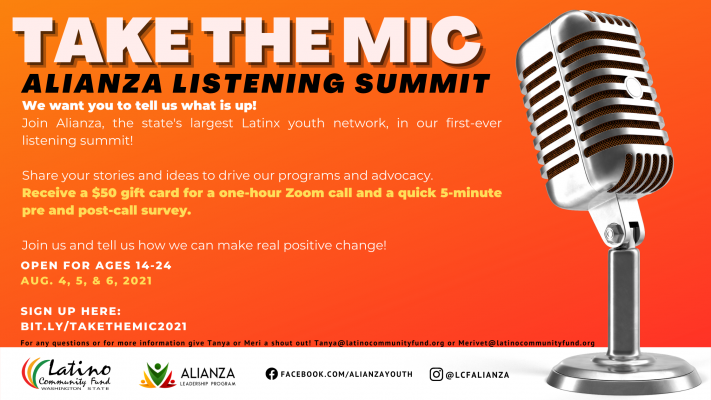 Register for "Take the Mic" listening summit.
Learn more about Latino Community Fund and Alianza Youth Leadership Program.
The Alianza Youth Leadership Program is recruiting for its next cohort in September 2021! Contact merivet@latinocommunityfund.org for more information.