News
2023 Canoe Journey
Since 1989, tribal communities have held Canoe Journey to heal from intergenerational trauma, reclaim Coast Salish traditions, reduce drug-use, and pass on teachings to future generations. This summer get ready to paddle to Seattle! We give thanks to the Muckleshoot, this year's host nation.  
---
Remembering Paddle to Seattle, the First Canoe Journey
Read "Remembering the Paddle to Seattle: 'Their shoulders bore the traditions of eight millennia' | Canoe Journey" published by Kitsap Daily News to learn about the origin of Canoe Journey from Marilyn Bard.
---
The Importance of Tribal Canoe Journey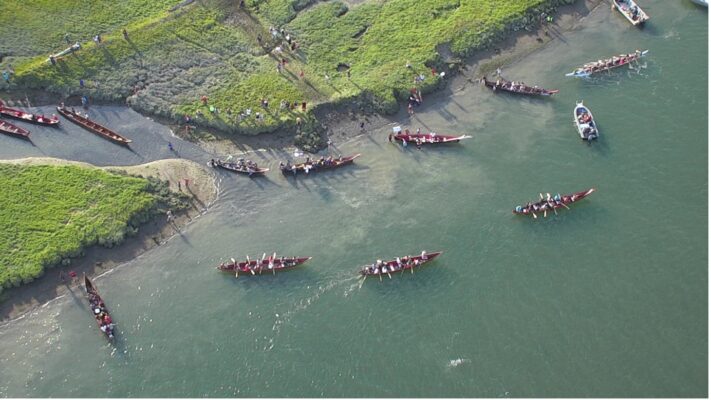 Canoe Journey 2019 landing at Swinomish. (Swinomish Police Department, Courtesy of Swinomish Tribal Archive)
Read "Carrying Traditions by Canoe: The Tribal Journeys Movement in Washington" published by Washington Trust for Historic Preservation to learn about the evolution of Canoe Journey from Philip Red Eagle (Dakota and Puget Sound Salish). 
---
Canoe Journey
Watch "Canoe Journey" produced by Children of the Setting Sun to witness Paddle to Lummi in 2019 and learn about Journey through the Lummi community.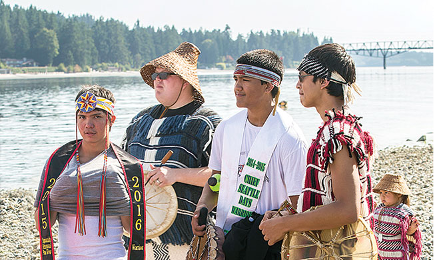 Vincent and Sequoia Chargualaf at right wait on the shore for arriving canoes from neighboring tribes. (Paul Dunn/YES!)
Read "Drug Use Down, Hope Up: A Canoe Journey Inspires Native Youth" published by Yes! Magazine to learn how Canoe Journey is a healing experience for Native youth.
---
Muckleshoot to Host this Year's Canoe Journey
This year tribal communities across the Salish Sea will be paddling to Muckleshoot! Canoes will land at Alki Point in Seattle on July 30 and protocol will be held from July 31 to August 6.  
---
UW Canoe Family Awakens the Willipa Spirit
Read "Awakening the canoe: UW Canoe Family prepares for this summer's Tribal Canoe Journey" to learn how the UW Canoe Family is preparing for this year's canoe journey.  
---
Following Protocol
Asking Permission Before Coming Ashore  
Watch "Canoe Journey: Following Traditional Protocol" produced by Matika Wilbur to witness traditional protocol for a canoe landing.  
Kalvin Valdillez Touches on Ceremony 
Read "An inside look at the Canoe Journey protocol by Kalvin Valdillez" pubished by LRInspire.  
---
Canoe Journey on the Columbia River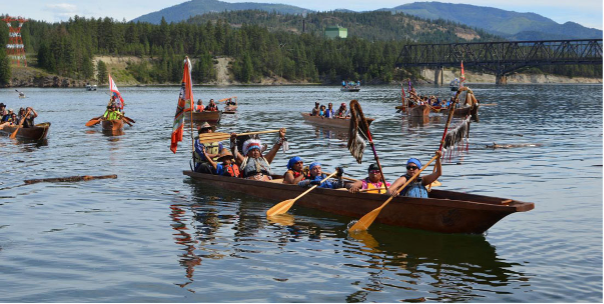 Arrival of the dugout canoes at Kettle Falls. (Burke Museum)
Read "Shovelnose Canoes Once Again Journey the Columbia River" published by the Burke Museum to learn how UCUT tribes are restoring their traditions.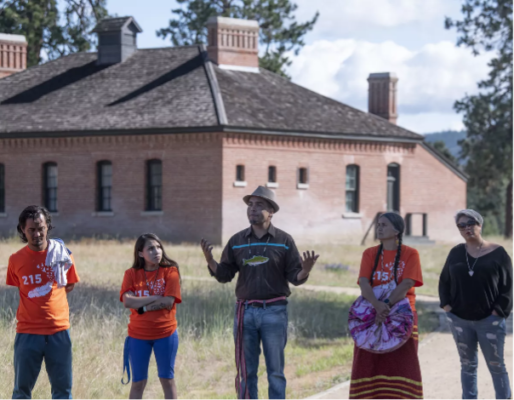 Barry Moses, who goes by his Native name of Sulustu, explains the history of area tribes to Native youth. (Jesse Tinsley/The Spokesman-Review)
Read "'It's time to bring them back': Tribes' canoe journey calls attention to loss of salmon, legacy of residential schools" published by The Spokesman Review serve as both acts of resistance and revitalization.
---
Meet Canoe Journey Herbalists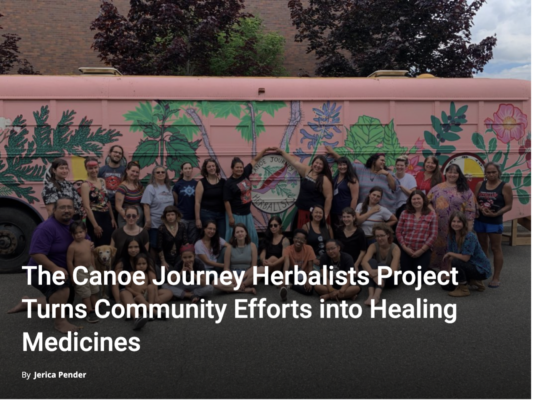 Read "The Canoe Journey Herbalists Project Turns Community Efforts into Healing Medicines" published by Thurston Talk to learn how Rhonda Lee Grantham (Cowlitz) is bringing traditional medicines to Coast Salish communities.