News
Decolonizing Thanksgiving: Healing, Truthmaking, & Revitalizing
Installment 2
This content is taken from our 2020 and 2021 story map features on Decolonizing Thanksgiving. Check out the full story map here.
Each Thanksgiving, EchoX staff, Board members, and DIGITIZE youth members curate media, music, and resources discussing both contemporary and historical issues that Indigenous Americans have faced in the past and continue to face today. 
*Note: the opinions expressed here are representative of individual staff members and may not reflect EchoX as a whole. 
In 2020, we dedicated our story map to healing from the pandemic and hope you will learn about the important healing history of the jingle dress. 
National Congress of American Indians | The History of the Jingle Dress
The History of the Jingle Dress 
---
Truthmaking 
Sierra Red Bow, Community Engagement Director (Oglála Lakȟóta, enrolled Oglala Sioux Tribe) 
The United States has a long tradition of mythmaking and land taking. As Daniel Heath Justice (Cherokee) says in Why Indigenous Literature Matters, "According to the settler stories of Indigenous deficiency, our peoples were supposed to vanish into the sunset long ago; our families' stubborn refusal to disappear has vexed and perplexed colonial apologists for centuries, for, in spite of all their hopes and ambitions, policies and practices, laws and customs, and assaults and editorials, our peoples are still here, as are our relations, as are our stories" (2018, p. 5). As Indigenous peoples, we are constantly refusing the lies that are fed to us in schools, on television, and on holidays like Thanksgiving. Through this act of refusal, Indigenous peoples are reclaiming the narrative. We cast aside Curtis' black and white photos and tell our stories in brilliant technicolor. We are in the interest of truth-making, not perpetuating colonial myths that keep us in the past.  
In place of a single colonial lie passed off as US history, we speak our truth from different perspectives and across many mediums. Our Indigenous journalists, chefs, artists, musicians, directors, and authors all find different ways to remind us of our past, ground us in the present, and look seven generations into the future. We come from sovereign Nations, each incredibly diverse, and we each have a story to tell. 
---
Word Associations
Curated by Alison Martin, Former Youth Coordinator (Karuk) 
In the videos produced by Cut, a Seattle-based studio, participants respond to three terms that are often oversimplified and romanticized. The word association video is followed by an artistic depiction of how Thanksgiving began, narrated by Comanche author, essayist, and curator, Paul Chaat Smith. 
Thanksgiving 
"This is so moving and gets to the heart of Thanksgiving's dark roots." – Alison Martin, Youth Coordinator (Karuk) 
Thanksgiving | Native Americans | One Word | Cut 
The Invention of Thanksgiving by Paul Chaat Smith 
---
Grounding
Ann Wright, Executive Director (Anigiduwagi, enrolled Cherokee Nation of Oklahoma) 
I want to dedicate my "staff picks" to my lodestars: my father, mother, Mary Nordwall, and Sandra Osawa. To my mother and father who are central in everything I do: I continue to remember, nigohilv gvgehyuhesdi. To Mary, you helped heal me when I was so broken—your wisdom and generosity are an eternal inspiration. To Sandy, how fortunate that 30+ years ago you took me under your wing as an assistant—and how blessed I am that our relationship turned into one of my life's deepest friendships. Words cannot express my gratitude to these people—nani'v udohiyu gali'eliga.
Poetry by Joy Harjo
In college, I felt quite alone with my Indigenous heritage until I found Joy Harjo's (Mvskoke Nation) poetry. Using my Samsonite, I typed out her beautiful work, then taped them above my desk to give me daily strength. Of those poems, I am sharing two:
I Give You Back — "This helped me release and reconcile."
Joy Harjo – "I Give You Back" Poem || NPR 
Remember — "This helped me remember my grounding. This one, especially, would be good for children to listen to."
Remember | POETRY READ ALONG with JOY HARJO! | PBS KIDS
Documentaries by Upstream Productions
Grounding happens throughout our lives. Working with Sandy and Yasu Osawa at Upstream Productions in Seattle, WA, was influential in strengthening my connection to my own heritage. For forty-eight years, from 1974 (when they produced the first TV series by a Native American producer) to the present, their work has been featured in various film festivals (including Sundance Festival, Amiens Film Festival in France, the National Museum of the American Indian), has received grants from a variety of influential foundations (including Rockefeller, the Ford Foundation, the Corporation for Public Broadcasting, has been shown on television (including NBC, PBS's POV, and the Learning Channel), and has been used in college classrooms around the country. Their professionalism over the years is based upon dedication to their subjects shown through detailed research and integrity in highlighting people's stories. Their productions should be on everyone's view list:
---
Understanding Through Music
Kathryn Lam, Co-Editor of Voices (Anigiduwagi, enrolled Cherokee Nation of Oklahoma) 
Many years ago, when I was studying in Paris, I connected with an old classmate of mine from university in Hawai'i. Our friendship, unlike my other university friendships, blossomed once we had both already graduated. We bonded over our shared struggles of being Indigenous in a world that sometimes didn't see us as Indigenous enough and, sometimes, as too Indigenous. Earlier this year, Voices did a feature article on her. Koli Kohler (Yurok/Karuk/Hupa) is someone who, through her music, has really helped me to process feelings that I thought I was alone in experiencing. For this staff picks piece, I'd like to share three of Koli's songs. 
How I Am 
"How I Am" explores the feelings of being an Indigenous woman who is mixed and "passes" as white. I can't listen to this song without my heart hurting. Blood quantum is something which was invented by the United States. Indeed, Indigenous people are the only racial group in this country who must have paperwork to prove that they are part of it. 
Have You Seen My Sister? 
"Have You Seen My Sister?" is a heart-wrenching piece about the Missing and Murdered Indigenous Women, Girls, and Two-Spirit persons pandemic. It's a powerful song that really speaks to a shared experience across Indian Country—one that Indigenous communities around the world can relate to. 
Have You Seen My Sister? – Koli Kohler
Look At the Columbus with the Big Butt 
"Look at that Columbus with the Big Butt" is a classic which Koli wrote when she was a kid. It expresses her frustration and anger when she learned about Christopher Columbus by calling him the worst insult her kidself could think of—a Big Butt. The song, despite the age of the songcatcher (Koli's preferred title) who wrote it, explores some serious topics in a relatable and surprisingly deep way. This video is sung and illustrated by an 8-year-old Koli. 
Look at that Columbus with the Big Butt 
---
Reclaiming Identity Through Ancestral Food Systems
Amy Imsdahl, Communications Coordinator (White Earth Anishinaabe (Ojibwe)) 
It's not a secret that I like to cook. My spice drawers are overcrowded and I'm always saving new recipes to experiment with. In the past several years, I've also become interested in traditional foodways and the amazing way that food can bring people together and tell rich stories.  
For my staff piece, I would like to share with you several resources on Indigenous food revitalization and a wild rice soup recipe I make every winter. Wild rice, called manoomin in the Ojibwe language, is native to the areas surrounding the Great Lakes and Canada. I think it's a perfect blend of my Indigenous and Midwest roots.  
The Cultural Conservancy | Oral Histories of Native Food Revitalization 
The Cultural Conservancy is an Indigenous-led organization that works with Native communities throughout the Americas and the Pacific. Their mission is "to protect and restore Indigenous cultures, empowering them in the direct application of traditional knowledge and practices on their ancestral land." 
I am including one of their short audio stories from Winona Laduke, Program Director of Honor the Earth, economist, environmentalist and Native American activist, on the importance of Wild Rice and how it plays into Ojibwe identity. 
> Listen to the episode here on SoundCloud 
Cultural Conservancy conducted over 30 oral history interviews with Native American elders, teachers, farmers, hunters, wild food foragers, fishermen, cooks and chefs, activists, and advocates. 
> You can listen to all of them here on their webpage 
Pinch of Yum is a food blog from a Minnesota native. I cook this crockpot wild rice soup recipe every year! It reminds me of home.  
Pinch of Yum | Crockpot Chicken Wild Rice Soup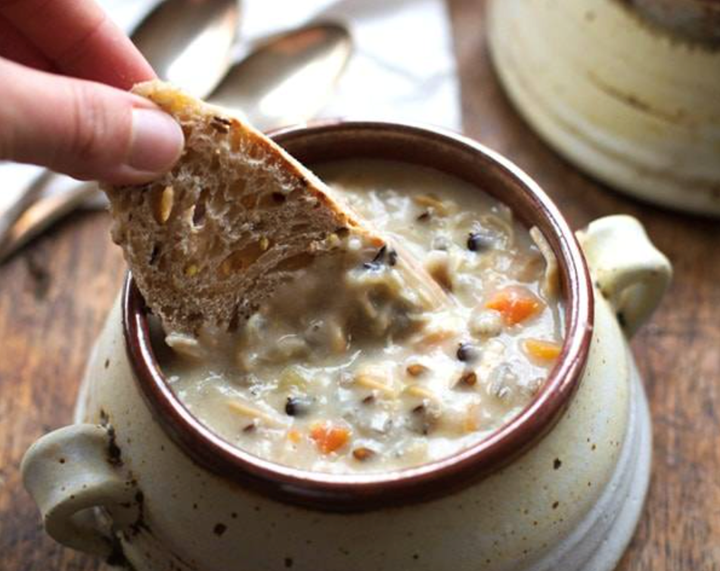 Pinch of Yum food Blog | Crockpot Wild Rice Soup with bread
Finally, I would like to share the trailer of Gather, a film that captures the story of rebuilding Native food systems. I plan to watch this documentary Thanksgiving week to remind myself about the resilience to reclaim Indigenous foodways! 
---
Language Revitalization
Jared Lam, Former DIGITIZE youth member (Anigiduwagi, enrolled Cherokee Nation of Oklahoma) 
[KUOW NPR, Podcast, "We're trying to save who we are: The Kituwah language is endangered, but my sister and our elders keep it alive"] 
"Rachel Lam is the older sister of RadioActive youth reporter Jared Lam. She has spent the last few years learning an Indigenous language commonly known as Cherokee, and now, she's authoring a children's book to help younger generations learn the language. 
Rachel's book comes as several Indigenous languages are going endangered: In 2019, there were only about 2,000 Kituwah speakers left, with the vast majority of them being over the age of 70. Only five speakers are in their 30s and 40s. The number is constantly dwindling, with roughly eight speakers dying every month. 
Rachel has studied for the past three years under the instruction of a few people, including Tom Belt. Belt is an elder who has taught at Western Carolina, Stanford, and Duke Universities. He's also an enrolled Cherokee Nation citizen, but lives with his wife in the Eastern Band. 
There are three federally recognized tribes of Cherokee people: The Cherokee Nation, the Eastern Band of Cherokee Indians and the United Keetoowah Band of Cherokee Indians in Oklahoma. 
RadioActive's Jared Lam talks to Rachel Lam and Tom Belt about the importance of saving languages." 
> Listen to the full audio episode here 
A Page from Rachel's book: "Denali nole Tstaga (Tom and the Chickens)" Credit: Jared Lam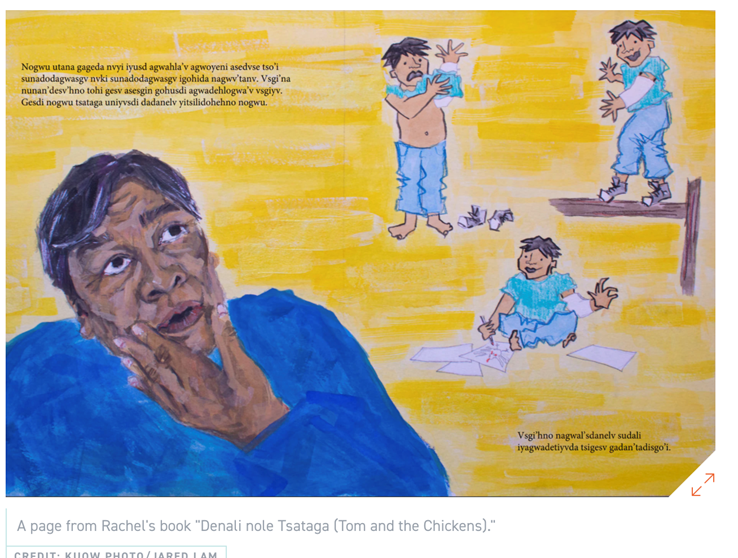 ---
This post is part of EchoX's "Decolonizing Thanksgiving" series. You can read the first Installment, "Land Acknowledgment", on Voices.  
Our Northwest ethnic cultural communities have stories to tell and we need your support to amplify them! Donate $5 or $10 to help us continue raising the visibility of Northwest cultural community organizations and members. Follow us on social media or sign up for our mailing list to stay up to date on the latest in the Northwest.