News
National Week of Action for MMIW
This resource post has potentially triggering language and information about sexual assault, rape, violence, and murder. Some of these resources may contain strong language about violence against Native people and/or language about losing people close to you.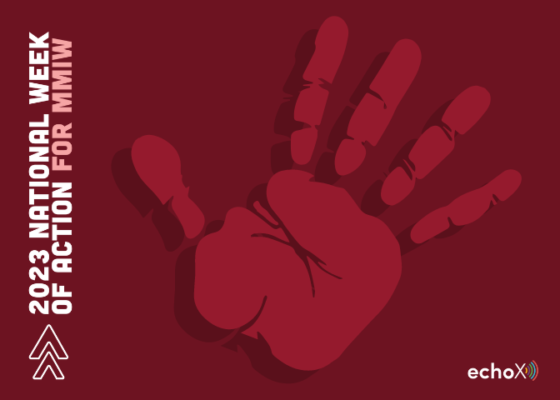 This year, the first week of May (May 1–7) is the National Week of Action for MMIW. According to the organizers, the National Partners Work Group on Missing and Murdered Indigenous Women and the MMIW Family Advisors, the purpose of this week is to "call the nation and the world to action in honor of missing and murdered Indigenous women."
EchoX is joining these two organizations to say enough is enough. No more stolen sisters.
Indigenous staff at EchoX have compiled a few resources to serve as a starting point of engagement for community members who want to learn more about this epidemic. In honor of all those missing and murdered Indigenous people who have gone before us, we encourage you to engage in content that spreads awareness and amplifies the voices of those who are already making strides in the community.
---
MMIW and Intersectionality
"We face higher rates of violence, more than any other ethnic demographic in the United States. Those rates of violence only compound if you're a Native girl, if you're two-spirit, lesbian or bisexual. So that intersectionality is a huge part to violence against Indigenous women." —Rosalie Fish
Chronic undercounting of MMIP cases are even more prevalent amongst cases with missing lesbian, gay, bisexual, trans, queer, Two Spirit (LGBTQ2S+) people.
Approximately 38% of cases where the victim was reported as having been in foster care at one point also reported that they ended up in sex work/trafficking.
---
Data Genocide
Unfortunately, as shocking as existing data on missing and murdered Indigenous people are, we cannot rely on them to be accurate. Data collection of missing and murdered Indigenous people is not precise due to an array of issues including:
Incorrectly recorded demographic data.
Fear and distrust of law enforcement (leading to underreporting).
Lack of resources.
All of these factors, which also occur hand-in-hand with systemic racism, lead to numbers that we can say with reasonable confidence are not fully accurate. Read reports from Our Bodies, Our Stories, published by Urban Indian Health Institute to understand the scope of violence against Indigenous peoples. Data collected in these reports from (YYYY) include:
506 MMIWG cases were identified across 71 selected urban cities
128 were cases of missing Indigenous women
280 were cases of murdered Indigenous women
98 were cases with an "unknown status"
29 is the median age of MMIWG victims
---
Action Through Art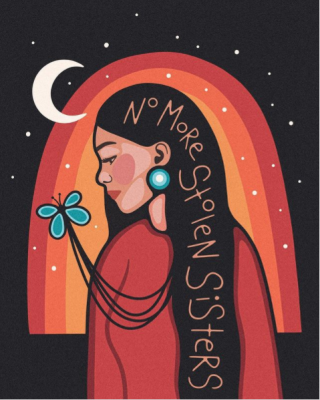 Art by Alanah Jewell (@morning.star.designs)
Read "Seeing Red: The Color of the Spirits," a story and accompanying photo essay in Searchlight New Mexico in honor of those who are missing and murdered.
Listen to "Have You Seen My Sister" by Koli Kohler (Yurok/Karuk/Hupa), a song about the violence committed against Indigenous women, then read our interview with the talented "songcatcher."
Listen to "Protect Indigenous Women," an episode of the All My Relations podcast by Matika Wilbur (Swinomish and Tulalip), Desi Small-Rodriguez (Northern Cheyenne), and Adrienne Keene (Cherokee Nation).
Listen to the podcast "Vanished" which chronicles the heartbreak and challenges of families in the Pacific Northwest who are fighting for their missing family members.
Listen to "Taken", a podcast and multi-media storytelling effort spearheaded by Lisa Meeches (Anishinaabe, Long Plain First Nation).
Social media accounts to follow:
---
Healing through Action and Words
Listen to and read survivors discussing their experiences of healing from violence against Indigenous women. Learn about the different ways Indigenous communities are educating their communities and others to support survivors of sexual violence:
---
Where to Advocate
Want to know where to advocate for Missing, Murdered Indigenous Peoples? Visit our calendar to find upcoming marches and vigils. Looking to volunteer? Visit our directory to find organizations advocating for MMIP in your area.
You can also explore more Washington State-based resources at Justice Washington, including databases, articles, policy, and legislation around the urgent issue of missing and murdered Indigenous women.
---
Find Support
Looking for support? We have resources for survivors of sexual & domestic violence in our directory.
---
At Voices, we believe community engagement is key! If you have any questions, comments, feedback, or suggestions for this or other pieces please don't hesitate to drop a line to: voices@echox.org. Someone from our team will get back to you shortly.