Arts and Literature Posts
Artist Spotlight: Jacqueline Ware
Bread Crumbs and Pebbles 
Jacqueline Ware
This poem was written in response to an opening art event at the Onyx Art Gallery.  I selected a painting of an  older African American gentleman with suspenders and overalls walking down a country, tree-lined trail holding the hand of a small boy.  The painting only shows their backs. 
His hand is ginormous big; mine is really tiny.
His hand is rough; mine is tender soft.
His hand is all wrinkly; mine is super smooth.
His hand is comforting; mine trusts him.
His hand feels loving; mine feels warm and happy.
His hand is strong; mine feels are swallowed up.
His hand feels protective; mine feels safe.
His hand puts the fish food on the fish hook; mine snatches back from the wiggly worm.
His hand holds the bike steady and gives it a push; mine feels all shaky.
His hand picks me up when I fall; mine grabs his and I feel better.
His hand swats my naughty little hand; mine stings and I say I won't do it again.
His hand helps me button my shirt; mine is all fumbly and misses holes.
His hand throws me way up in the air; mine reaches for the sky.
His hand leads me down the right path; mine knows I won't need bread crumbs or
   little white pebbles.
© Jacqueline Ware
_______________________________________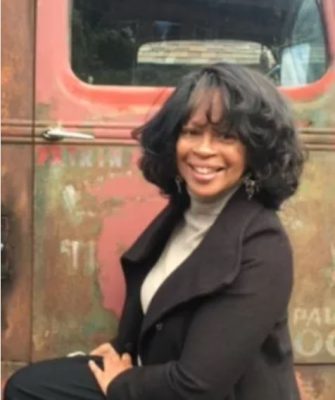 Jaye Ware was born and raised in the PNW. Poet, Spoken Word Artist, and recent playwright; she is drawn to material that taps into social justice and injustice issues. With a heart for children and seniors, Jaye writes stories and prose geared towards their age range. Access to Jaye's children videos can be found on YouTube; Pop up Time, Children's Poetry and Prose. She is a member artist with the 4Culture Touring Arts Roster and has a short "on location" staged play titled Madison Park Bench; located on YouTube, Menrva Labs. She has performed at Town Hall, libraries, museums, on Orcas and Vashon Island, schools, bookstores, and art galleries.
"Spread honesty liberally." – Jaye Ware
Recent Arts and Literature Posts