How to use this directory of resources
Click on Browse/Filter to narrow your search by checking specific communities and services included in the EchoX community listings.
EchoX includes a steadily growing searchable database of organizations, groups, writers, artists and others organized by ethnicity, cultural focus, type of heritage work and/or type of community action. Check back often to see newly added listings!
Want to add yourself or a group to the EchoX community listing?
Community resource listings will grow organically as you and others are added! If you're involved with community work related to EchoX themes – ethnic cultural heritage and social action – click 'Sign Up' in the upper right corner and add your own page to the Directory for free!
After clicking 'Sign Up' you will be taken to a form to fill out to create your account. Once you open your account, you'll have ongoing access to an EchoX backend template where you may provide any information you want others to see. You can also add your own events to the calendar with details and artwork.
Send the EchoX link to your own supporters. Site visitors will learn more about you, your work and your events!
Directory

Ana Montes & Flamenco Danzante
Ana Montes and Flamenco Danzarte performs authenic flamenco with live flamenco guitar music, live flamenco singing..... similar to what you would see in a flamenco club in Sevilla or Madrid.... performances are at various venues in the Seattle area.... also for retirement living facilities, for private parties... Ana Montes teaches flamenco to all levels, children through adults, women and men, at her studio Flamenco Danzarte in Seattle. Ana is trained in Spain, lived there for many years, performed professionally for 6 yrs. in Spain, Europe, U.S.A., and is considered one of the West Coat's premier female dancers.
---
Contact
9871 Aurora Ave. N.
Seattle, WA, 98103
(206) 781-4256

---
Resources
Community

Artists


Expression

Performing Art Organizations

---
About
Ana Montes has been dancing since she was 5-1/2 years old, training in classical ballet which she continues to this day. Ana studied Vaganova method, and the Cuban National Ballet method.
Her flamenco studies started in Sevilla where she has studied under Angelita Vargas and José Galván.
In Madrid Ana studied with many of the most well known and respected flamenco teachers and artists including Ciro, La Tati, El Güito and Merce Esmeralda. She also studied the Spanish folkdance "jota" with the famous Pedro Azorín.
Ana danced professionally at various clubs and theaters and with Rosa Montoya Bailes Flamencos, out of San Francisco.
She left the United States to dance professionally in Spain, Europe and Mexico for 7 years. These years include dancing with the Ballet Español del Camborio, the Ballet Español de Fernando Romero in Madrid, at El Burrero Peña Flamenca in Madrid and with Joaquín Ruiz
Ana has been performing and teaching in the Seattle and Bellevue areas for over a decade. She teaches all levels, from very beginning to professional, and her students range in age from 5 years old through adults.
Known as one of the West Coast's foremost female flamenco dancers Ana has been acclaimed as brilliant and charismatic, moving with grace and elegance, especially the upper torso, arms and hands which so defines the female flamenco dancer, yet at the same time containing that tension and passion which makes flamenco so exciting. Ana is known for her incredible rhythm and has been called a 'master' of rhythm, both with her palmas (percussive clapping) and with her footwork.
Ana currently performs, teaches and produces student shows out of her studio Flamenco Danzarte.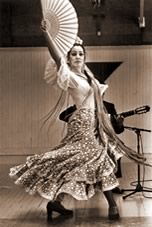 ---