How to use this directory of resources
Click on Browse/Filter to narrow your search by checking specific communities and services included in the EchoX community listings.
EchoX includes a steadily growing searchable database of organizations, groups, writers, artists and others organized by ethnicity, cultural focus, type of heritage work and/or type of community action. Check back often to see newly added listings!
Want to add yourself or a group to the EchoX community listing?
Community resource listings will grow organically as you and others are added! If you're involved with community work related to EchoX themes – ethnic cultural heritage and social action – click 'Sign Up' in the upper right corner and add your own page to the Directory for free!
After clicking 'Sign Up' you will be taken to a form to fill out to create your account. Once you open your account, you'll have ongoing access to an EchoX backend template where you may provide any information you want others to see. You can also add your own events to the calendar with details and artwork.
Send the EchoX link to your own supporters. Site visitors will learn more about you, your work and your events!
Directory

Northwest Indian College (NWIC)
With its main campus located on the Lummi Indian Reservation in Washington State, 20 miles south of the Canadian border, Northwest Indian College is the only accredited tribal college serving the states of Washington, Oregon, and Idaho.
---
Contact
2522 Kwina Rd
Bellingham, WA, 98226
(360) 676-2772

---
Mission
Through education, Northwest Indian College promotes Indigenous self-determination and knowledge. We are committed to our students, the Tribes we serve, and advancing Tribal sovereignty for the protection and enhancement of our homelands and future generations.
---
Resources
Education

Educational Programs

---
About
Northwest Indian College's student body is diverse, ranging from students straight our of high school, many attracted by our growing athletic program, to returning adult learners of all ages. Over 75 percent of our students come from a federally-recognized Indian tribe and our students represent over 90 different Tribal nations. The Northwest Indian College proudly serves over 1,200 students annually.
WIC EXTENDED CAMPUS LOCATIONS
Northwest Indian College's main campus is located at the Lummi Nation. The College also has six full service extended campus sites located at Muckleshoot, Nez Perce, Nisqually, Port Gamble S'Klallam, Swinomish, and Tulalip. Please use the location links to view details for each extended campus site.
 Muckleshoot Campus
 Nisqually Campus
 Nez Perce Campus
 Port Gamble S'Klallam Campus
 Swinomish Campus
 Tulalip Campus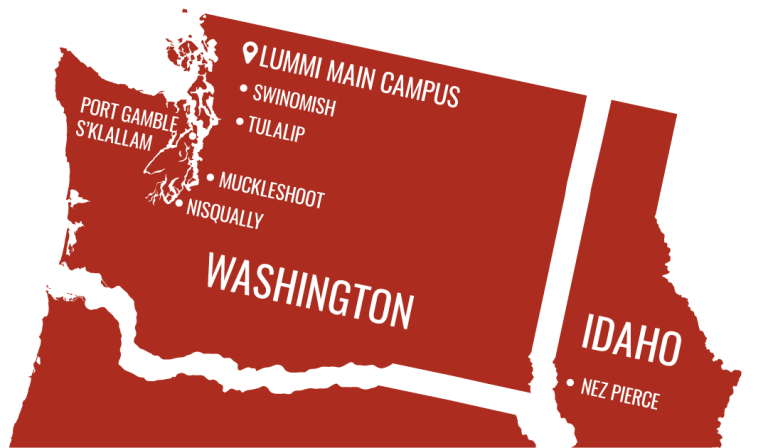 ---