How to use this directory of resources
Click on Browse/Filter to narrow your search by checking specific communities and services included in the EchoX community listings.
EchoX includes a steadily growing searchable database of organizations, groups, writers, artists and others organized by ethnicity, cultural focus, type of heritage work and/or type of community action. Check back often to see newly added listings!
Want to add yourself or a group to the EchoX community listing?
Community resource listings will grow organically as you and others are added! If you're involved with community work related to EchoX themes – ethnic cultural heritage and social action – click 'Sign Up' in the upper right corner and add your own page to the Directory for free!
After clicking 'Sign Up' you will be taken to a form to fill out to create your account. Once you open your account, you'll have ongoing access to an EchoX backend template where you may provide any information you want others to see. You can also add your own events to the calendar with details and artwork.
Send the EchoX link to your own supporters. Site visitors will learn more about you, your work and your events!
Directory

Anzanga Marimba Ensemble
For over 20 years Anzanga has brought the electrifying energizing music of African marimba to weddings, schools, festivals, culture events and more. We draw our repertoire primarily from Zimbabwe influences from Mozambique, South Africa and Gambia, in addition to playing compositions of our own. We are based in Seattle, Washington, and have toured nationally and internationally.
---
Contact
116 17th Avenue #C
Seattle, WA, 98122-5700
(206) 412-2612
(206) 412-2612
---
Mission
Anzanga performs traditional and contemporary marimba music from Zimbabwea and others countries around the continent.
---
Resources
Expression

Festivals
Performing Art Organizations

---
About
Anzanga performs traditional and contemporary marimba music from Zimbabwea and others countries around the continent. The group has been performing for 30 years. Anzanga has toured internationally in South Africa and China and extensively in the U.S and Canada. The group has produced 5 recording which are circulating today. The director, Sheree Seretse has studied, taught and performed African Music over 40 years.
Our ensemble plays using eight marimbas – three Sopranos, three tenors, a baritone, and a base – and hoshos, or gourd shakers. The marimbas are handcrafted xylophones made from various hardwoods. The keys are fine-tuned to reflect tones playing African societies. Each key sits above a resonator with a vibrating membrane to amplify the sound and add a unique "buzz" to the music.
Anzanga, which means "to our friends" draws its name and music, from the rich cultural heritage of Africa. We're honored to share this joyful and vibrant music, and our goal is to entertain, enlighten and inspire all who hear us!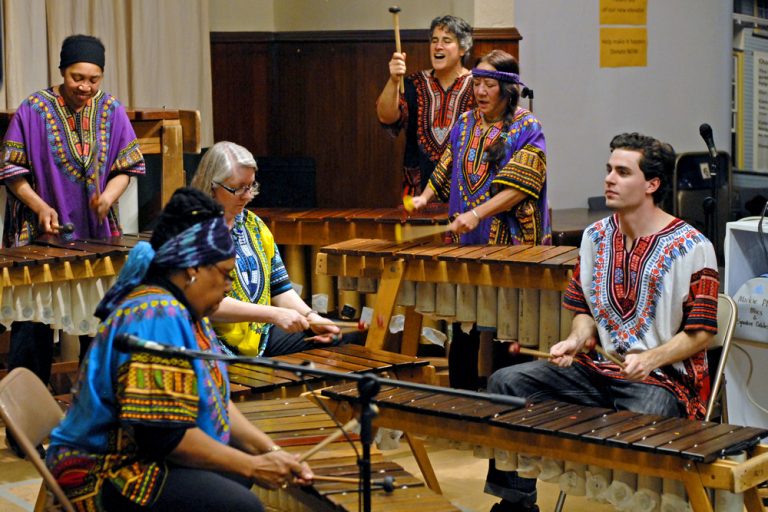 ---